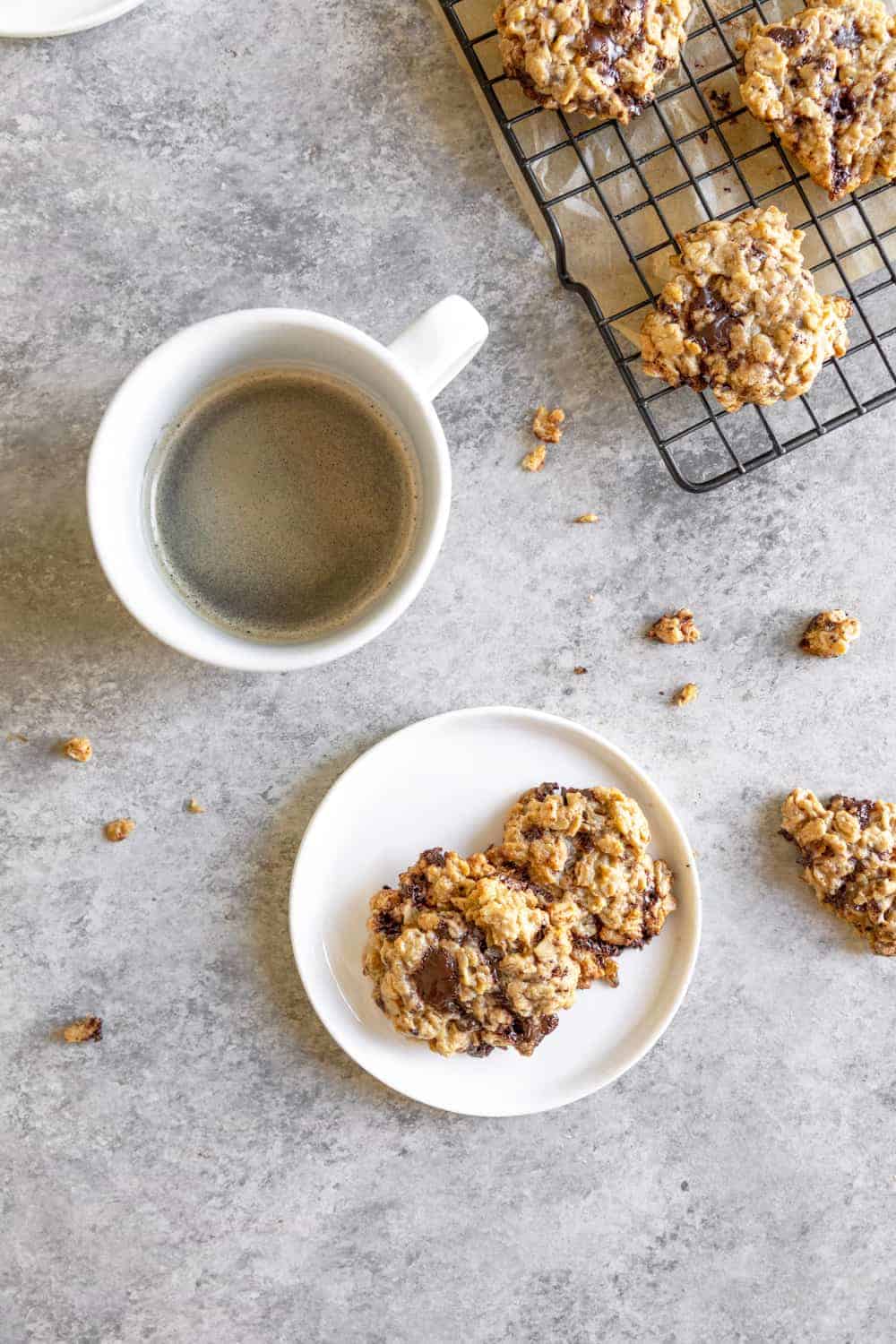 I made you grown-up cookies. Salted Tahini Oatmeal Cookies with plenty of chocolate chips. They're slightly savory, just sweet enough and contain just a handful of ingredients.
Tahini might be the only thing you may not have on hand, but it's a pantry staple for me. Mixed with lemon juice, olive oil and salt/pepper, it's my go-to drizzle for grain bowls, roasted veggies and salads.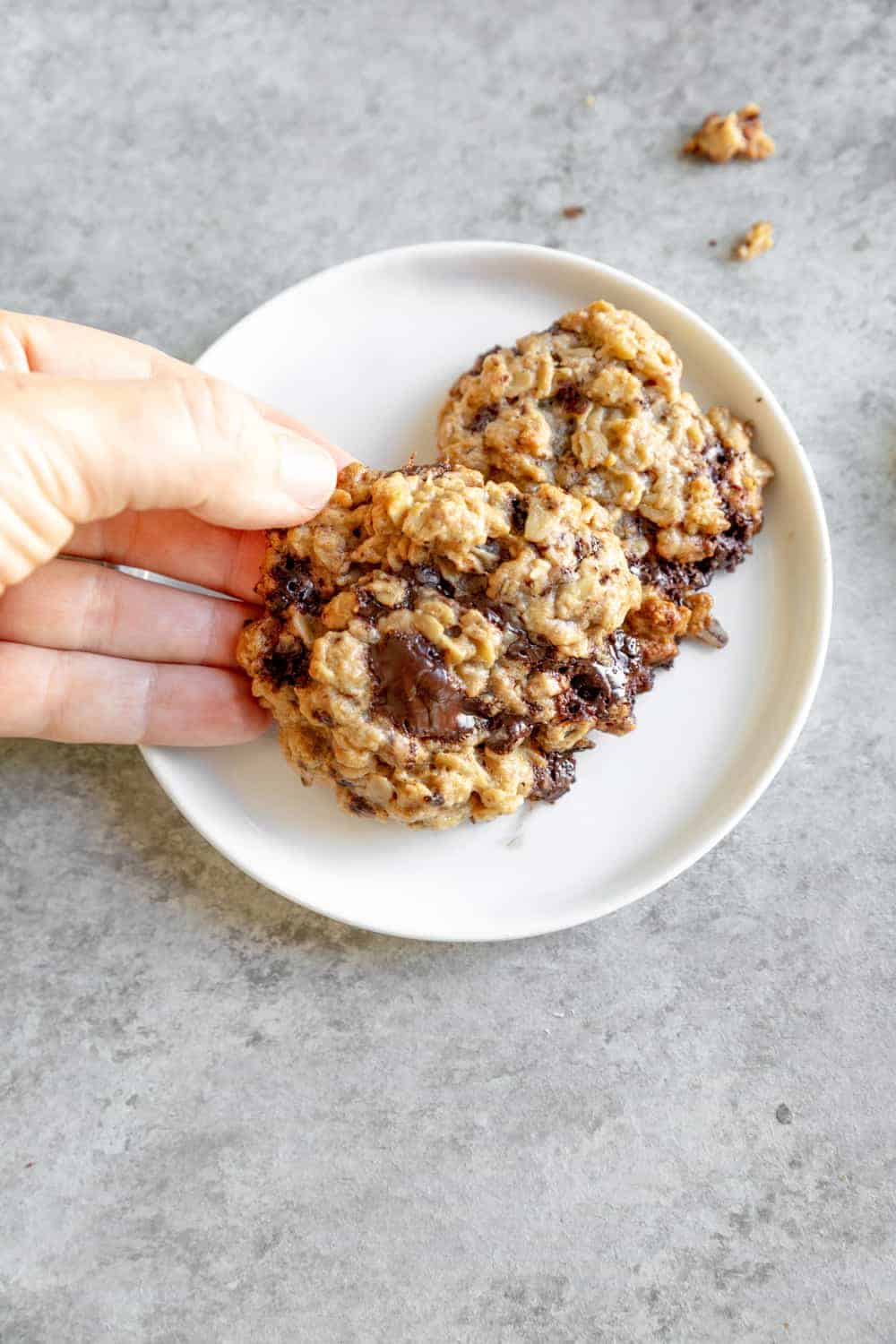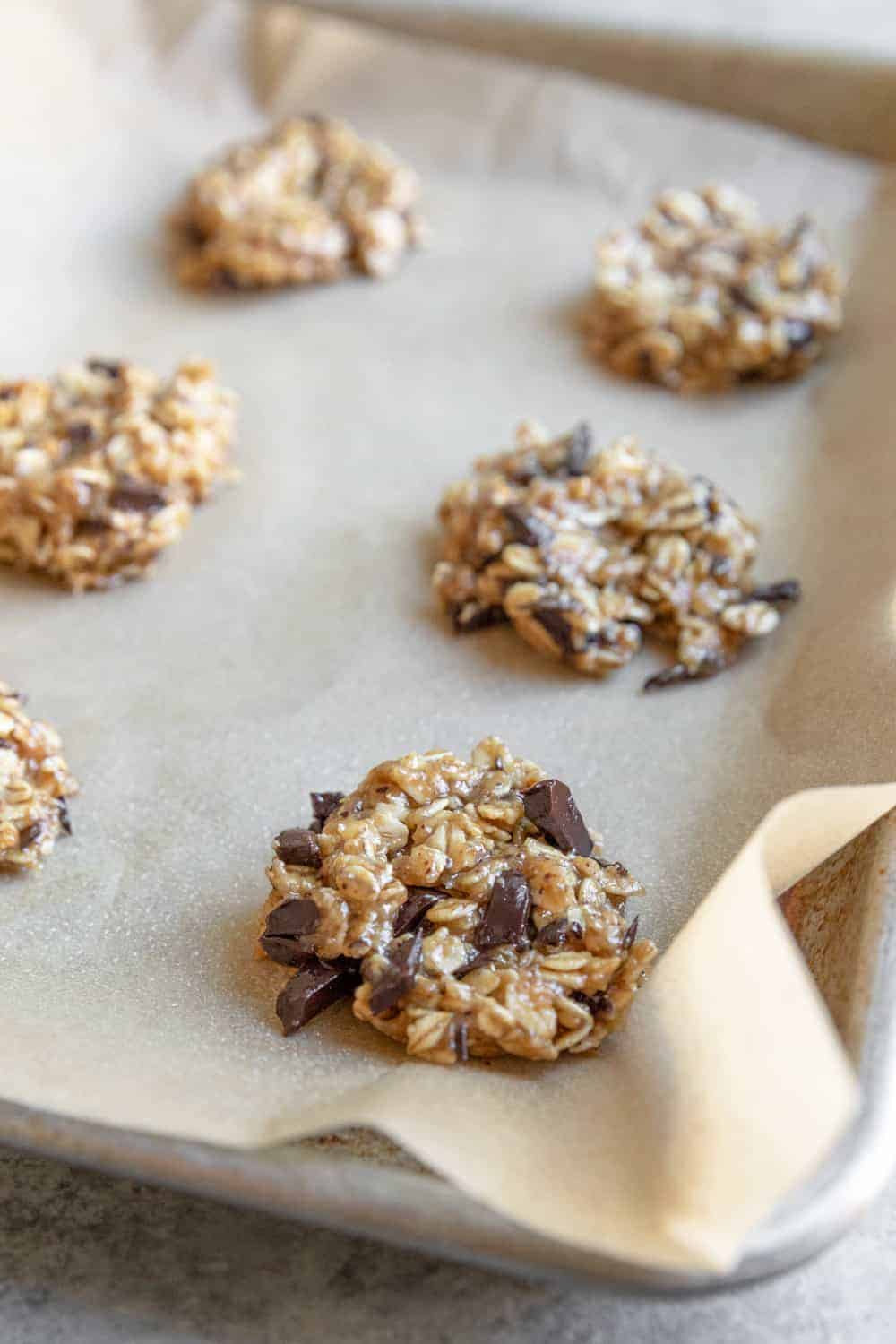 I tested these cookies so many different ways: with and without salt; with dark chocolate and milk chocolate; with peanut butter and tahini and then just tahini; with brown sugar and maple syrup, just brown sugar and then just maple syrup and I'm convinced that I've found the winner.
While the brown sugar and tahini combination was divine, I wanted a cookie that was made with just maple syrup. I figured that with the plethora of chocolate chips, removing the brown sugar was a good compromise.
The tahini and peanut butter combo was a little too rich for me, and the peanut butter completely overpowered the subtle tahini taste. I really thought I would love these with dark chocolate, but it just didn't have enough sweetness for balance and I found that the dark chocolate cookies were a little too bitter for my taste.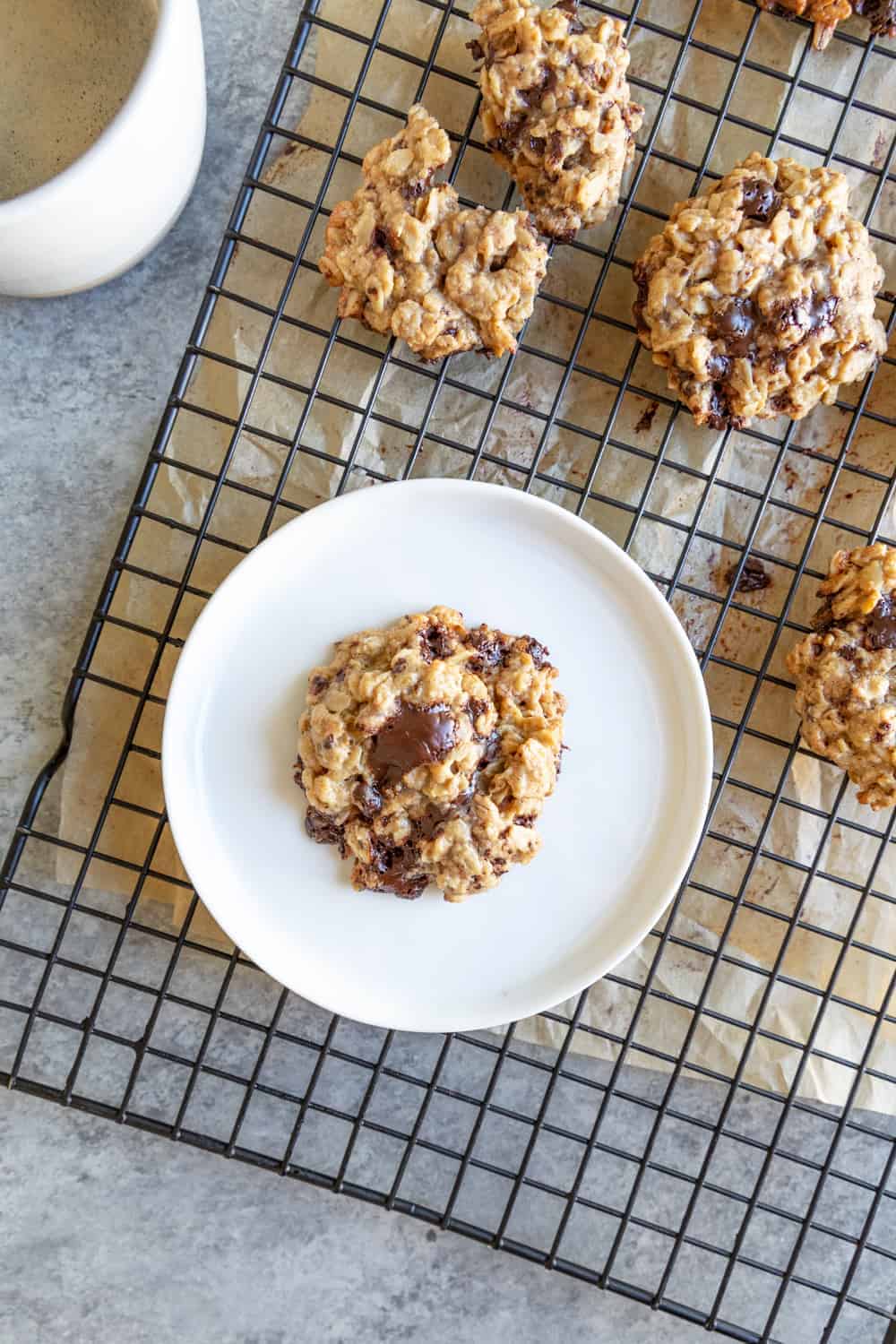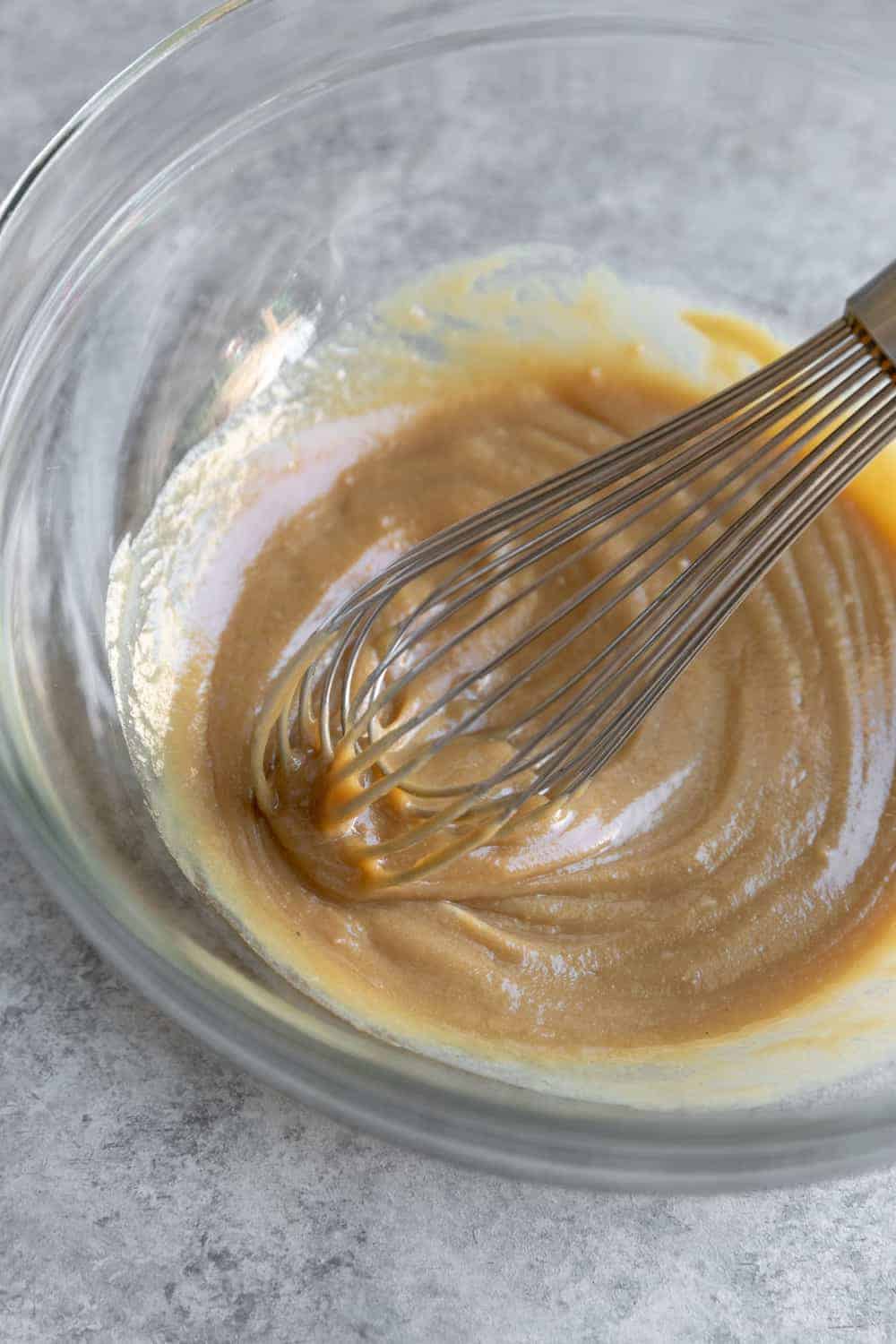 I sprinkled some flaky sea salt on the last batch and WOW, what a difference! I photographed these photos without the salt, but highly recommend adding it as it really brings out the richness of the tahini and maple. Just that first step of the tahini and maple alone– you know I licked the bowl clean.
Oat flour makes these cookies gluten-free, but they will also work with all-purpose flour. I tested both and included both in the directions, depending on your preference. Oat flour sounds fancy, but it's actually very simple to make. Add rolled oats to a blender and puree until a flour forms! I always have a big jar on hand to make our favorite oat waffles.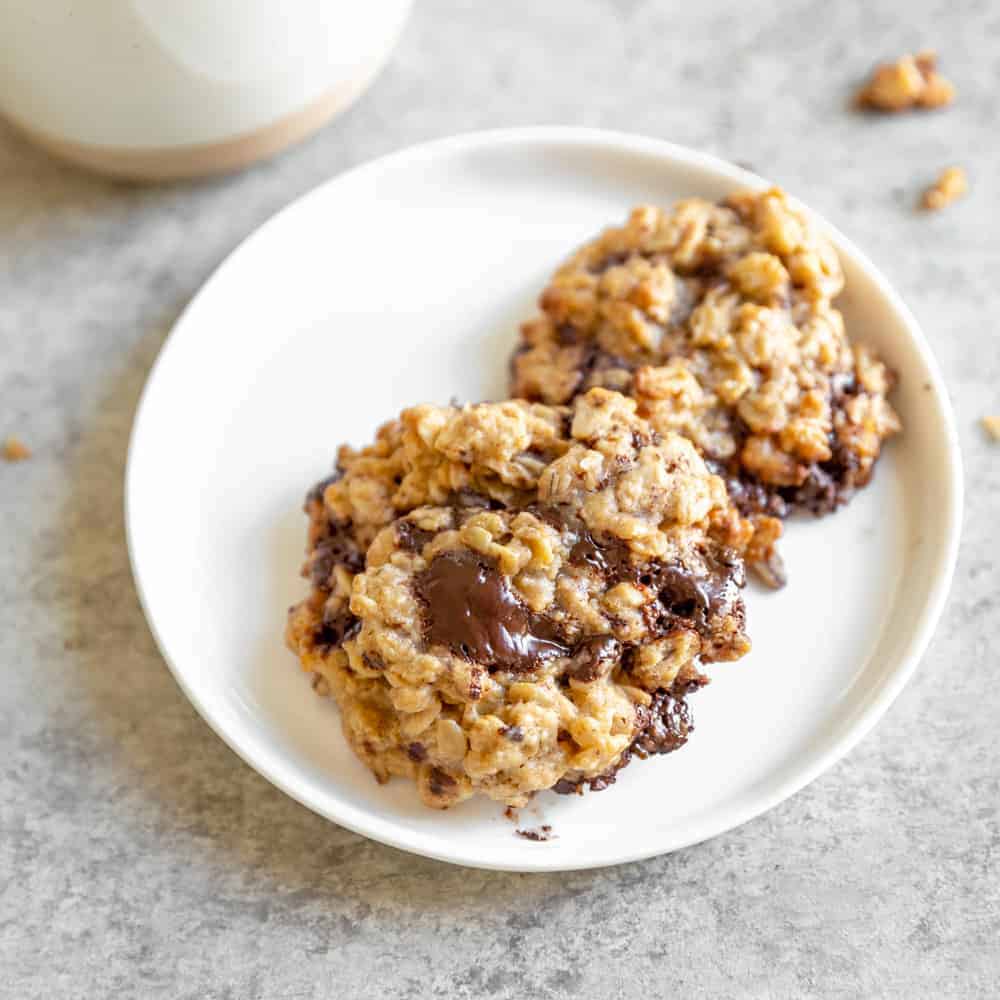 How to make Salted Tahini Chocolate Chip Cookies
Grab a large bowl and whisk together 1/2 cup tahini and 1/3 cup maple syrup. Good tahini really makes a difference. I swear by the Krinos and Soom brands– for whatever reason, Jovya always tastes metallic to me.
You'll want to use pure maple syrup and not breakfast syrup as those contain too much water and will affect the overall cookie. I haven't tried these with honey or agave, so not sure if that will work instead. I'll add it to the testing list!
From there, swirl in a little vanilla, and then fold in the dry ingredients: oat flour, rolled oats, spices, salt and mix together. Fold in chopped chocolate or chocolate chips and scoop out on a baking sheet.
Since these don't spread much when baking, I use a cookie scoop and then gently flatter the top so they cook evenly. Sprinkle with a little flaky sea salt and bake!
Check them around 9 minutes; I found that 9-10 minutes was almost perfect depending on what size you made the cookies. These tastes best slightly undercooked rather than overcooked; you want them chewy, not hard.
Did I mention they are perfect with a cup of coffee?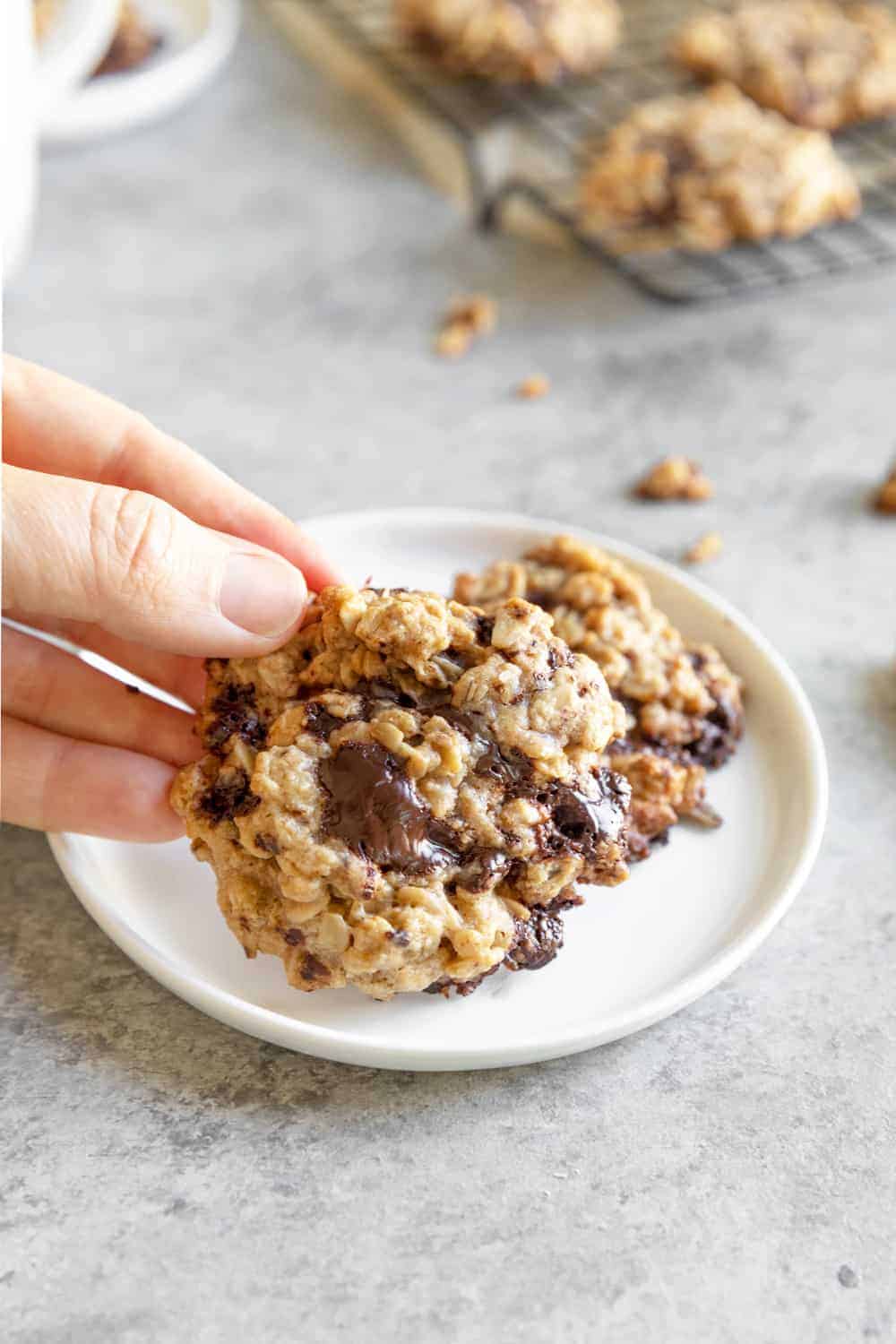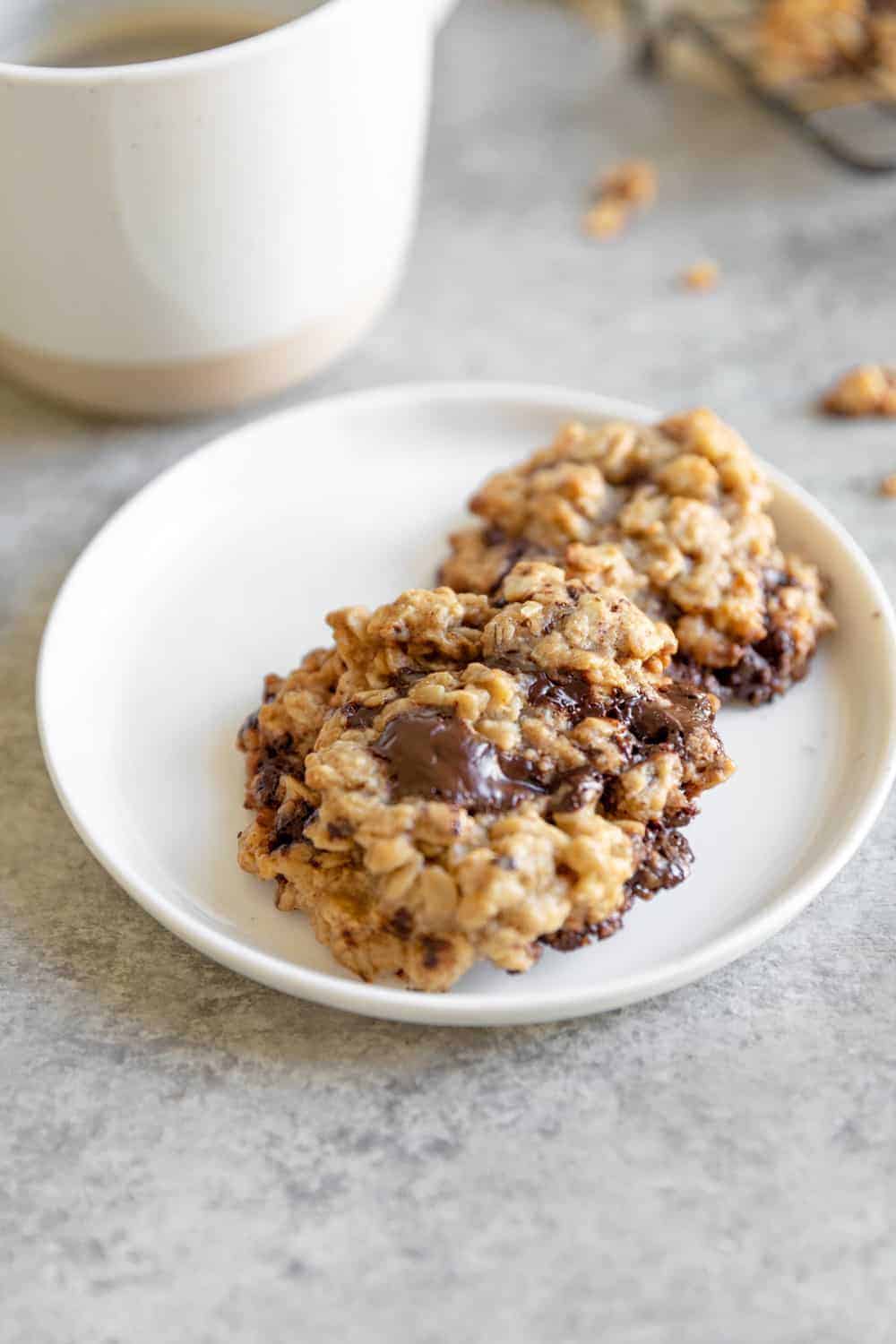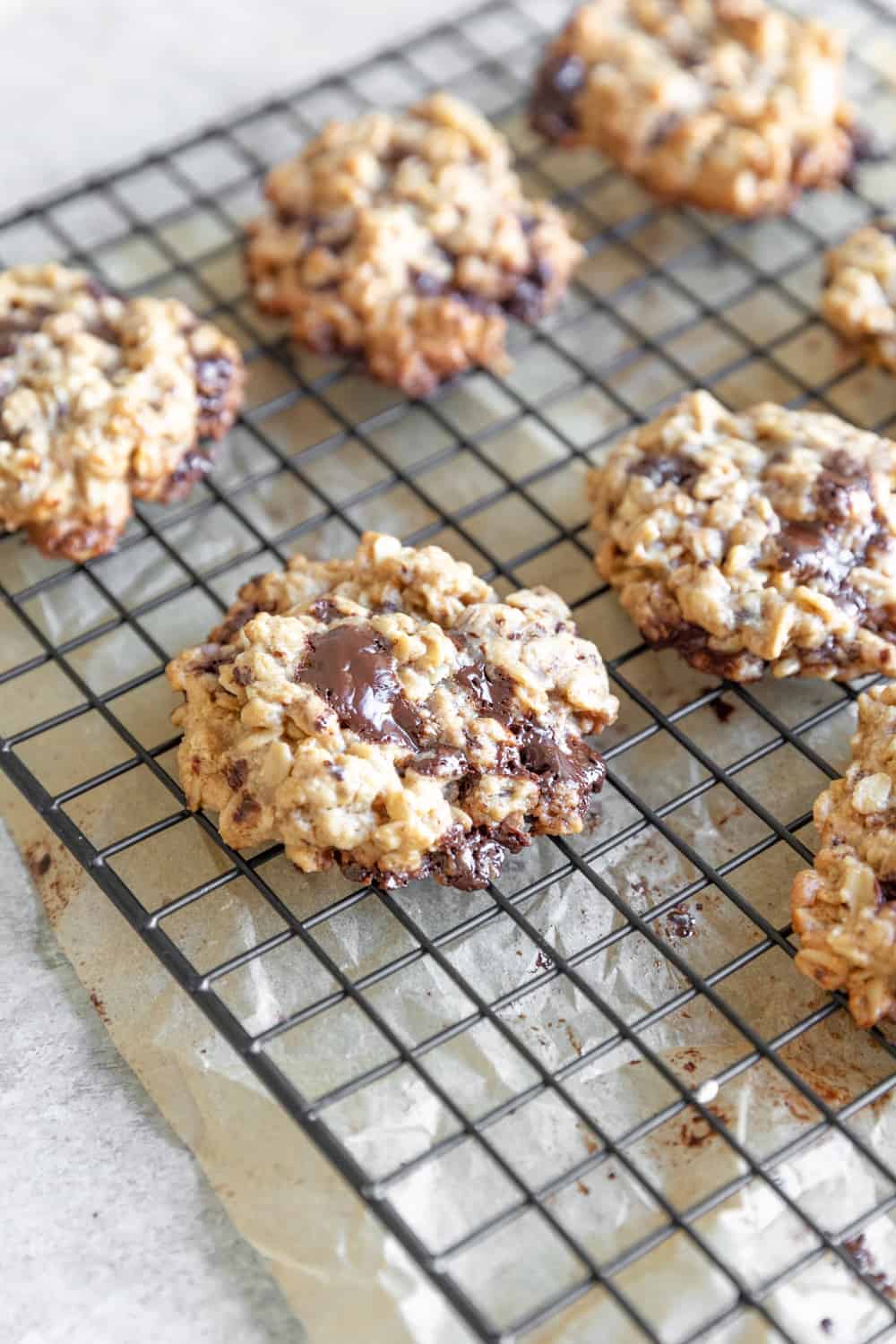 If you try this recipe, let me know! Come back and leave a rating and a comment. Seeing you make my recipes makes my day and your feedback helps other readers. If you like these salted tahini chocolate chip cookies, then make sure to check out my pumpkin chocolate cookies and my gluten-free and vegan chocolate chip cookies! 
Print
Scale
Ingredients
1/2 cup

tahini

1/3 cup

maple syrup 

1 teaspoon

vanilla extract

1 cup

 old fashioned oats

1/4 cup

oat flour (or all-purpose flour, see notes) 

1/2 teaspoon

 cinnamon

1/4 teaspoon

ginger
pinch ground nutmeg

1/4 teaspoon

salt, plus flaky sea salt to top

1.5

oz chopped chocolate or chocolate chips (see notes) 
Instructions
Preheat oven to 350 degrees F. Line a baking sheet with parchment paper, a silpat or lightly grease and set aside.
In a large mixing bowl, mix the tahini, maple syrup and vanilla extract until combined.
Add in the oats, flour, cinnamon, ginger, nutmeg, salt and mix together again. Stir in the chocolate and let sit for 5 minutes. This allows the oats to soften in the mixture before baking.
Scoop the cookies (I use this cookie scoop) onto the prepared parchment paper. Sprinkle with flaky sea salt*** and bake for 9-10 minutes, until golden brown on top but still soft in the center.
Remove and let cool on the pan for a few minutes, then transfer to a cooling rack.
Notes
*To make oat flour: Place oats into a blender and blend until a flour forms. Or, you can use all-purpose flour.
** I tried these with dark chocolate and much prefer the taste of milk chocolate with these!
***This is my favorite sea salt! It's so flaky and perfect in these cookies.


Source: Delish Knowledge, Author: Alex