Prime Day deals will definitely apply to Amazon's own line of products, so you can expect to see the best prices of the year on the Amazon Echo, Fire, and Kindle. Amazon-owned brands like Ring and Eero are also likely to be heavily discounted, so shoppers looking for everything from home security systems to mesh Wi-Fi to improve their home internet can expect to see deals.
Our pick
Amazon Kindle Paperwhite (10th generation)
The Kindle Paperwhite's great display, even lighting, waterproofing, and affordable price, coupled with Amazon's vast collection of reading material, make it the best device dedicated to reading.
You'll also see deals on small kitchen appliances, including favorites from OXO and Instant Pot. Historically, the Instant Pot has been one of the star deals of Prime Day—we've seen deals that have taken it to as much as 50% off. Expect to see deals on coffee makers, as well, with our top pick, the OXO Brew 9 Cup Coffee Maker, likely to be well discounted. OXO's newest coffee maker release, the OXO 8 Cup Coffee Maker, is a promising model we're currently testing that may also see sales if it's in stock. One caveat: Small kitchen appliance deals are trickier this year than on previous Prime Days, as the coronavirus pandemic has driven tremendous demand for some sought-after products and brands. Since March, for example, we haven't seen the KitchenAid stand mixer deals we usually see with some regularity, and that's true of our top blender picks, as well. Deals for some items have been middling at best, and it remains to be seen if Amazon will offer the great Prime Day discounts we've seen in the past.
In the past few years, Prime members have also been able to nab deals on select Apple products. We expect to see discounts on the Apple Watch Series 5 if it remains available after the recent release of the Series 6 and Apple Watch SE, but keep an eye on our Apple Watch review, as the SE might be a better option (pending testing) for anyone who doesn't need ECG. We also suspect that the 7th-generation iPad will have new low pricing, but the newest 8th-generation model goes on sale September 18, so keep that in mind if you want or need the latest and greatest. Lows like this are even more likely with a delayed event, as these devices will effectively be last-generation models. That holds true for the 3rd-generation iPad Air as well, another model getting a refresh. MacBook deals haven't featured heavily during previous Prime Days but are always possible. At the very least, we expect to see MacBook Air and Pro models discounted to match previous sale prices from in 2020. We also expect deals on the previous-generation iPad Pro, a tablet that our resident Apple expert, senior staff writer Nick Guy, still considers a great value if the price is right.
Our pick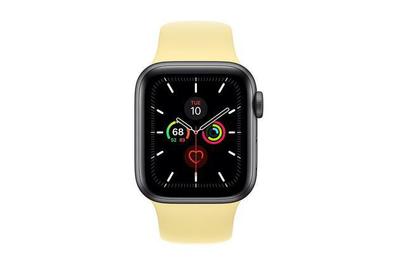 Apple Watch Series 5
If you're upgrading from an older watch, the Series 5's larger, always-on screen makes this model worth the price over the Series 3. The Series 5 is also faster. It comes in two sizes and is easy to customize with different straps and faces.
Vacuum deals
Vacuums are almost certain to see great prices during Prime Day, but some vacuum types in particular—robot vacuums from Eufy and Roomba and cordless stick vacuums from Dyson—have historically had the best Prime Day deals. Shoppers will have a variety of options to choose from, as we expect multiple models of each to be heavily discounted. Make sure to refer to our robot vacuum and cordless stick vacuum guides to pick the option that's best for you. Upright and canister vacuum sales are also a possibility, as we usually see at least one worthwhile Prime Day discount on our top pick from Shark. Even handheld vacuums have been the subject of Prime Day deals in previous years, so we're likely to see vacuum discounts for every vacuum category Wirecutter covers.
Gaming deals
The later Prime Day falls in 2020, the better the deals will be, but when it comes to PlayStation and Xbox, the deals will essentially be for the last-gen consoles. If you know that going in and accept that you're getting last-gen technology because of the impending release of the PlayStation 5 and the Xbox Series X, you'll enjoy the best pricing we've ever seen for the older consoles. Regardless of the price, Wirecutter almost certainly won't continue to recommend the older game consoles. Additionally, PS4 controllers won't work on PS5 games, though Microsoft claims that all Xbox accessories save Kinect will be compatible with the Series X and Series S.
The Nintendo Switch hasn't seen any deals at all since very early in 2020. In fact, since March it has been rare to find the slightly refreshed new Switch model (which offers longer battery life) available even at full price, though we have noted better stock availability in recent weeks. Depending on inventory levels, we may see deals, but considering the continued demand we think any discounts will be small ones at best. We will, however, likely see deals on recommended Switch accessories such as the Switch Pro controller and recommended charging accessories. Also more likely are deals for the Switch Lite, which has had more steady inventory.
Fitness deals
As the coronavirus pandemic continues to impact gymgoers, quality home fitness equipment continues to experience high demand. Wirecutter's top adjustable dumbbell pick, the Core Home Fitness Adjustable Dumbbell Set, has been sold out at reliable sources for months. Even large and expensive fitness gear like our treadmill picks and the Peloton bike are experiencing stock issues and shipping delays as shoppers attempt to duplicate their gym experience at home. Peloton, for instance, has confirmed that delivery times for new orders are "substantially longer than normal" and depend on your location. Even smaller and easier-to-manufacture items such as our recommended resistance bands have suffered from stock issues and delays as well as inflated pricing—our top resistance band pick, $30 at the time we tested it, is now available for $50. We'd be happy to see many of our fitness picks in stock at all, and although there likely won't be any deals, we will try to highlight these items for our readers when and if they become available.
TV deals
Amazon Prime Day has historically offered deals on budget and ultra-budget TV models, but in recent years we've seen more variety in the types of TV deals available. Previous ultra-budget TV deals have predictably included discounts for TVs that incorporate Amazon's own Fire TV interface. While no TVs that incorporate the Fire TV interface are presently Wirecutter picks, there is the potential for deals on a number of TVs Wirecutter does recommend. The newest TCL 6-Series line could see deals, and while it isn't yet a formal pick, early testing impressions were hugely positive and it's likely to be one. Deals on another probable Wirecutter pick, the Sony X950H, are possible but less likely, as Sony televisions in general are less likely to see substantial price drops. For most gamers, we prefer the aforementioned 2020 TCL 6-Series to the current picks in our gaming TV guide. Finally, in 2019, we noted deals that included bonus gift cards for the LG C9. We hope to see similar deals for a successor to that model, the LG CX, which will almost certainly be our new OLED TV pick. If you have the budget for a more expensive TV and can combo a small discount with a bonus gift card from a retailer you like, it's a great way to get more for your money during events like Prime Day.


Source: Wirecutter: Reviews for the Real World, Author: Nathan Burrow