Vegan lentil Nachos with easy cheese sauce. Taco lentil filling, simple cashew cheese sauce, roasted squash, guacamole and more! Vegan and gluten-free.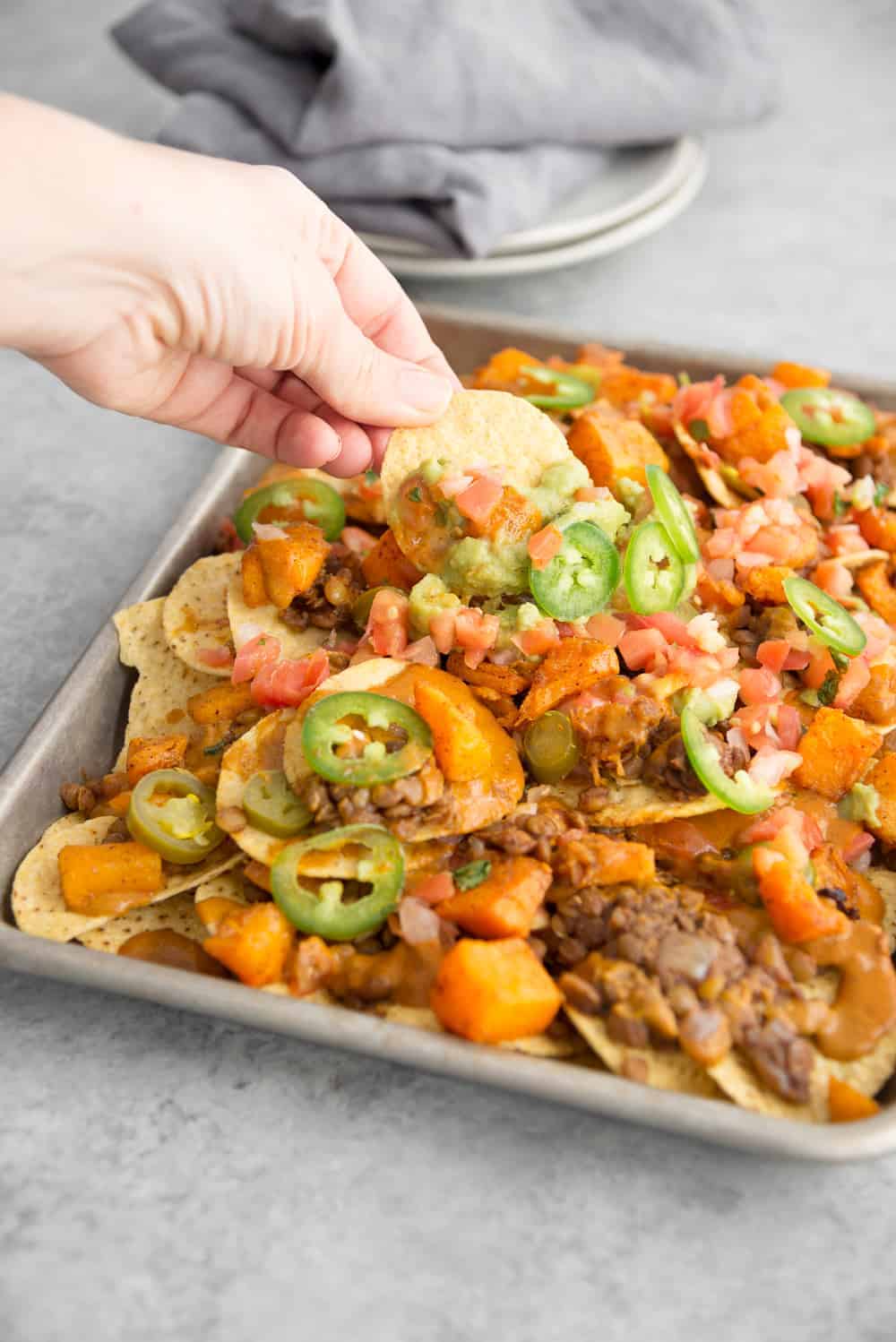 Coming to you today with NACHOS! Not your  Nacho average nachos, though. These are loaded vegan nachos and they are perfect for any upcoming gathering that you might be hosting. Or, you know– hope to be hosting in the near future.
We made these loaded nachos over the weekend for a lazy Sunday night dinner and it was the best. The weather dipped into the low-60s and we opened the windows, cuddled under blankets and watched Moana while we devoured these tacos. Which, to be honest, is how we've spent the vast majority of 2020. 
Taco lentils + roasted chili squash + easy cashew cheese sauce + guacamole + your favorite toppings. These are nachos to beat all nachos.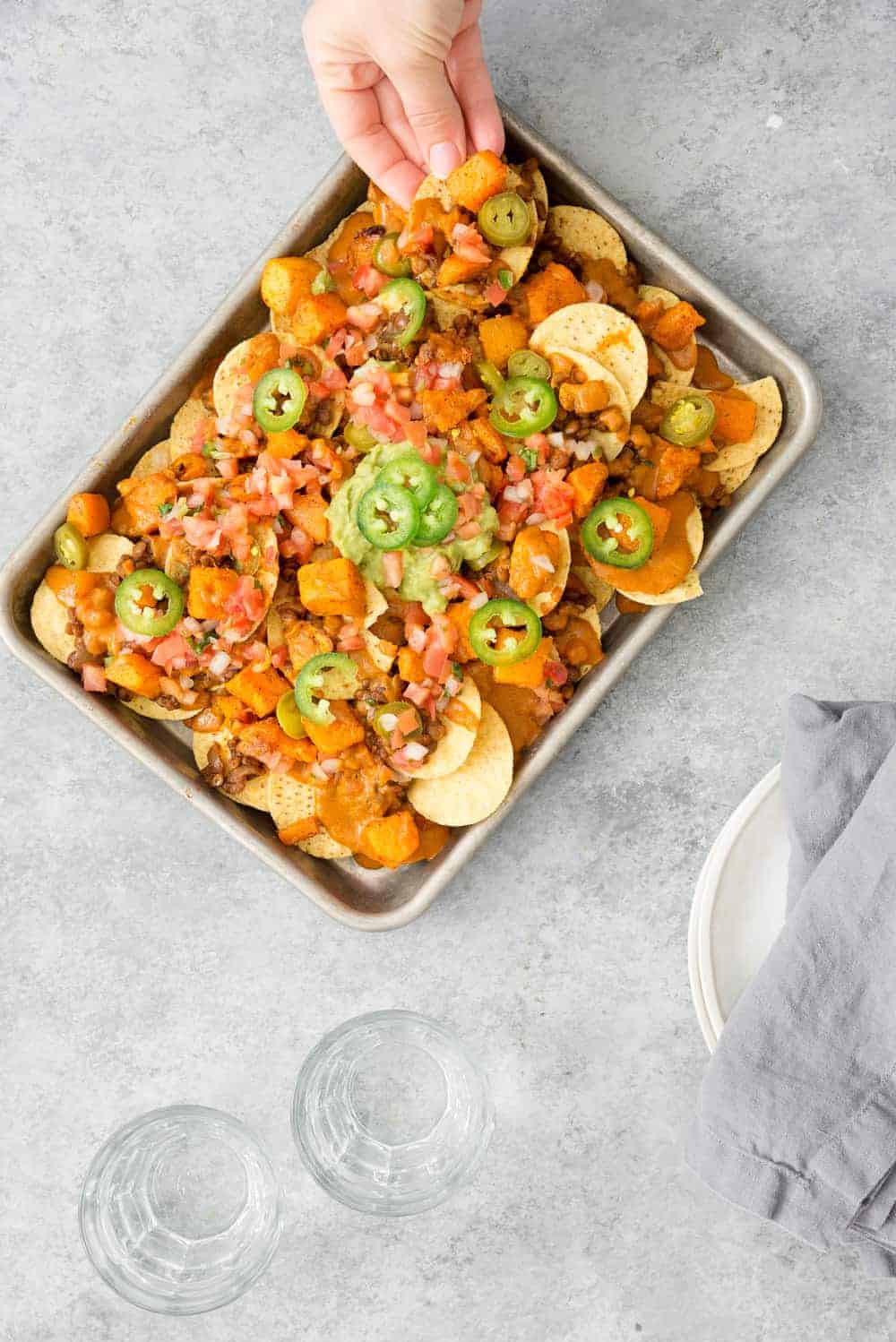 Familiar readers might know about my vegan chili cheese dip. It's one of my most popular recipes (and even featured on the Dr. Oz show last year!) and gets rave reviews from everyone who tries it.
It's one of my family's favorite snacks as well, and BL requests it almost every week for football Sunday. And while we love, love, love that recipe, it's also pretty heavy. It contains 1 1/2 cups of cashews and is as indulgent as it tastes.
Therefore, I wanted to create a lighter cheese sauce that had just as much body and flavor. I swapped in cashew milk for the cashews and wow! The sauce is just as rich as the original, without comprising taste.
Cashew beverage is a workhorse in my kitchen and I've been working this past year to update some of my more heavier cashew-based sauces with cashew-milk instead. (Like this spicy penne pasta– a crowd favorite!)
It's so incredibly creamy with less calories and fat than blending in whole cashews, as many non-dairy recipes call for. While I don't focus too much on calories and fat in my cooking, I know that many of you do and I like to provide recipe options for all of us.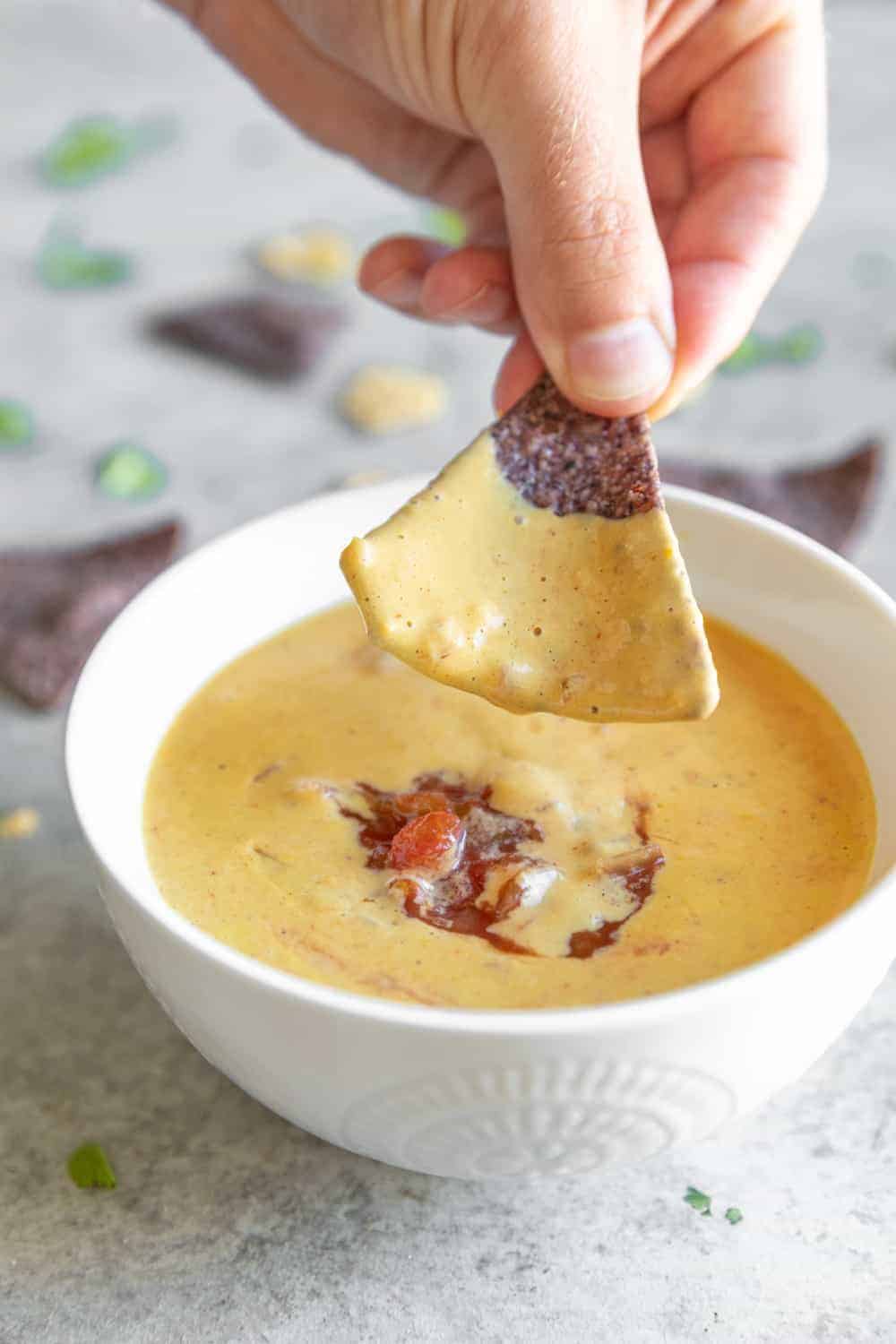 Vegan Lentil Nachos with Easy Cheese Sauce
Please don't be intimidated by the amount of ingredients here. I know it's a lot but many of them are spices and all of the components come together really easily.
The taco lentils almost cook on their own after sweating a chopped onion and garlic. The cheese sauce blends up in minutes and the squash is mostly hands-off cooking as well.
If you want to simplify things, then don't add the squash. I love the sweet and smoky taste that the squash brings to this recipe, but it's also OK if you don't want too much work.
And, if you are really craving nachos and don't want much work at all, then just make the cheese sauce and drizzle over chips, maybe adding in some black beans and guacamole.
Enjoy these! xo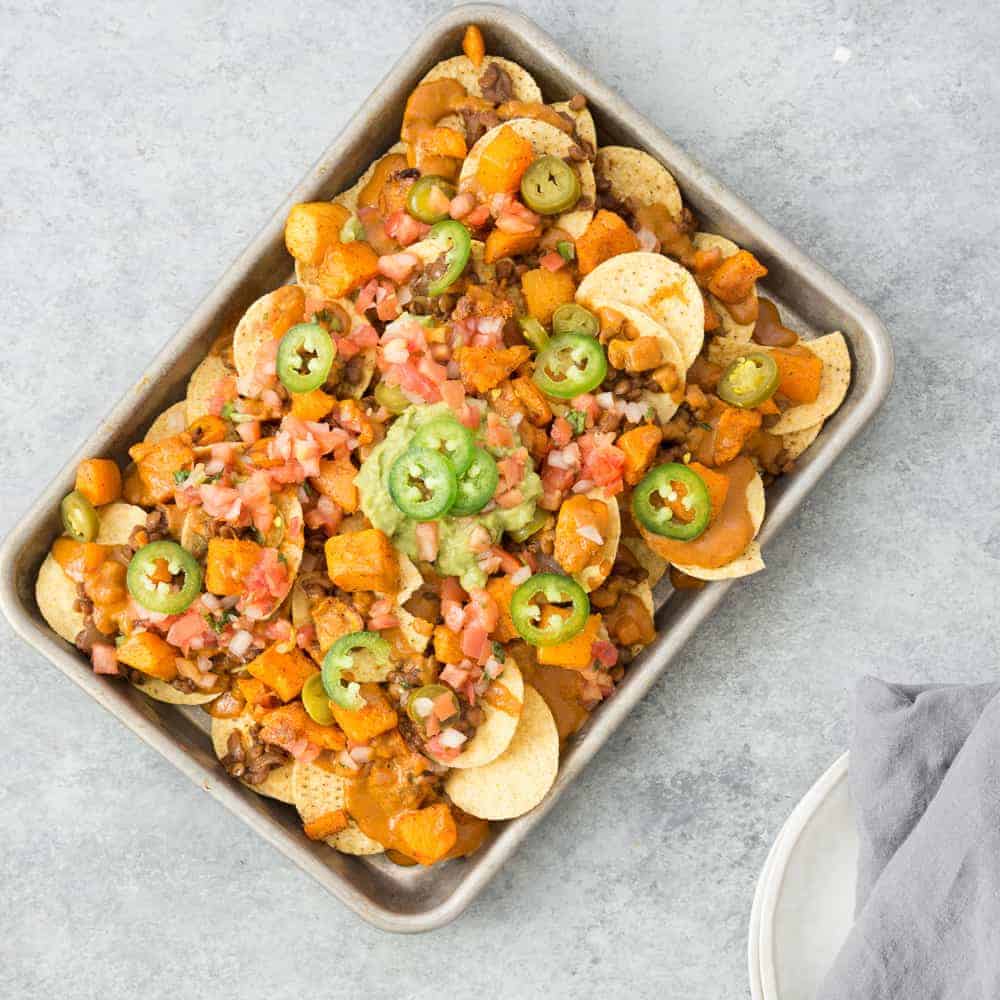 If you try these vegan lentil nachos then come back to leave a comment and rate it! Your feedback helps others and I love seeing you make my recipes.  
Print

Author:

Prep Time:

20 minutes


Cook Time:

40 minutes


Total Time:

1 hour


Yield:

8

servings

1

x

Category:

nachos, lentils, healthy, dinner, appetizer, superbowl, snacks


Method:

Stove Top, Oven


Cuisine:

vegan, glutenfree, plantbased, party food, appetizer

Author:

Prep Time:

20 minutes


Cook Time:

40 minutes


Total Time:

1 hour


Yield:

8

servings

1

x

Category:

nachos, lentils, healthy, dinner, appetizer, superbowl, snacks


Method:

Stove Top, Oven


Cuisine:

vegan, glutenfree, plantbased, party food, appetizer
Scale
Ingredients
Lentil Taco Filling:
2 teaspoons

olive oil

1

small onion, finely chopped

2

cloves garlic, finely chopped

1 cup

green lentils

1 1/2 tablespoons

chili powder

2 teaspoons

cumin

1 teaspoons

paprika

1/2 teaspoon

salt

2 cups

vegetable broth
Quick Cheese Sauce: 
1

orange bell pepper, chopped

1 teaspoons

chili powder

1/4 cup

nutritional yeast

1/4 cup

onion, chopped

1 1/2 teaspoons

salt

3/4 cup

cashew milk

1 teaspoon

cumin

1/2

ground paprika

1 teaspoon

cornstarch
Chili Squash: 
12 ounces

cubed butternut squash

1 teaspoon

ground chili powder

1 teaspoons

olive oil
pinch salt
Other:
Tortilla Chips
Guacamole
Pico de Gallo
Pickled jalapeno slices, optional
Instructions
For the taco filling:
Heat a large deep skillet (or a large saucepan with deep sides) to medium heat with the olive oil. Add the onion and cook until translucent, about 5-10 minutes. Add in the garlic and saute for 30 seconds then add in the lentils, chili powder, cumin, paprika, salt.
Mix so that everything is well coated, then add in the vegetable broth and bring to a boil, then reduce heat to a simmer, cover and cook for 25-30 minutes until lentils are tender and liquid has been absorbed.
For the quick cheese sauce:
Add all of the ingredients to a high-powered blender and puree until creamy! This sauce will thicken up as it heats, so you can either keep running the blender to warm the sauce (My blendtec blender will do this on the 'soup' setting) or add to a small saucepan and warm over medium heat until thickened, about 5-10 minutes.
Taste as needed with salt, sometimes I have to add a little more!
For the chili squash: 
Heat the oven to 400 degrees F. Coat the squash with the oil and spices and place in a single layer on a baking sheet.
Roast until tender, about 30-45 minutes (depends on the size of the squash cube)
Assemble! 
Place the tortilla chips on a single layer, drizzle on the cheese sauce, top with squash, lentils, pico de gallo and guacamole.


Source: Delish Knowledge, Author: Alex