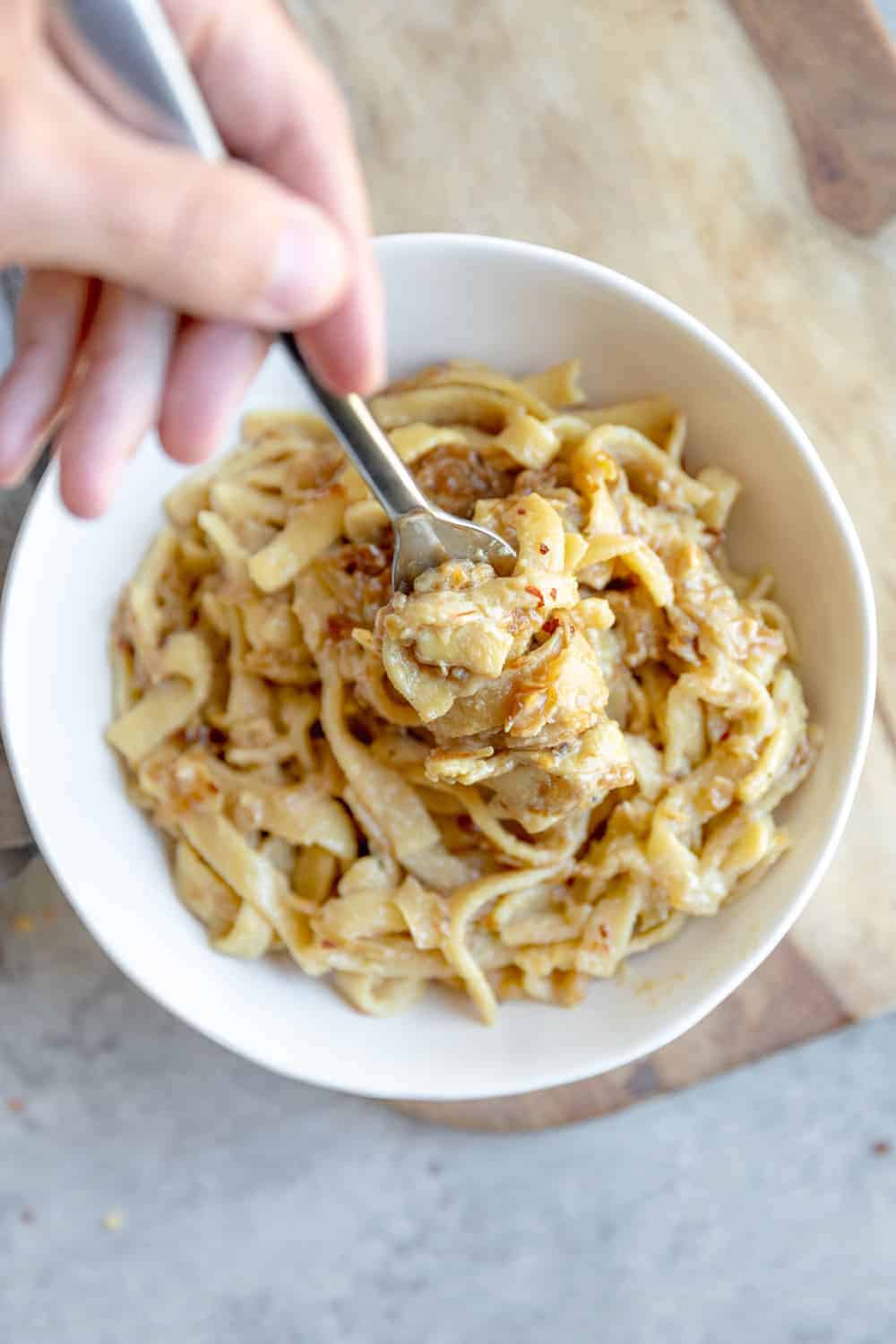 Oh, umami mama. We've done it now. This caramelized onion fettuccine is so unbelievably delicious and I'll tell you why– it's loaded with plant-based umami. That's my secret weapon when I'm creating plant-based recipes. How do I up the umami factor so this dish tastes WOW instead of good? Focus on umami. 
One thing I hear over and over from friends is that plant-based food tastes good 'for being plant-based', which really isn't a compliment. Food should taste good on it's own, not compared to something else.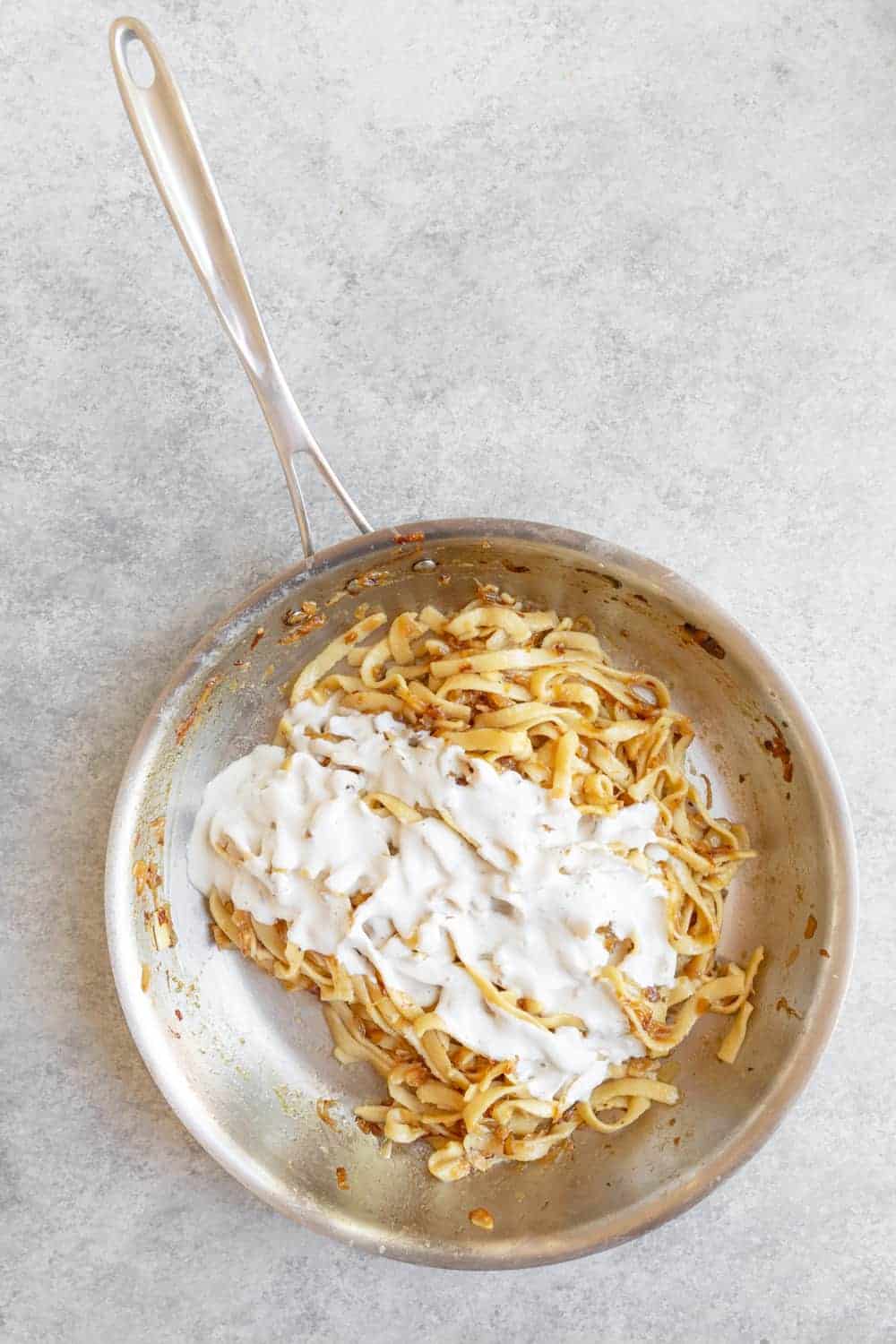 Since umami flavors are so closely linked with meat– when you remove the meat and the dairy, it can feel like something is missing. That's why for epic plant-based eats, you have to add back in some type of umami flavor. And this caramelized onion fettuccini packs a one two punch of onions and miso paste– both umami superstars. Put this on your date-night-at-home menu, it's going to be your new favorite pasta recipe.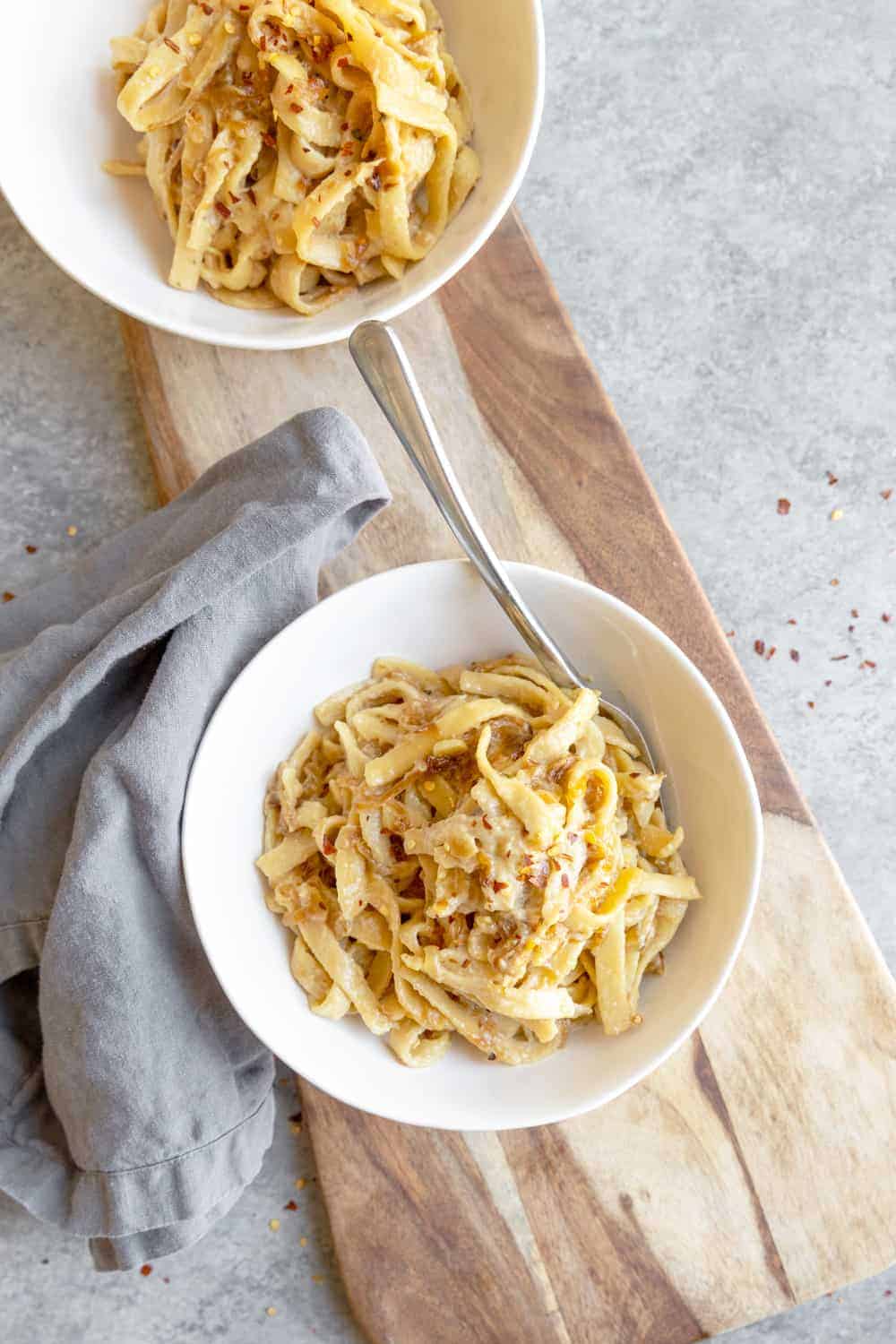 This recipe is actually a riff on my Caramelized Onion Fettuccini that I created in my Fresh Italian Cooking book. I was craving it one night and decided to make it for dinner with some homemade pasta for a true Sunday night dinner. You know the kind; where dinner is a little more involved than weeknight favorites and where the whole house smells delicious because you've been cooking for the afternoon. 
That recipe is vegetarian, and I wanted to see if I could take out the dairy without missing any of the flavor.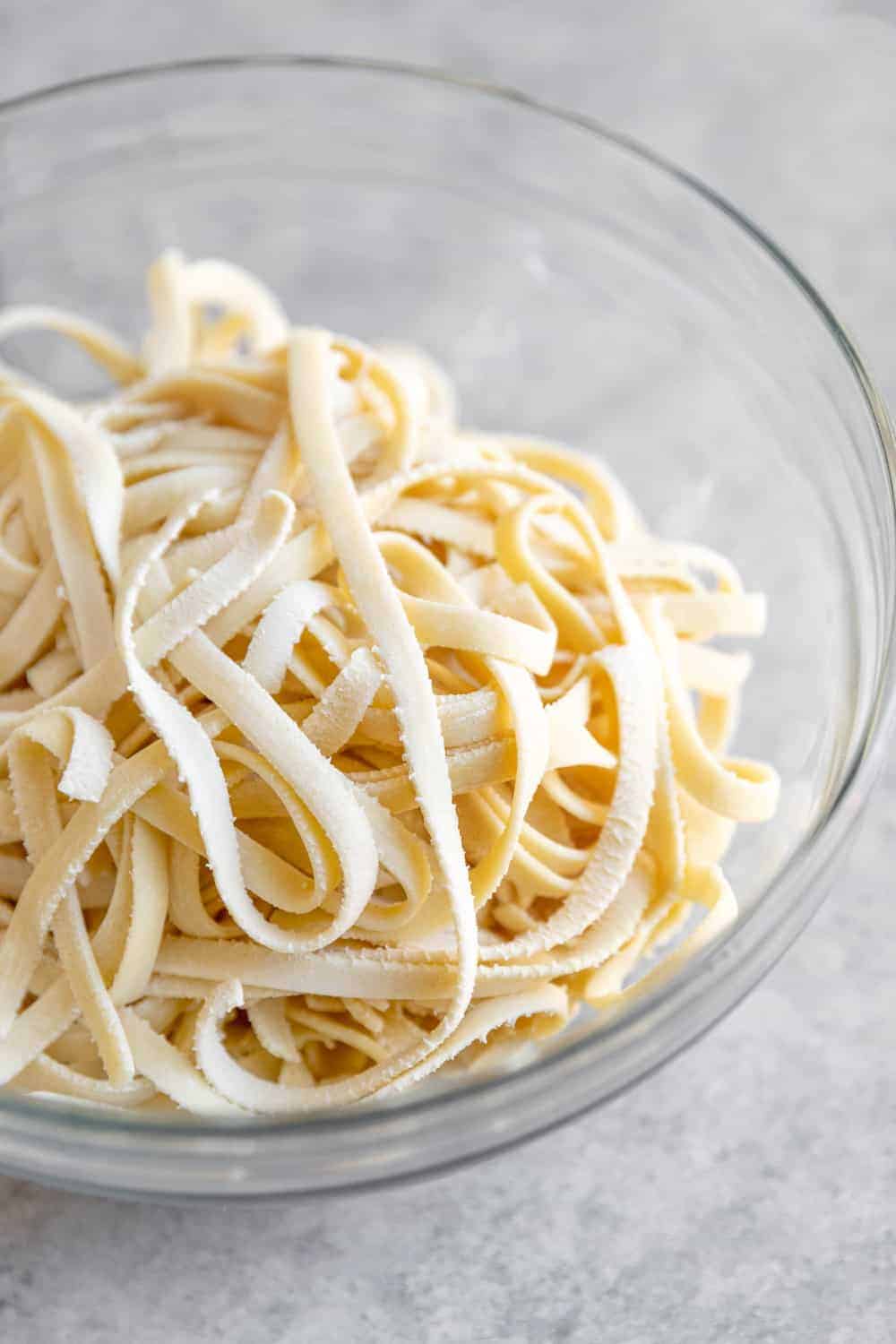 How to Make Caramelized Onion Fettuccine
First up, caramelize onions to get them so silky and dark brown, they almost melt when you stir them. This recipe is fairly easy, but it does take time to get the onions where you want them to be, so don't rush the process. Check out the photo below; if your onions don't look like this, then keep going! 
After that, you'll stir in the aromatics: garlic, red pepper flakes and a little oregano. Cook the pasta until a little under al dente, then add to the mushroom skillet along with the miso slurry. As I've explained a few times– this is the secret in creating restaurant worthy pasta! When you finish cooking the pasta in the sauce, you allow it to soak up the flavor of the sauce during those last few minutes which adds in so much more flavor. You also don't risk overcooking the pasta by tossing it with sauce once it's already finished cooking.
To take things up a notch, I added in some cashew cream at the end and then gave it one more good toss before serving. I actually thought the pasta tasted great without the cashew cream, so if you don't have any on hand or don't want to fuss then you could leave it out completely. You could also do a tablespoon or two of creamy non-dairy milk; a soy or oat creamer would be great here as would a higher fat milk like full-fat oat milk or soy milk.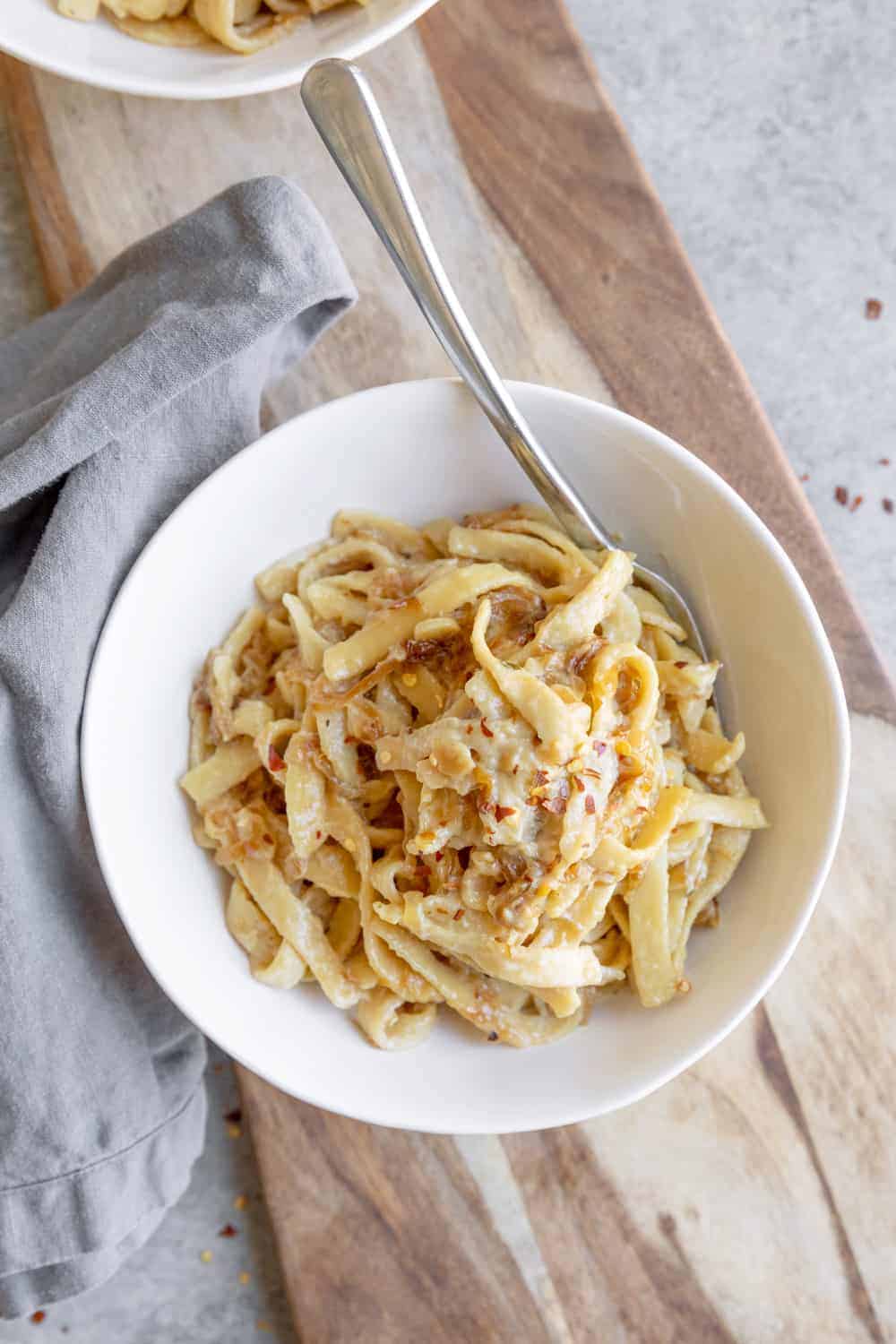 I served this meal with homemade fettuccine from my pasta machine, but of course dried pasta is fine. I highly recommend a long noodle, like fettuccine or even pappardelle for this pasta over a short option like a ziti or rigatoni. I find that shape makes a difference with the sauces, and this one benefits from a noodle you can twirl along with the ribbons of onions.
Serve with a little more red pepper flakes (or maybe some chopped parsley, if you've got it) and dinner is served! Hope you enjoy this caramelized onion fettuccine as much as we did.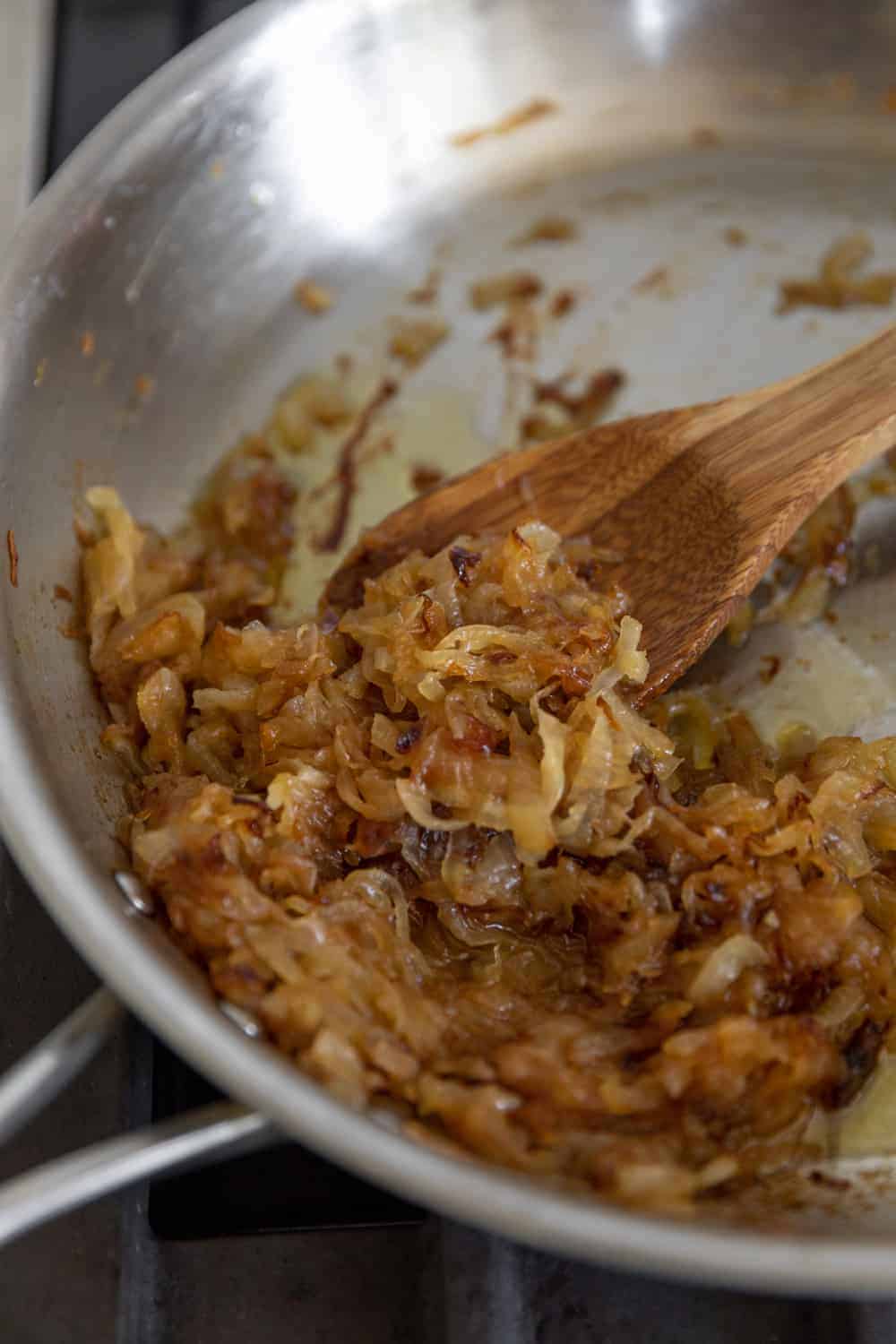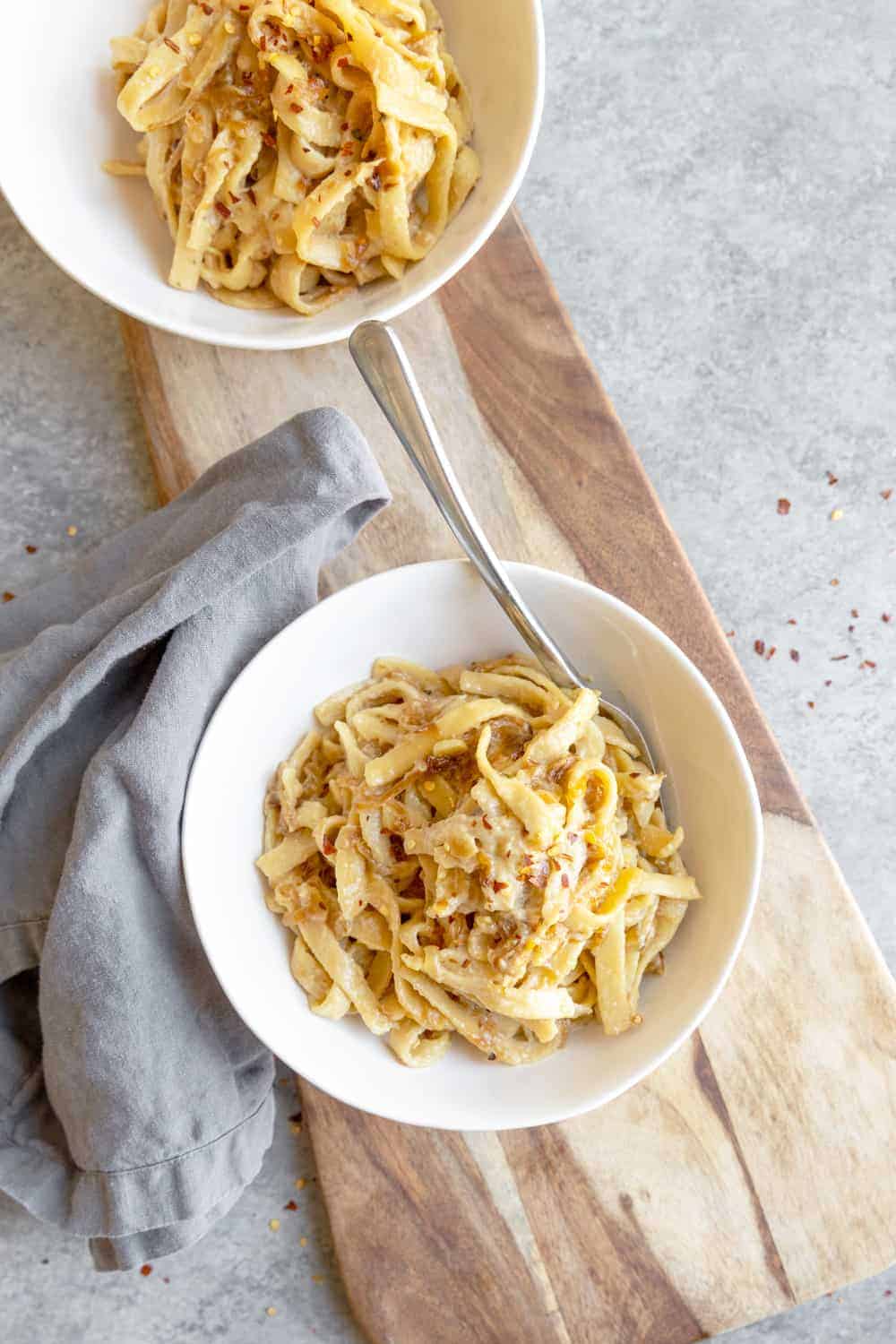 For more vegan pasta recipes, make sure to check out my easy, 20 minute vegan pasta, my spicy vegan pasta with sausage and 20 easy vegan pasta recipes. If you make this recipe, make sure to come back and rate it and leave a comment. Seeing you make my recipes makes my day and your feedback helps other readers. 
Print
Scale
Ingredients
2 tablespoons

olive oil

3

large onions, thinly sliced

6

cloves garlic, sliced

1 teaspoon

dried oregano

1/4 teaspoon

crushed red pepper flakes

1 teaspoon

white miso paste thinned with 1/4 cup reserved pasta water

1 teaspoon

fresh lemon juice

12 ounces

fettuccine noodles

1/2 cup

cashew cream*
Instructions
Heat the olive oil in a large skillet over medium heat. Add the onions and cook until very brown and caramelized, about 45 minutes. You want the onions to almost melt as you stir them. Check out the photos above!
Add the the garlic, oregano, red pepper flakes and stir together.
Bring a large pot of salted water to a boil. Right before the onions are done, add the pasta and cook for 2 minutes under package directions. So, if the package says 10 minutes, cook for 8. Drain and reserve 1 cup pasta water.
Add the drained pasta to the skillet along with 1 teaspoon miso thinned with 1/4 cup reserved pasta water. Toss, finishing to cook the pasta, adding another splash of pasta water as needed, tossing the entire time. If the mixture gets too thick, add in another splash of pasta and keep cooking until pasta is al dente.
Stir in the lemon juice and reserved cashew cream, then taste, adding in more salt/freshly ground pepper as needed.
Garnish with fresh parsley, if desired, and serve!
Notes
*How to make Cashew Cream! No Cashew Cream? You can use non-dairy milk, non-dairy creamer or heavy cream instead.
** For an even more decadent meal, stir in a little non-dairy parm or regular parm!


Source: Delish Knowledge, Author: Alex