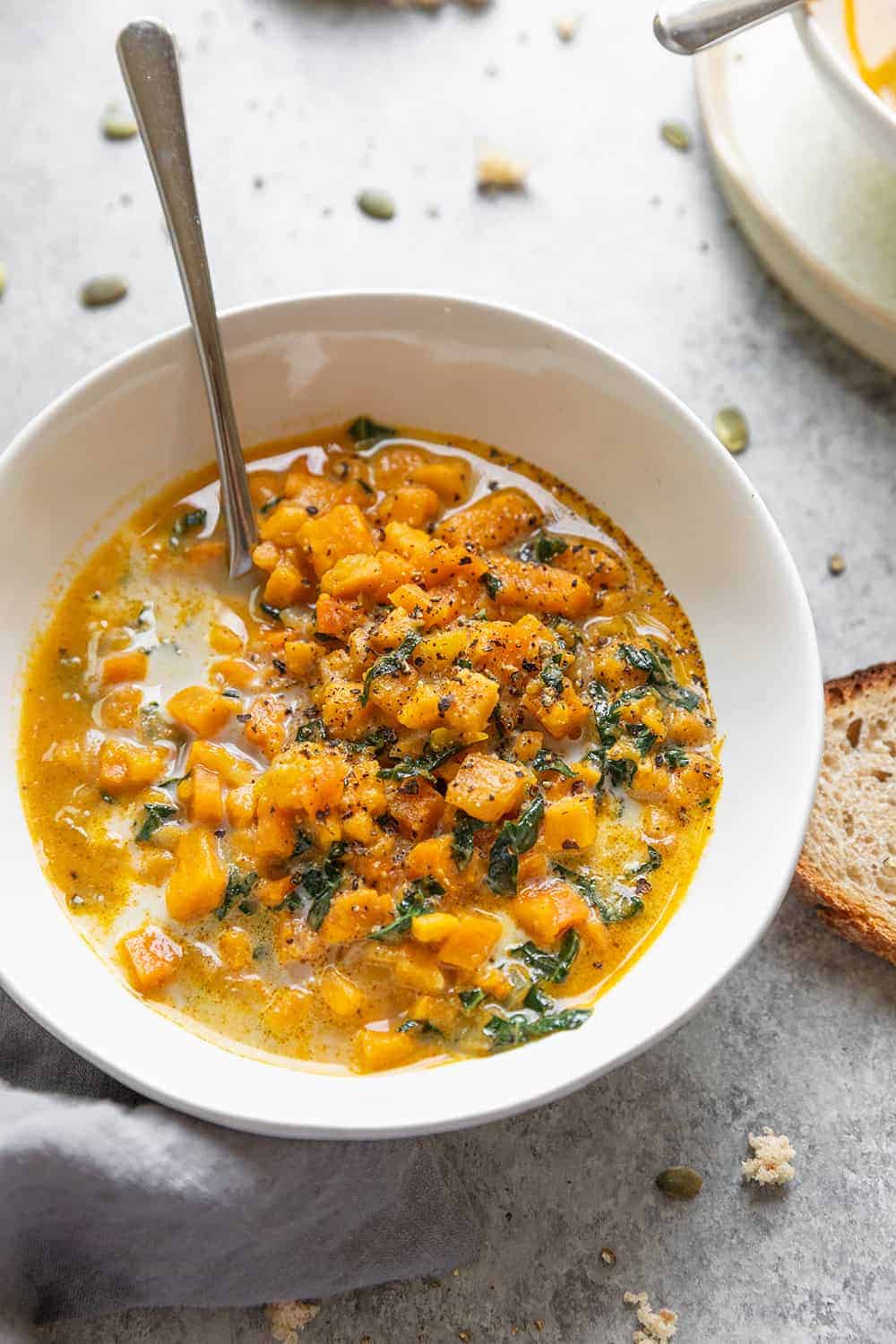 It's officially fall in my book. I've made this vegan sweet potato stew twice in the last few weeks and found myself digging out the sourdough starter I let go earlier this summer from the back of the fridge for homemade bread to go with it.
The perfect fall dinner, made even better by an evening that's pitch dark by 7PM which means I don't feel as guilty when I head to bed around 8 to read and fall asleep under a giant blanket fort. (PS– I'm currently reading The Immoralist and just finished The Vanishing Half and would give both 5/5 stars. I love reading a story that I cannot wait to get back to each night.)   
Though I'm dreading the winter and what's soon to be a gloomy few months, I'm surprised at how much I'm relishing this time of year. I've taken Van apple picking almost weekly and have been living in sweaters and sweatshirts. Plus– fall means the start of soup season, which may be the very best of all of the foods.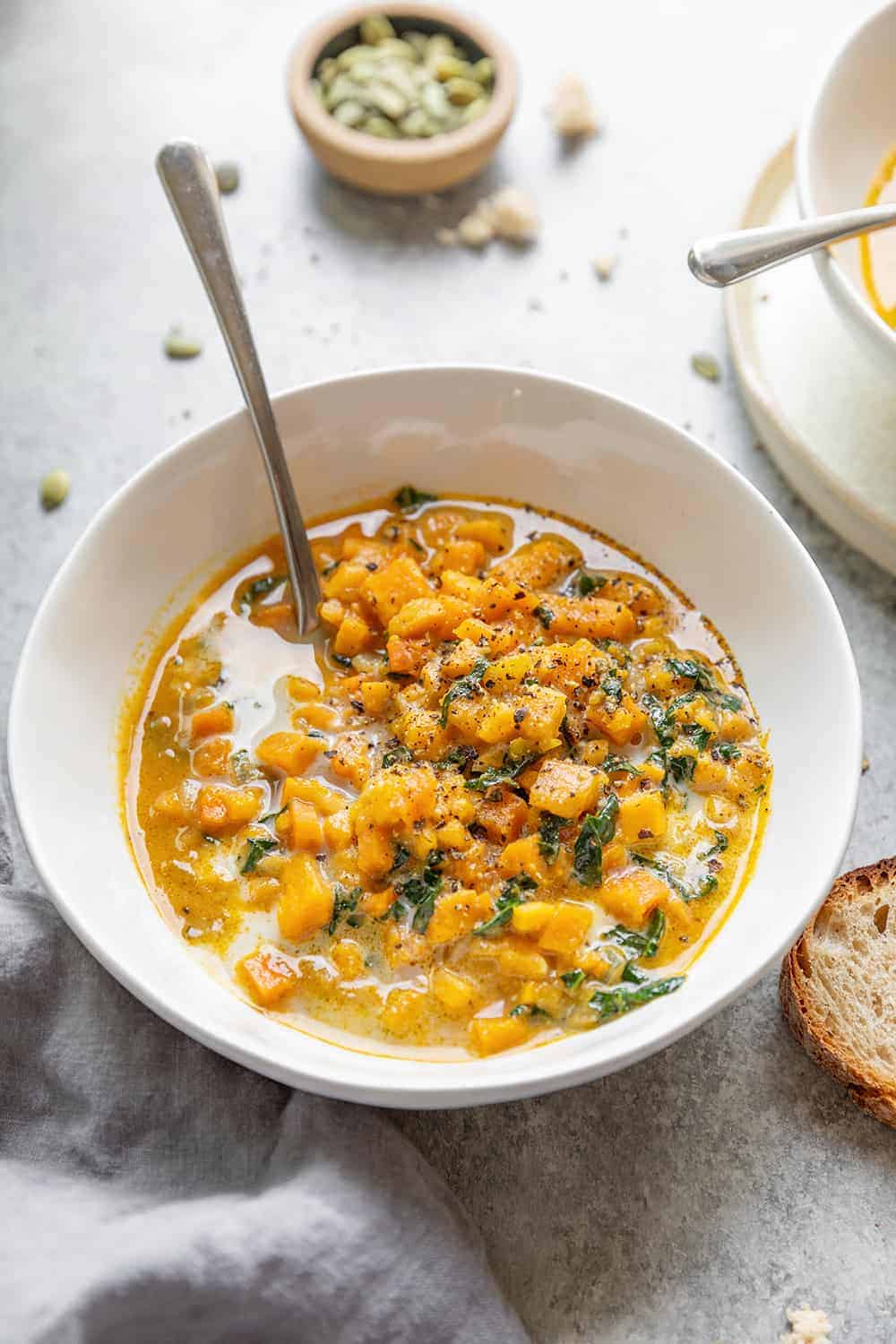 BL constantly tells me that my best recipes are soups, which kinda feels like a backhanded compliment. I mean, anyone can make soup, right? I can admit this here are he'll never read it, but he's right. Soups are my secret weapon recipes– layers of sautéed vegetables and aromatics, with a perfect balance of richness.
This vegan sweet potato and kale soup is exactly what I'm craving these days. It's rich without being heavy, super flavorful and fairly simple to throw together.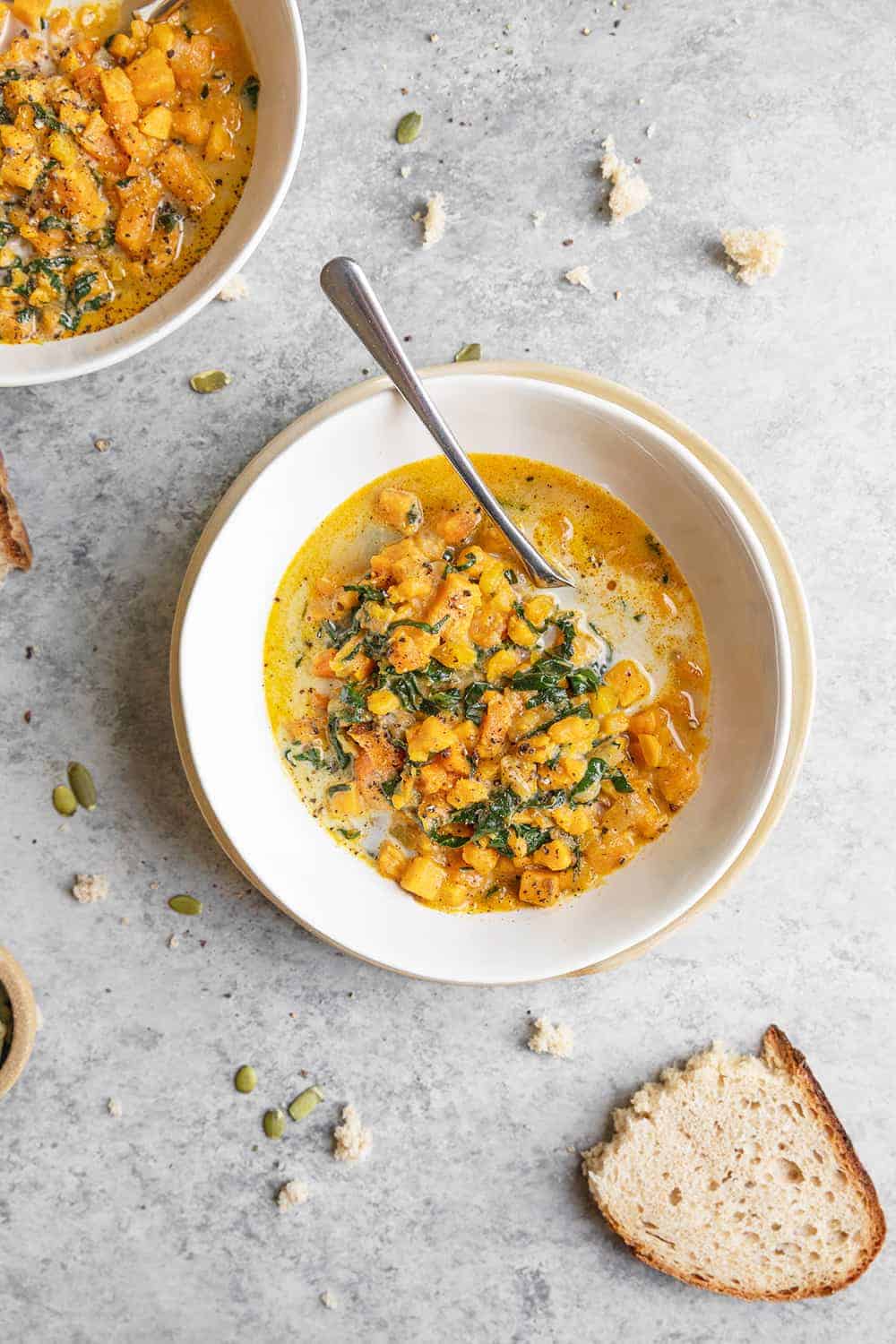 How to make this Vegan Sweet Potato Stew 
First up, saute your vegetables with a bit of sage and nutmeg. I ended up using a non-dairy butter here for more flavor, but olive oil will also work. You want the vegetables to slightly brown and caramelize, which gives lots of flavor to the overall dish. 
In addition to sweet potatoes, carrots provide a nice balance of sweetness and earthy flavor. Along with lots of garlic and onion, though I also think a small amount of fresh ginger would be nice here as well. 
Simmer until tender, then puree a bit of the soup and add back to the pan. This trick helps to beef up the stew without adding in extra cream or butter. It's one of my go-to tricks in creating creamy soup, without the cream. 
Lastly, stir in coconut milk and a bit of lime juice. I know that sounds odd in a sweet potato stew, but the coconut milk provides a lovely rich mouthfeel and any type of finishing acid is my #1 secret to a great soup. Stew in general tends to be heavy and salty, and adding in an acid, like lime juice, at the end makes the entire thing feel bright and even more flavorful. Don't skip it!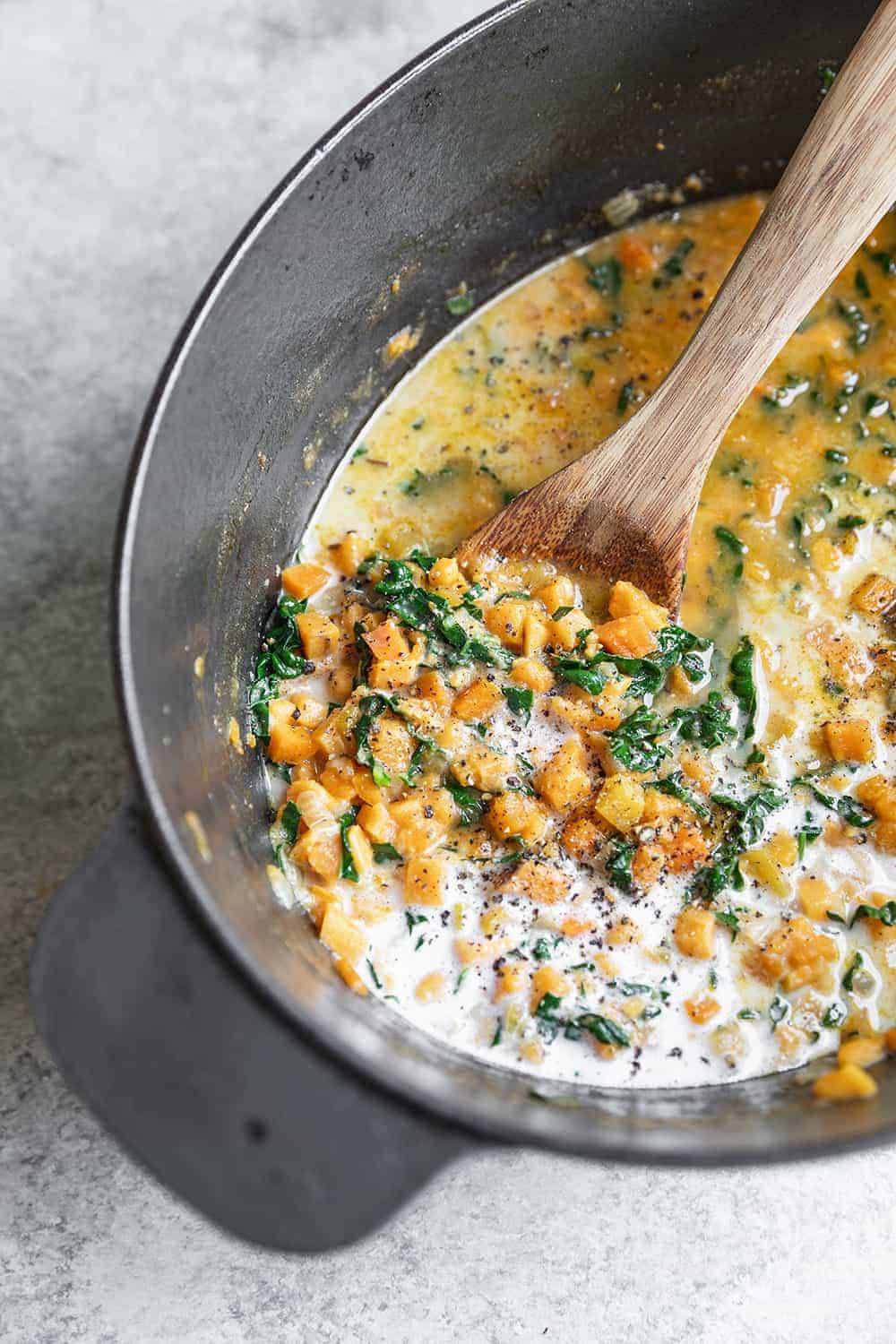 To keep that bright green of the kale, stir it in right before serving to it barely wilts. I prefer a tuscan, non-curly kale for this recipe but any type will work. You can also use mustard greens or spinach!
Make sure to finely chop the greens. I do this by lying the leaves on top of one another and tightly rolling, then thinly slicing into ribbons. I don't want a big hunk of greens in my soup and this also allows the kale to cook quickly, in just a minute or two in the hot sweet potato stew.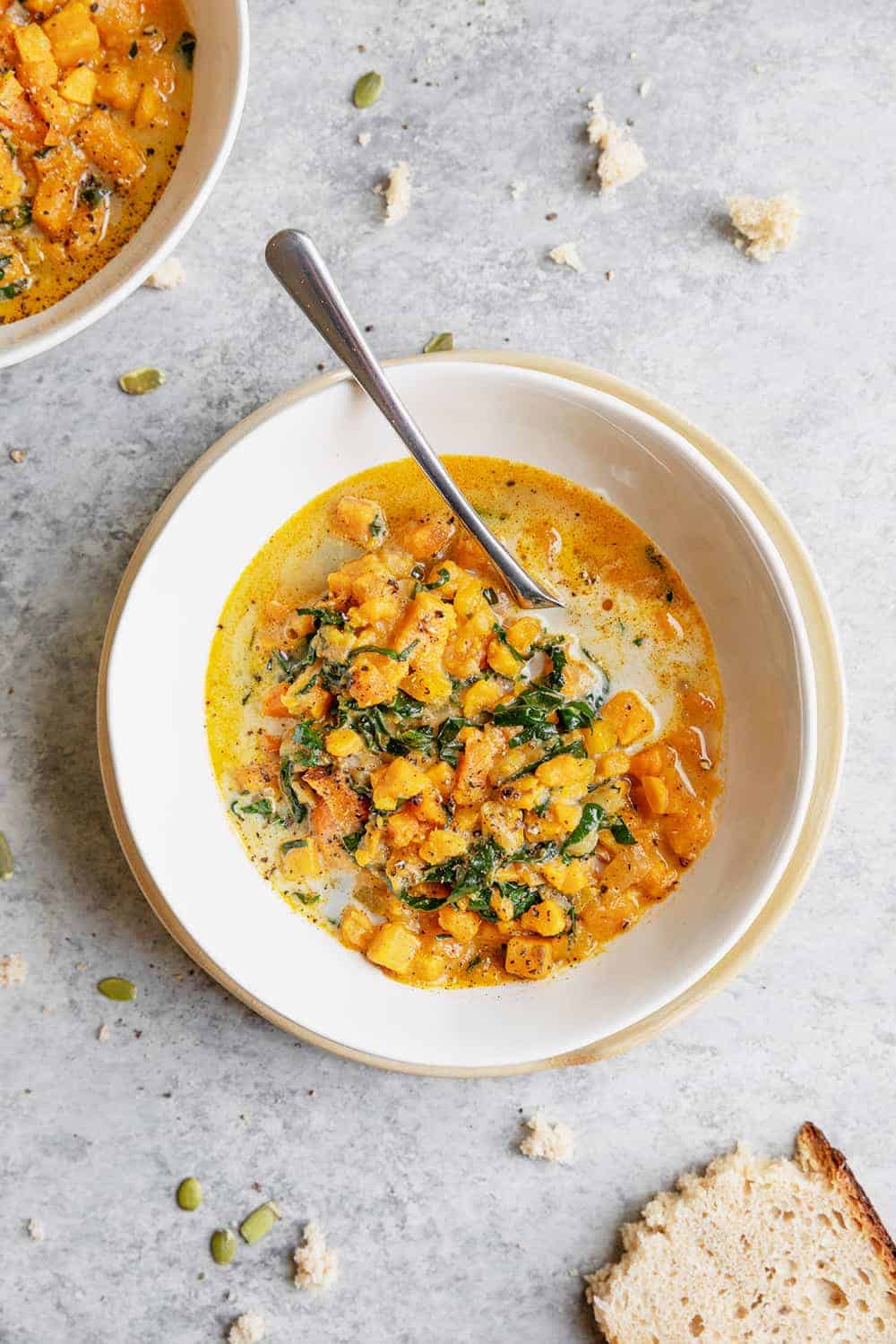 See all that delicious broth? I highly recommend having some good bread on hand to soak it all up with. My no-knead bread is a winner, which is what is shown here. I omitted the fresh rosemary on top and added in more whole-wheat flour for sustenance and fiber. 
As an added bonus, that bread proofs in the Instant Pot which means you can start the bread and soup in the morning for a no-fuss weeknight dinner.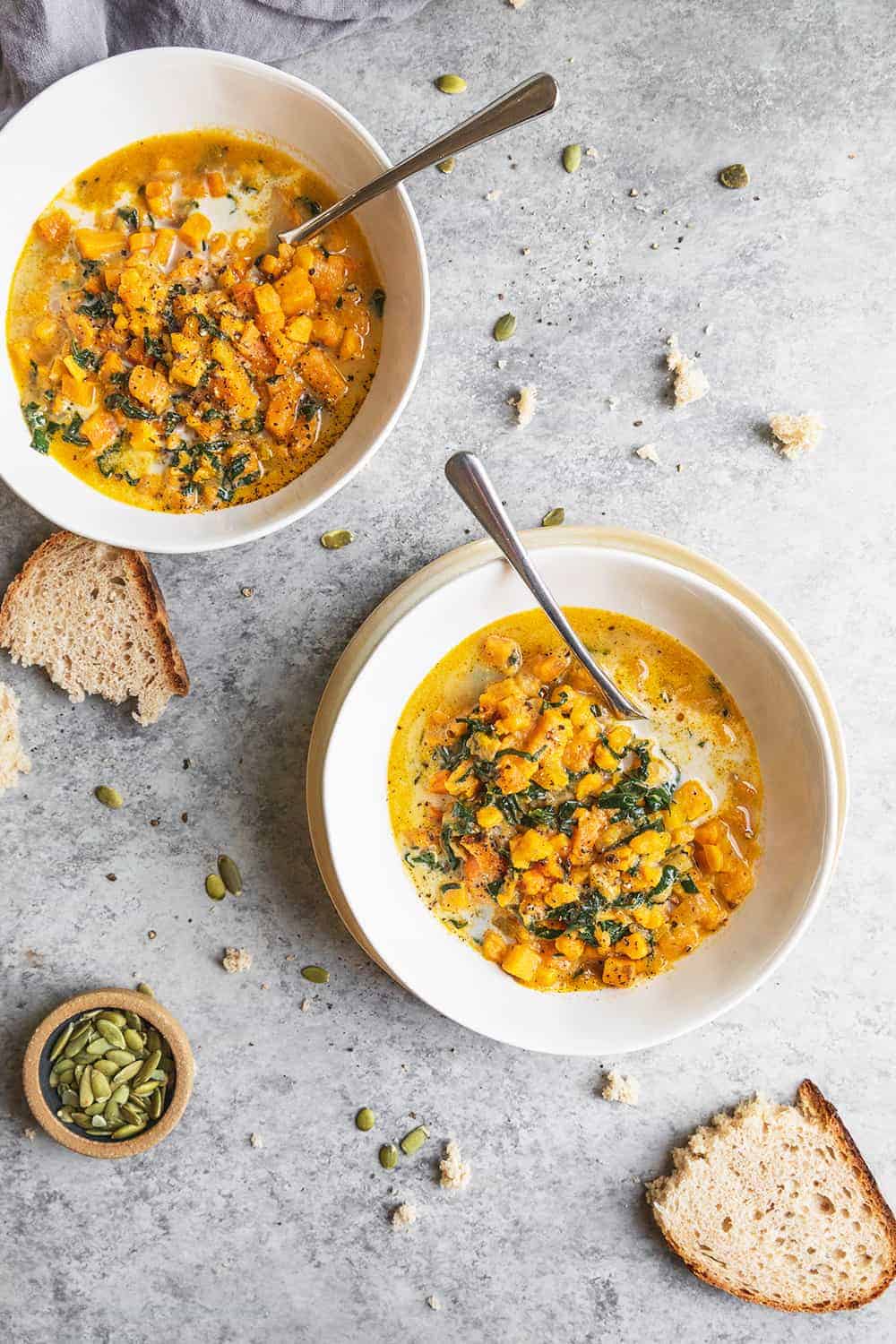 If you try this vegan sweet potato stew, make sure to come back here to leave a comment and rate it. Seeing you make my recipes completely makes my day and your feedback helps other readers. 
Print
Scale
Ingredients
1 tablespoon

non-dairy butter or olive oil

1

yellow or white onion, diced

3/4 cup

chopped carrots

3 cups

chopped and peeled sweet potatoes

4

large garlic cloves, minced

1/4 teaspoon

ground sage

1/4 teaspoon

nutmeg

4 cups

vegetable broth

2 cups

chopped tuscan kale

1/3 cup

coconut milk

1 Tablespoon

fresh lime juice
Instructions
Heat the oil or butter in a large saucepan over medium heat.
Add the onion and cook until just tender, about 5 minutes.
Stir in the carrots, sweet potatoes, garlic, sage and nutmeg along with a generous pinch of salt and pepper and cook for 10-15 minutes until vegetables have broken down and softened slightly.
Add in the vegetable broth and bring to a simmer, then reduce heat to medium low and cook until vegetables have completely softened, another 10 minutes. Remove 1 cup vegetables with broth and puree in a blender (or use an immersion blender) then add back to the pan.
Just before serving, stir in kale until just wilted then remove from heat and stir in coconut milk and lime juice. Season to taste with salt/fresh black pepper and serve.


Source: Delish Knowledge, Author: Alex