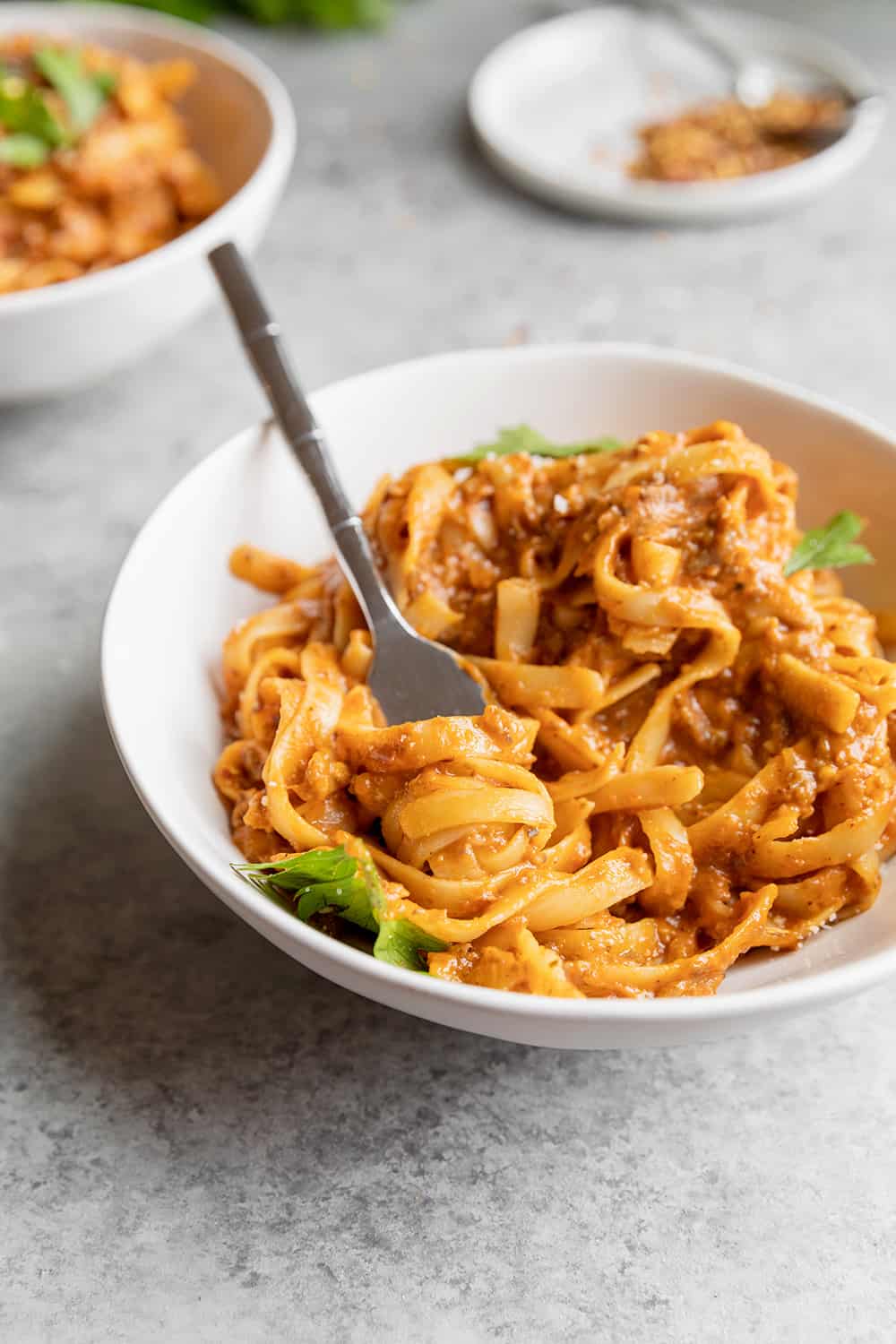 Coming at you with perhaps my favorite new pasta recipe– vegan pumpkin bolognese! I know, it perhaps doesn't sound very intriguing but here's what we've got: tender mushrooms cooked until they are very browned and very meaty, then covered in a rich pumpkin tomato sauce and tossed with fettuccine.
It's hearty, delicious and the perfect amount of new and different. If you like bolognese sauce and if you like pasta, then you'll love this fun combo.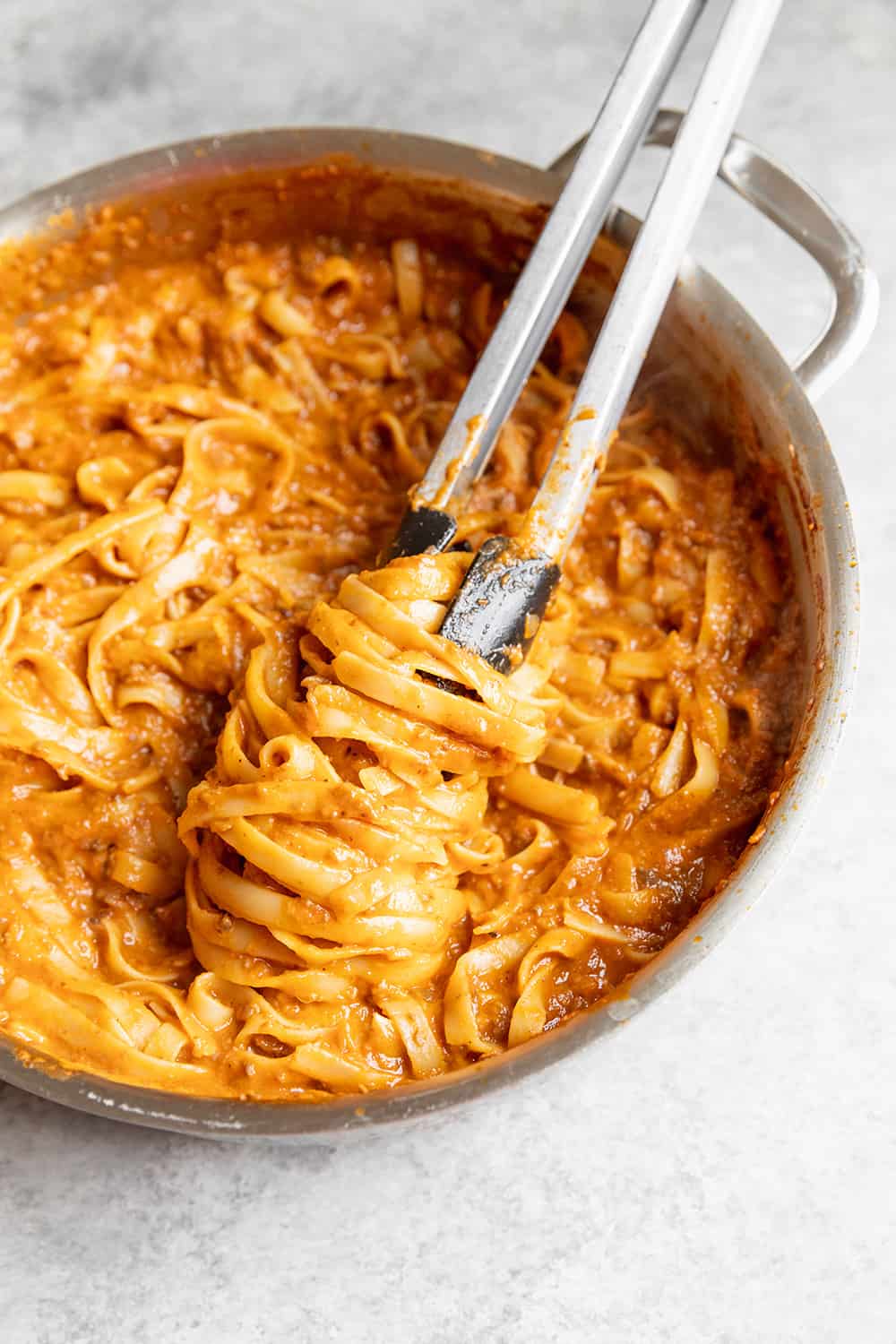 Tips for Perfect Vegan Pumpkin Bolognese
As with all good recipes, I was inspired by this pumpkin spaghetti recipe while browsing through Pinterest one night. I loved the idea of making a hearty sauce from sun-dried tomatoes, pumpkin and tomato sauce and thought it would be perfect over a simple bolognese mushrooms base.
I've been doing this mushroom sauce a lot lately; it's so incredibly meaty and I find it much more texturally similar to a traditional meat bolognese than using lentils. The secret is pulsing the mushrooms in a food processor first so they are very finely diced, then cooking them until well-browned and reduced.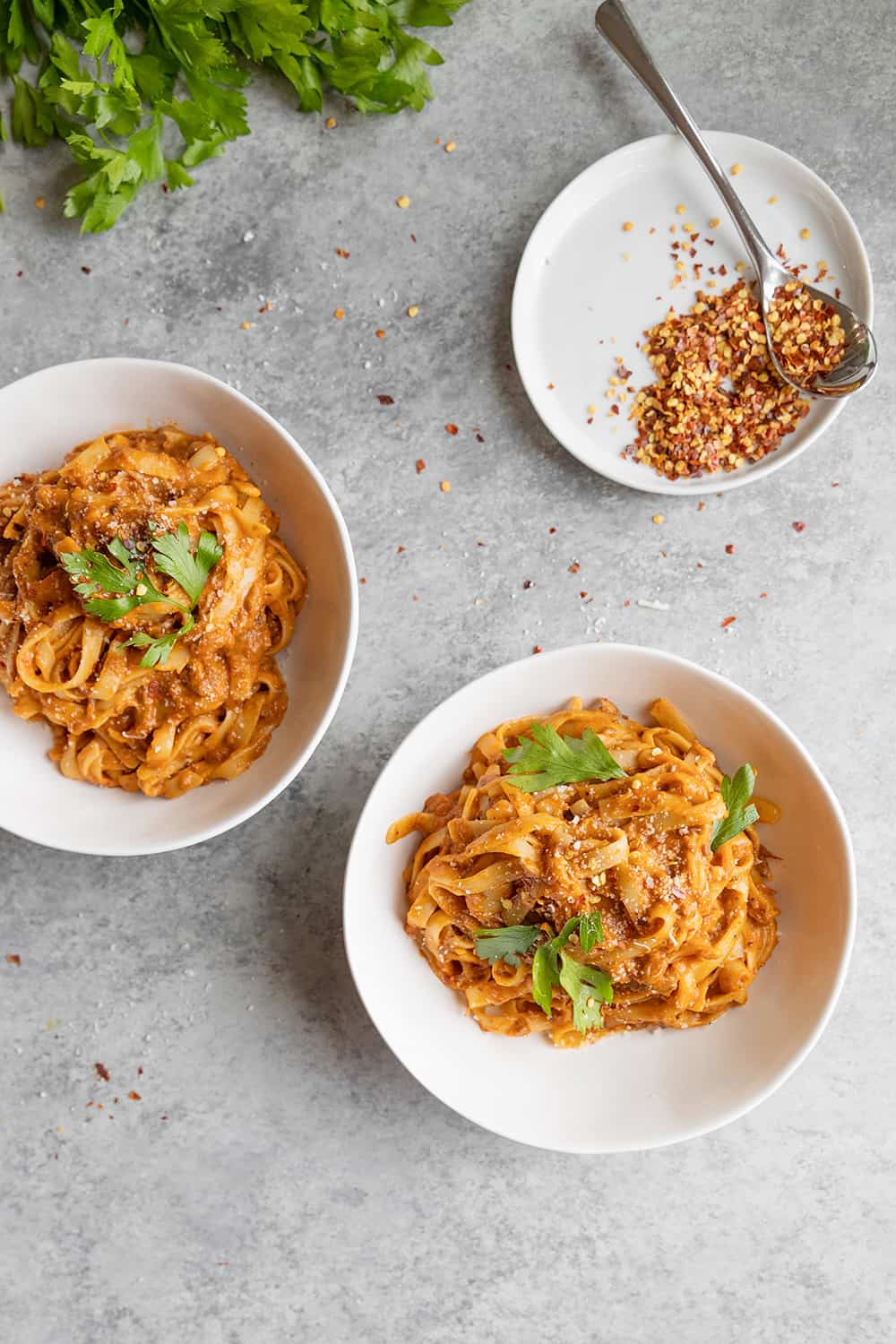 Don't rush the mushrooms– you want them to cook until all of their liquid has been released. If you stop cooking them too soon, they will steam instead of brown. 
After that, you'll deglaze the pan with soy sauce, scraping up all of the browned bits. You can use tamari if you are gluten-free, but the soy combined with the browned mushrooms adds SO much umami, not to mention the savory notes from the canned tomatoes and sun-dried tomatoes.
I really think that's what makes this vegan pumpkin bolognese recipe so delicious; it's layered with plant-based umami.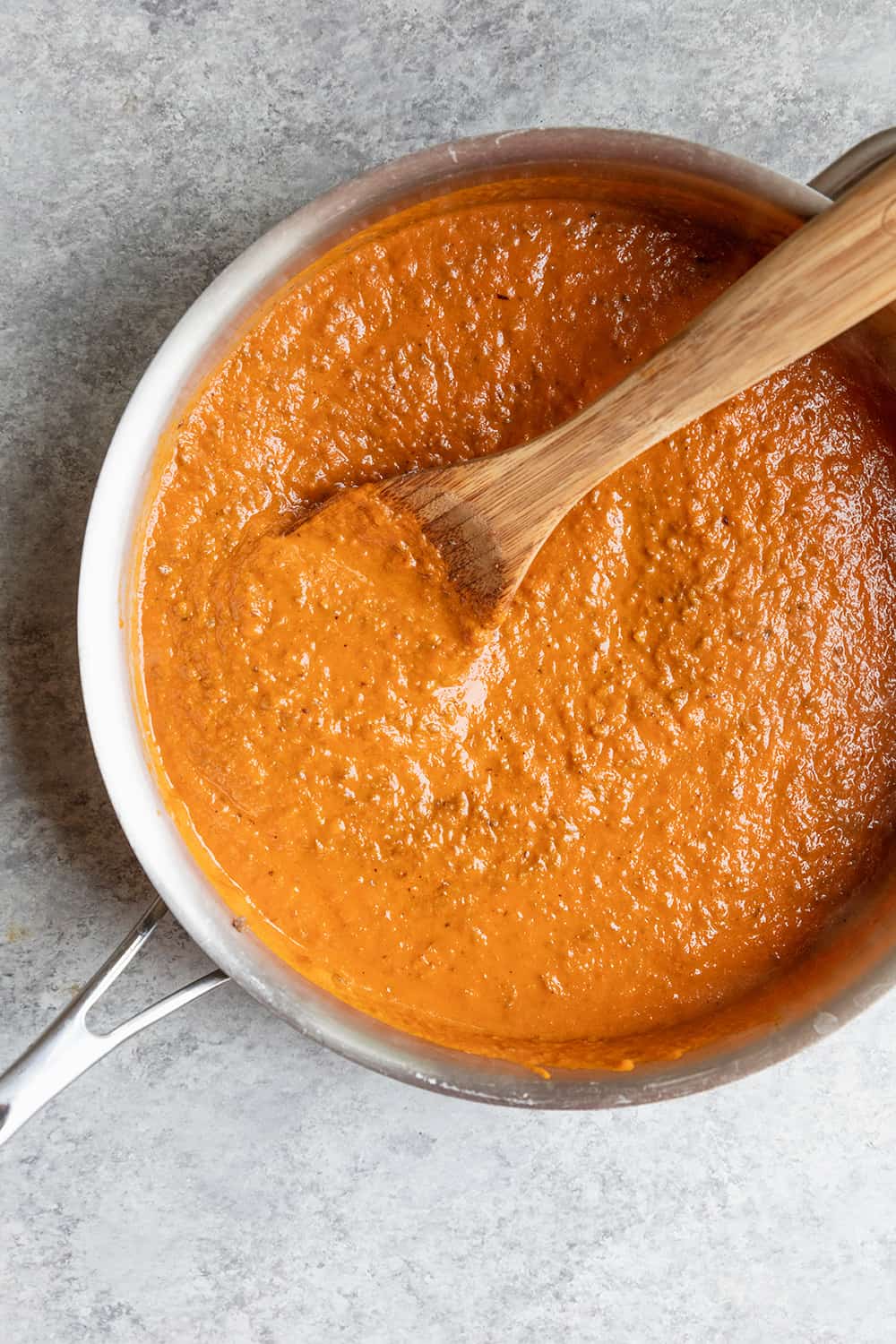 You'll simmer the ingredients for the sauce while the mushrooms are cooking, then puree with a blender or immersion blender. I use my blender as I don't have an immersion blender, but I'll be honest and say that I'm thisclose to grabbing one for myself for the holidays.
Do you have one? Is it worth it? I used to think it was such a lazy appliance (just use the blender!) but there have been so many times over the last few months where I've thought– shoot, I really wish I had an immersion blender right now.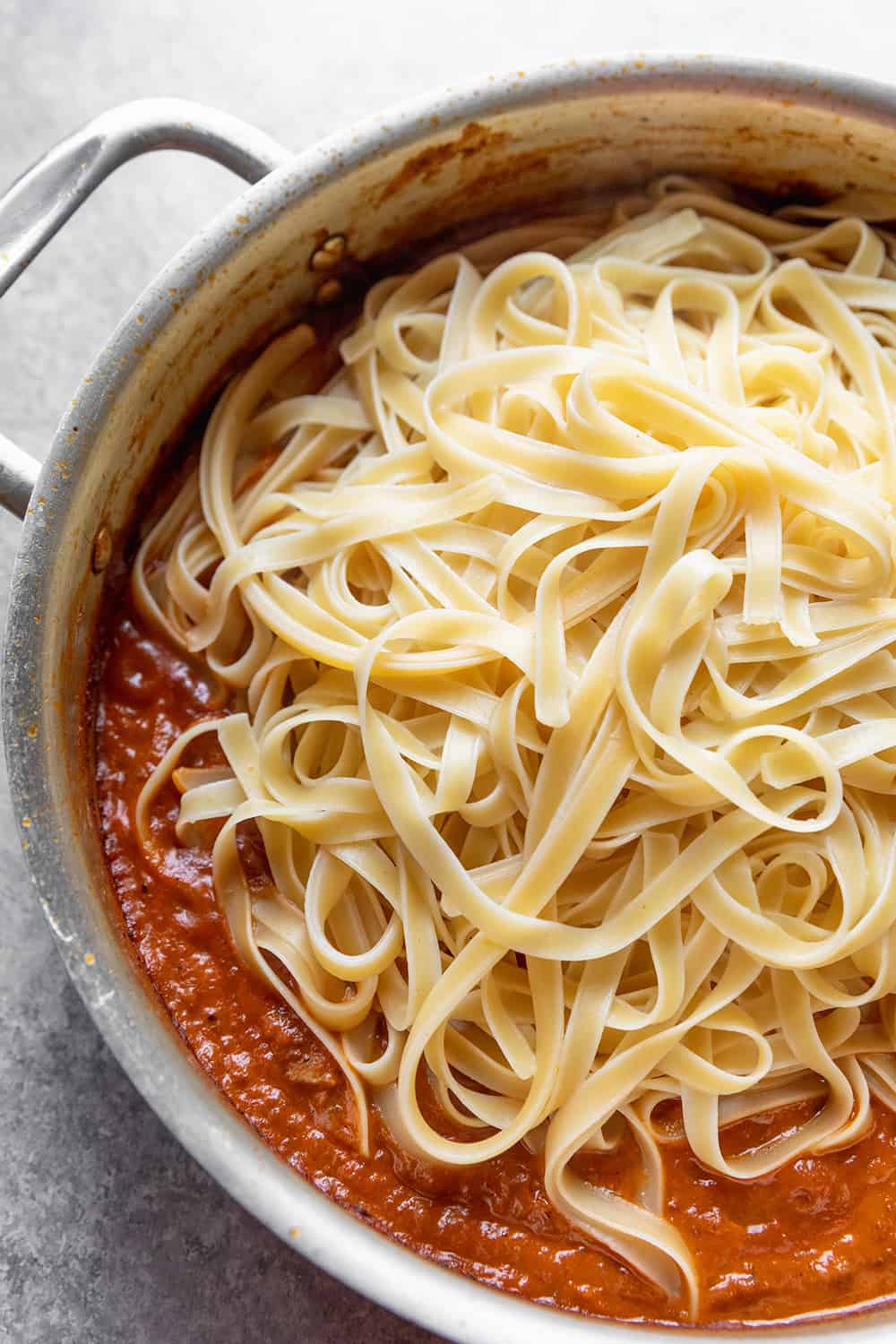 You know the drill after you make the sauce. Undercook the fettuccine slightly, then toss to finish cooking in the same skillet as the warmed sauce. I've written about this so many times, but it really does make a difference when it comes to the finished product, especially in a fettuccine dish like this vegan pumpkin bolognese. 
Cooking pasta like this means silky, perfectly coated, saucy strands. Do it! 
One last note– I'm calling for some type of creamer here to balance the acidity of the tomatoes. I was going to make a cashew cream, but since you only need three tablespoons of cream– it felt like a lot of effort to blend up that small of an amount. Therefore, I just used a little non-dairy creamer that I had in the fridge.
If you've got some, use that. If you don't have any, then you don't need it specifically for this recipe. A thicker plant-based milk, like an oat milk, will also work. Just make sure it's unsweetened! I can't tell you how many times I've made vanilla mac n' cheese because I've grabbed the wrong carton…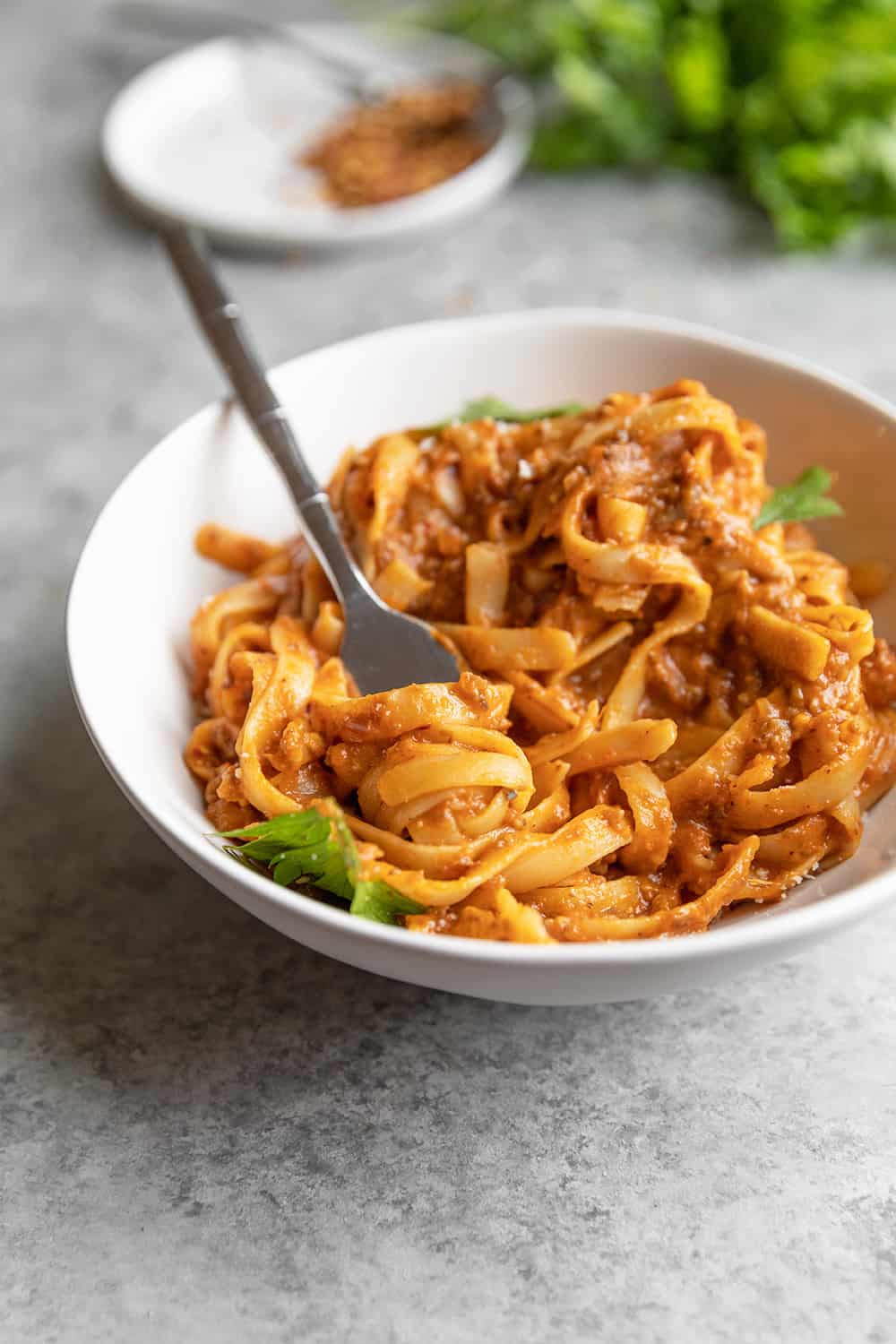 Hope you enjoy this vegan pumpkin bolognese as much as we do! If you try it, make sure to come back, leave a comment and rate it. Your feedback helps others and seeing you make my recipes makes my day! 
Print
Scale
Ingredients
1 tablespoon

olive oil

1

pound button mushrooms

1

small white or yellow onion, diced

1 tablespoon

soy sauce

2/3 cup

 sun dried tomatoes packed in oil

2 cloves garlic, minced

1/2 teaspoon

dried sage

1 teaspoon

 dried basil
very small pinch of nutmeg (or cinnamon)

1/2 teaspoon

chili powder

1 teaspoon garlic powder

1 1/2 cups pumpkin puree

1 1/2 cup tomato puree or tomato sauce

3 cups

 vegetables broth

16 ounces fettuccine or other long noodle 

3 tablespoons

dairy-free cream (like Oatly/Califia oat creamer) or cashew cream*
Instructions
Place the mushrooms in the base of a food processor and pulse ~8-10 times until very finely chopped. Alternatively, you can do this by hand. Remove and place in a bowl, then add the onions. Again, pulse ~8-10 times until very finely chopped. Remove.
Heat the olive oil in a large skillet over medium heat. Add the mushrooms and onion and cook until very well browned and the mushrooms have released most of their liquid. This should take about 20 minutes; stirring often. Deglaze with the soy sauce, scrapping up any browned bits.
While the mushrooms are cooking, make the sauce. Add the sun-dried tomatoes, garlic, sage, basil, nutmeg, chili powder, garlic powder, pumpkin puree, tomato sauce and broth. Let simmer for ~20 minutes, stirring often, then transfer to a blender or use an immersion blender to puree until creamy and smooth.
While the sauce is cooking, bring a large pot of salted water to a boil. Add the pasta and cook until just al dente, then drain reserving ~1/4 cup pasta water.
Once the mushrooms are very brown, add the pumpkin-tomato sauce and stir together, then add in the cream and cooked pasta along with a tablespoon of pasta water. Toss, toss, toss, coating each pasta strain with the sauce until very well coated. Season to taste, adding salt/pepper/red pepper flakes as needed and serve!
Notes
*Any creamy milk will work here– you can also use soy milk in a pinch though you'll get more body with a thicker milk like a non-dairy creamer or cashew cream.


Source: Delish Knowledge, Author: Alex