Who's ready for the holidays? Do you need menu inspiration? If so, I've got 45+ reader favorite vegan thanksgiving recipes for you!
I can't believe we are only weeks away from Thanksgiving. And even though this year may be a little different than others, I hope that your celebrating somewhere– even if it's just with your own family. I'm not quite sure what we're doing this year as it'll just be my little group of four. There's a part of me that wants to cook a giant feast anyways, while I'm equally pulled to bucking all tradition and making homemade pasta instead. I mean, if I could choose to overeat any food group, it would most definitely be pasta. 
Whatever your plans, I've rounded up 46 of my favorite vegan thanksgiving recipes for you. Packed with traditional favorites like the BEST stuffing, mushroom gravy, mashed potatoes, and lentil loaf along with plenty of non-traditional options. 
Vegan Thanksgiving Recipes: Main Dishes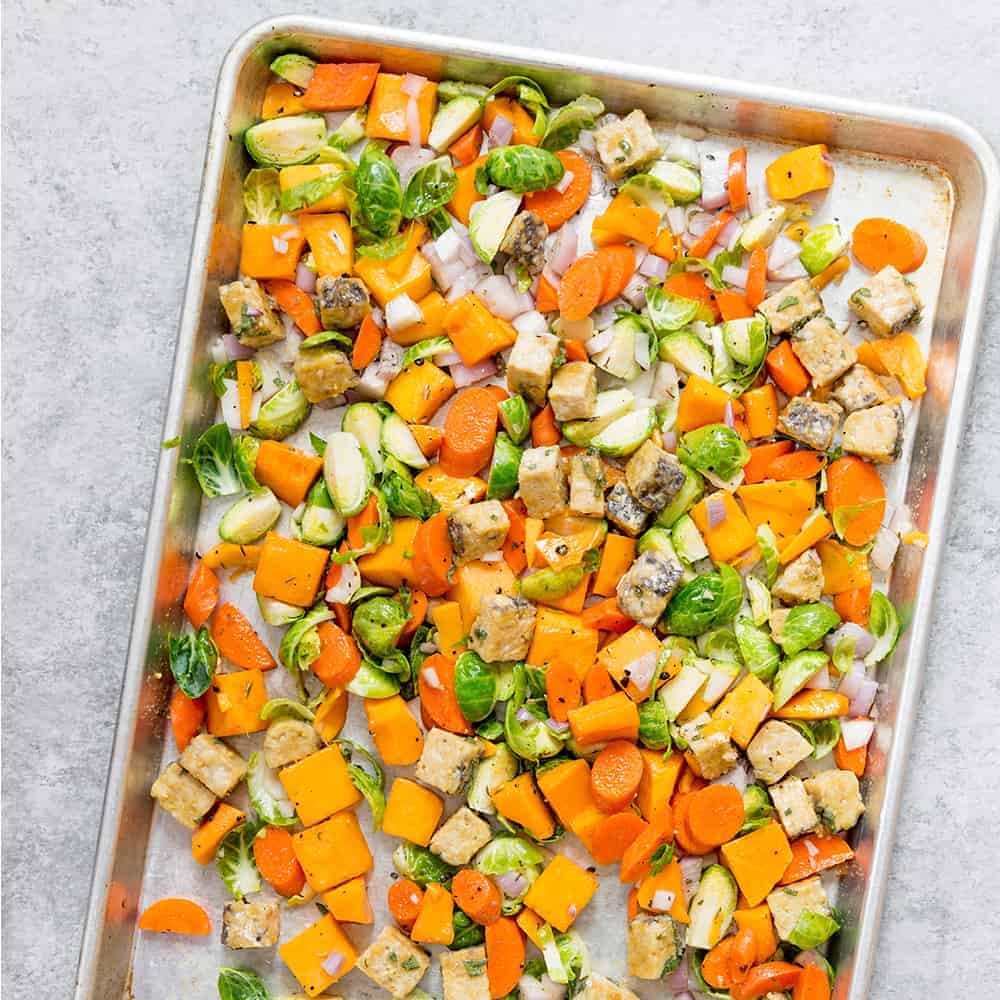 Sheet Pan Maple Tempeh and Vegetables
We love this sheet pan maple tempeh and vegetables dish. Throw everything together in the sheet pan along with a simple maple sauce and bake until tender.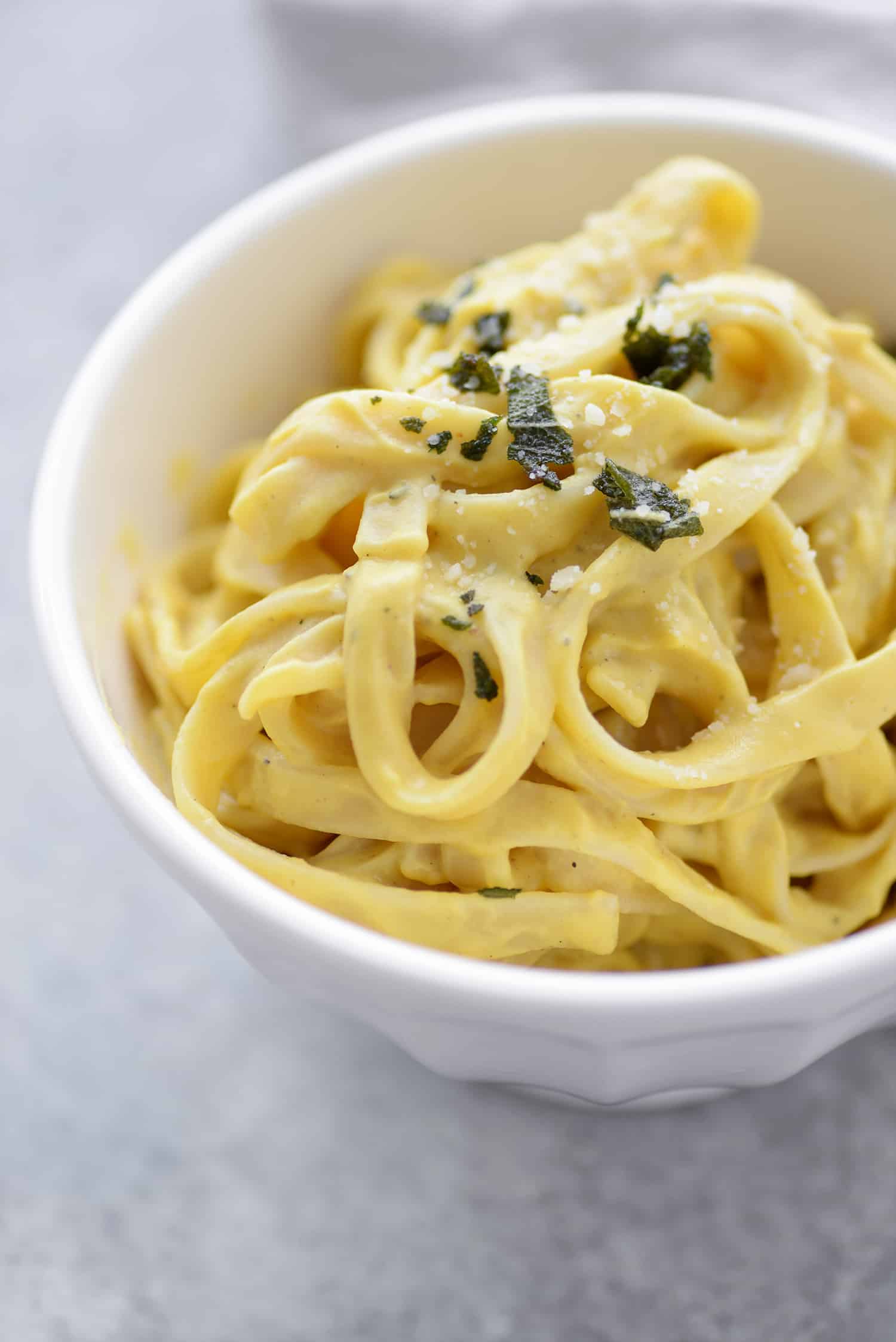 2. Creamy Vegan Butternut Squash Fettuccine 
If you're like me and love pasta, then you've gotta try this vegan butternut squash fettuccine dish! It's super creamy and yes, would still taste great on a plate with stuffing and roasted veggies.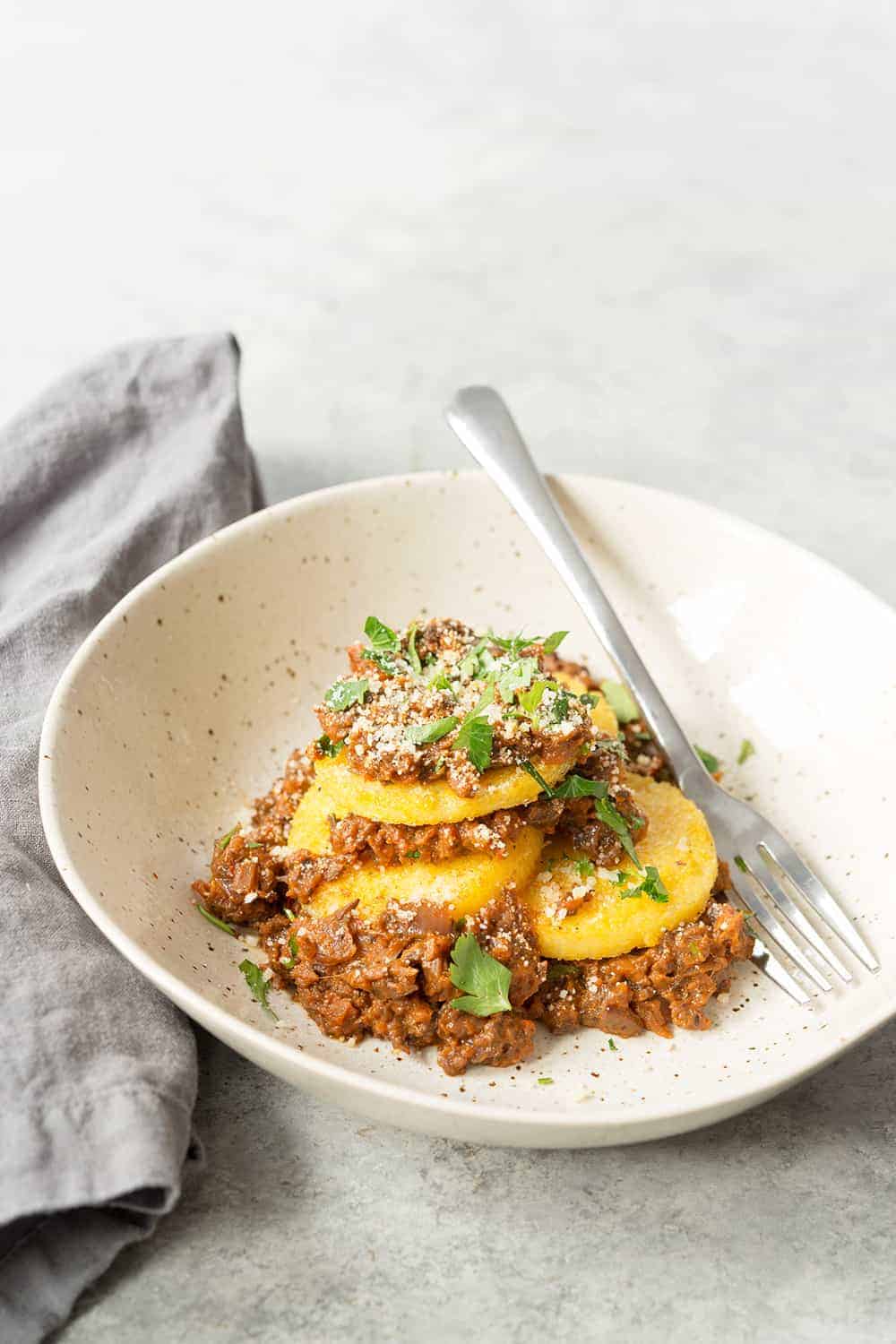 3. Polenta Cakes with Bolognese
Another rich, Fall-inspired main idea. Crispy polenta cakes with a hearty tempeh and mushroom bolognese.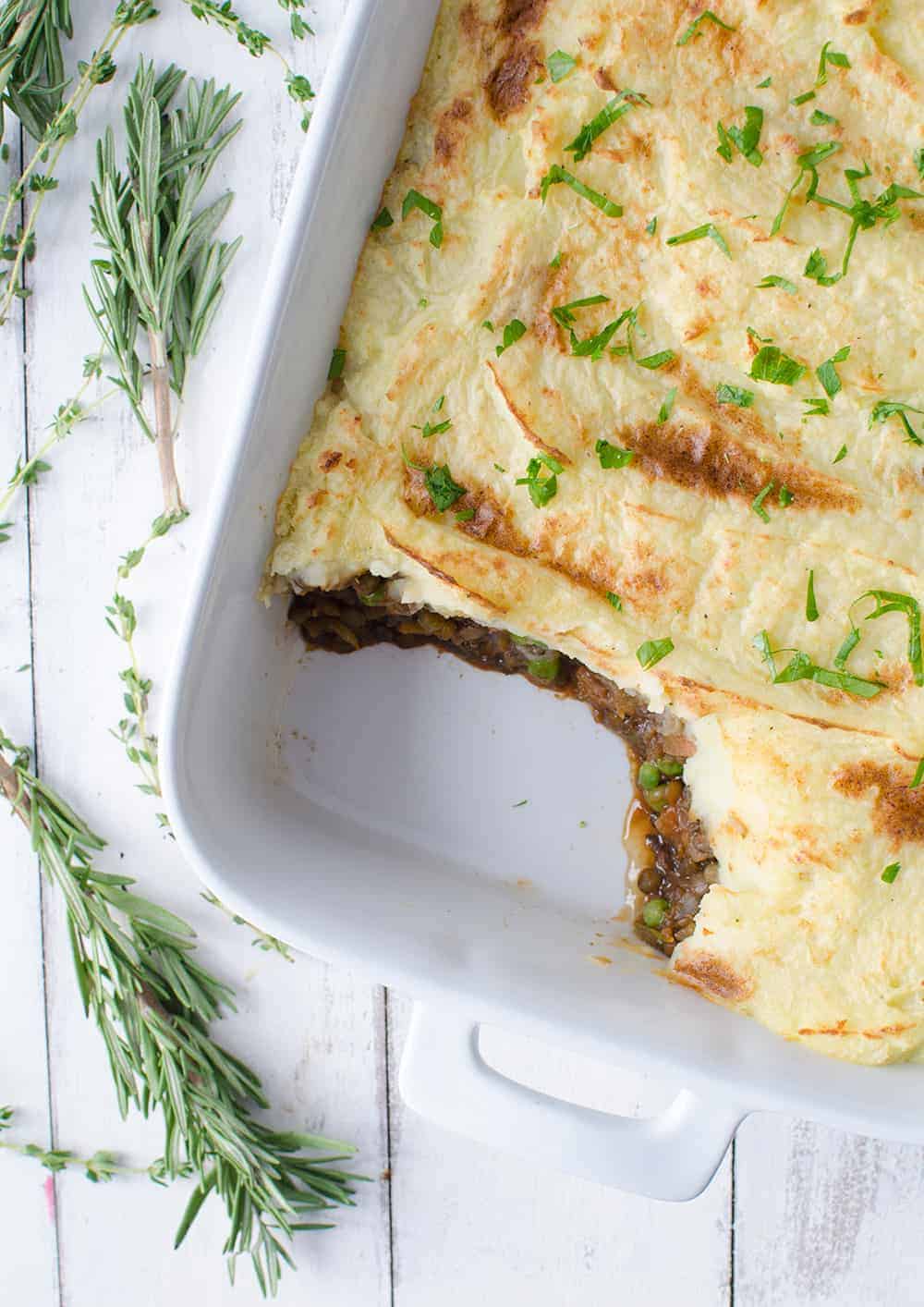 4. Vegan Shepherd's Pie
This one is a favorite for a reason– it's so delicious and if we go traditional Thanksgiving this year, what I plan on making. 
One of my favorite comments,"I've never commented on a recipe before but I made this last night and it was FANTASTIC. Thank you! One of the most flavorful and satisfying vegan dishes I've ever had."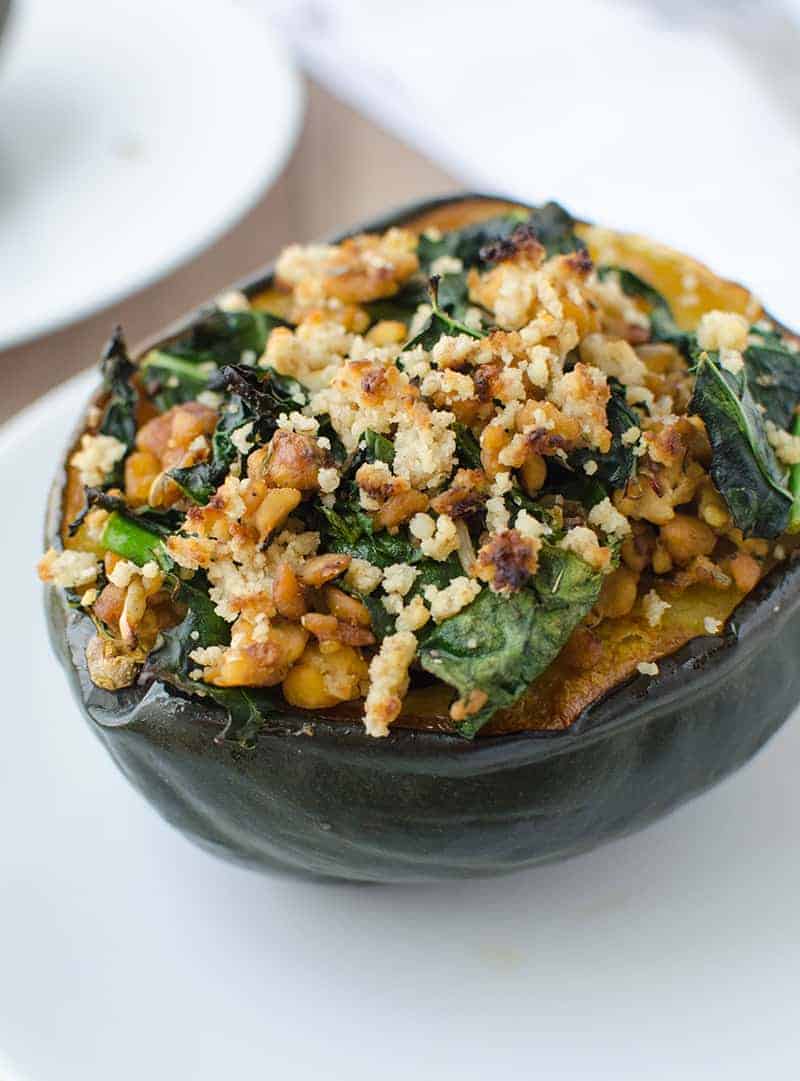 5. Tempeh Sausage and Kale Stuffed Squash
How beautiful are these stuffed squashes? You can use any type of squash here; try butternut for a beautiful main centerpiece or acorn and delicata squash for individual dishes.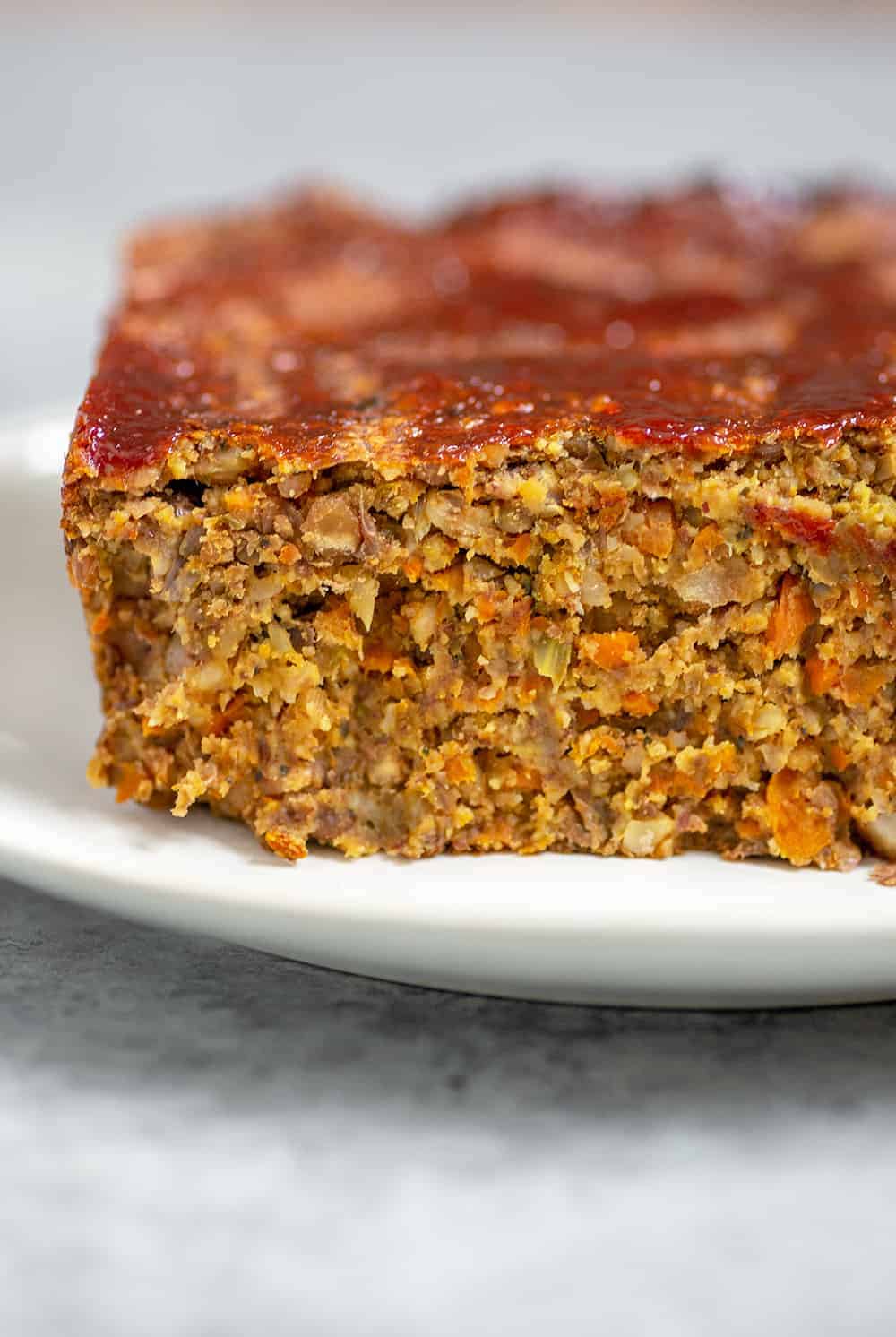 6. Lentil Loaf
What kind of vegan thanksgiving recipe roundup would this be if I didn't include a lentil loaf? Super meaty with a delicious maple glaze on top. 
Vegan Thanksgiving Recipes: Side Dishes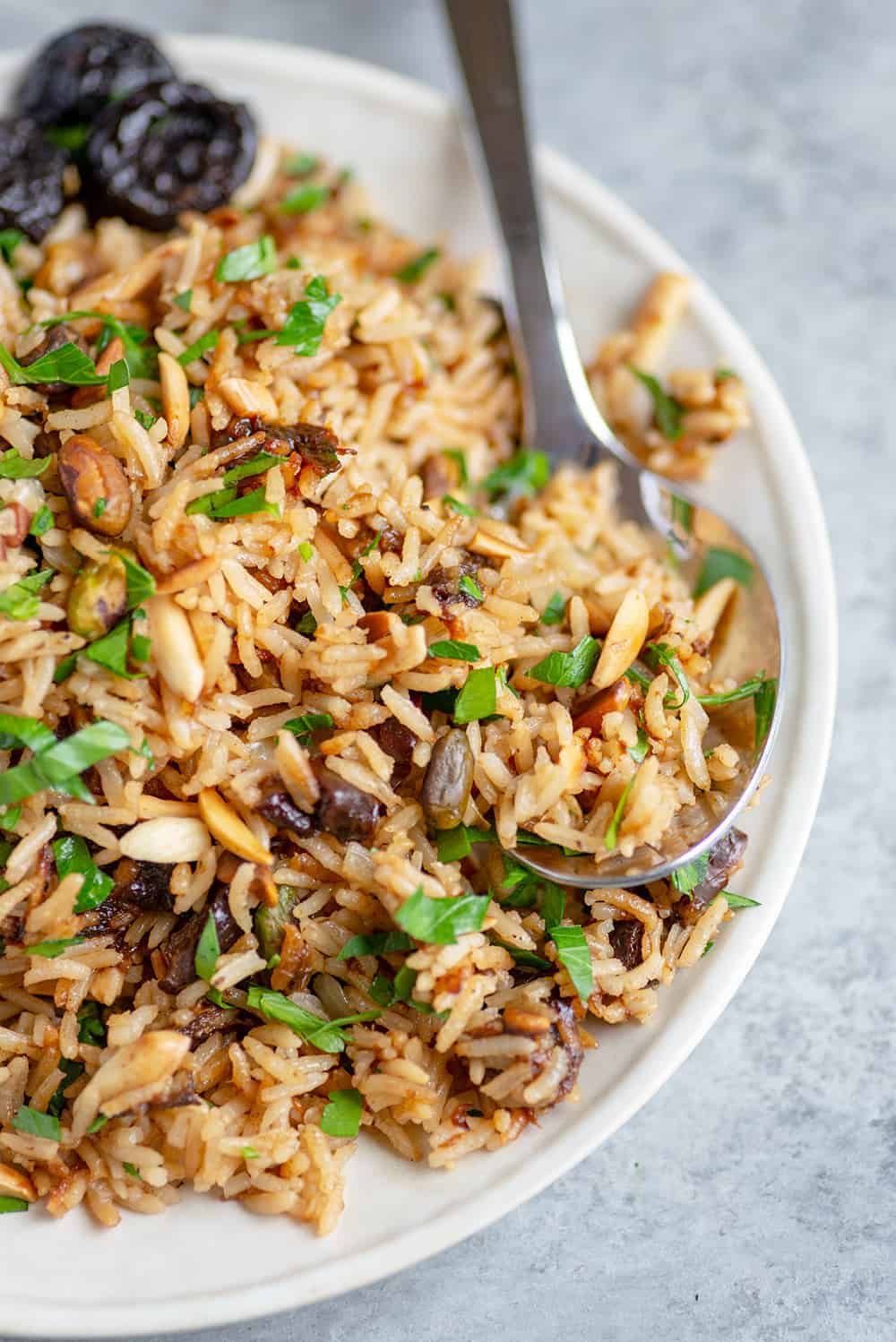 7. Prune and Rice Pilaf
I love the combo of sweet and savory and this prune and rice pilaf is the best of both worlds. Fragrant, herby pilaf studded with sweet prunes. You can swap in dried cranberries or dried cherries for a more festive dish!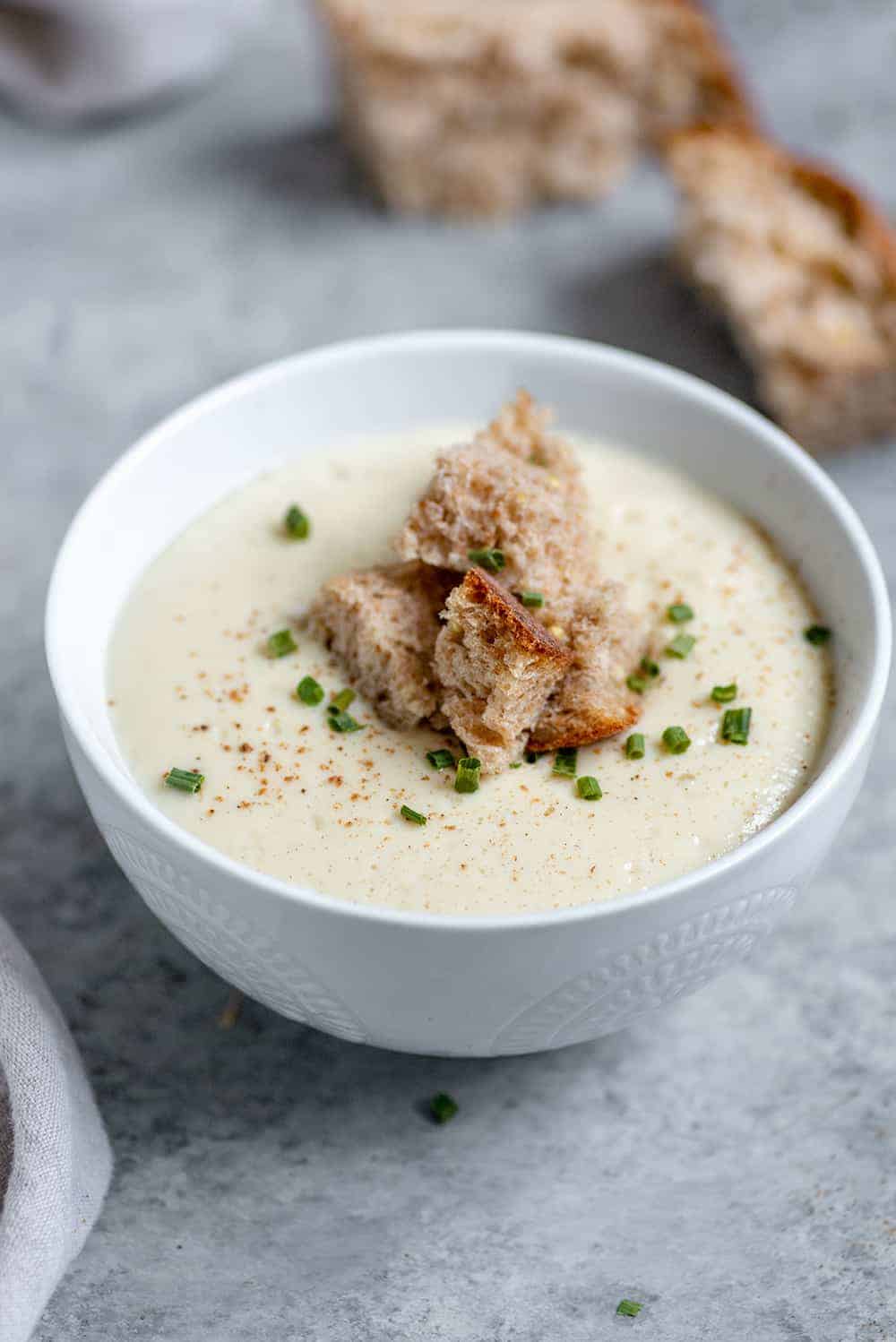 8. Creamy Cauliflower Soup 
Growing up, our Thanksgiving dinner table always included a creamy watercress soup as an appetizer. It's still one of my favorite dishes and I like to have something similar when I'm in charge of dinner. This creamy cauliflower version is so simple– roast, throw in the blender and you're done.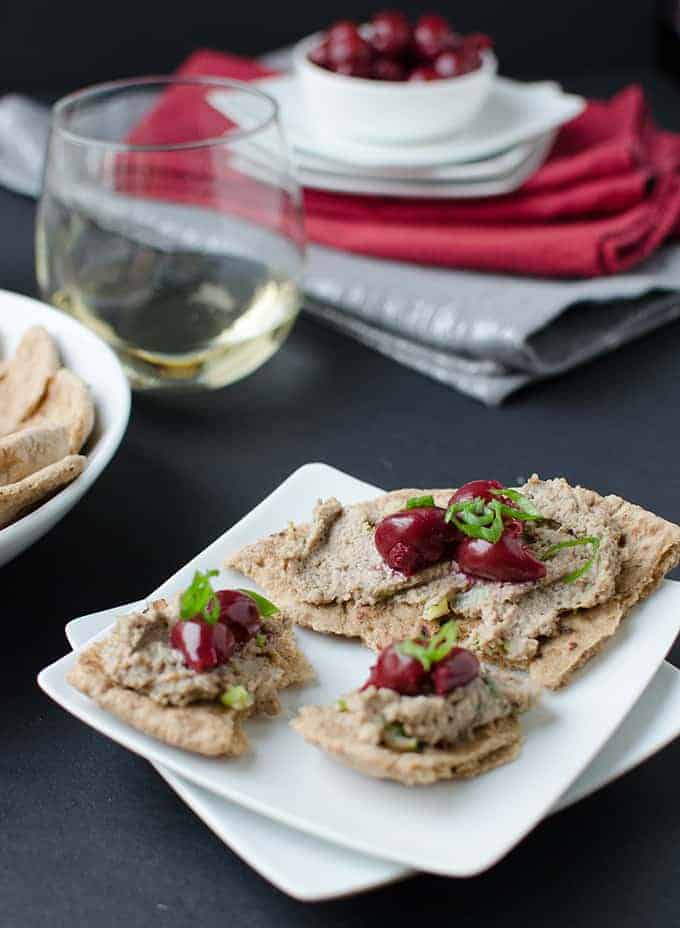 9. Tempeh Pecan Pate 
To this day, this is one of my mom's favorite recipes of mine. She requests it almost everytime she comes to visit. Make a big batch to snack on while you prepare dinner; I love it most with crisp crackers and some type of fruity jam, like cranberry or cherry preserves.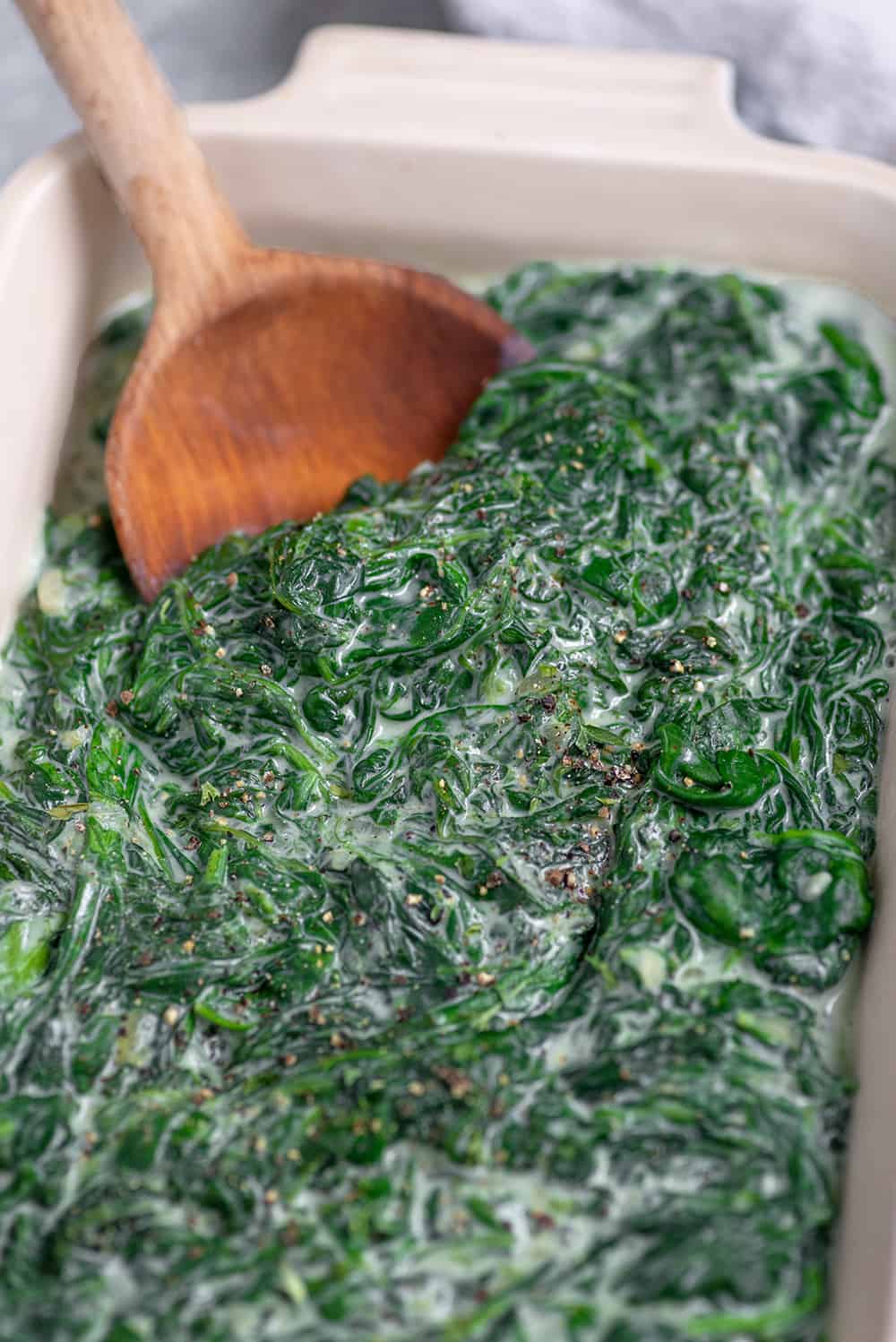 10. Healthy Creamed Spinach 
Thanksgiving dinner always reminds me of my Mormor as we spent the holidays with her most of the time growing up. We were both huge fans of creamed spinach, and I like to continue to serve it as a nod to her. This healthy version is vegan, but still incredibly creamy.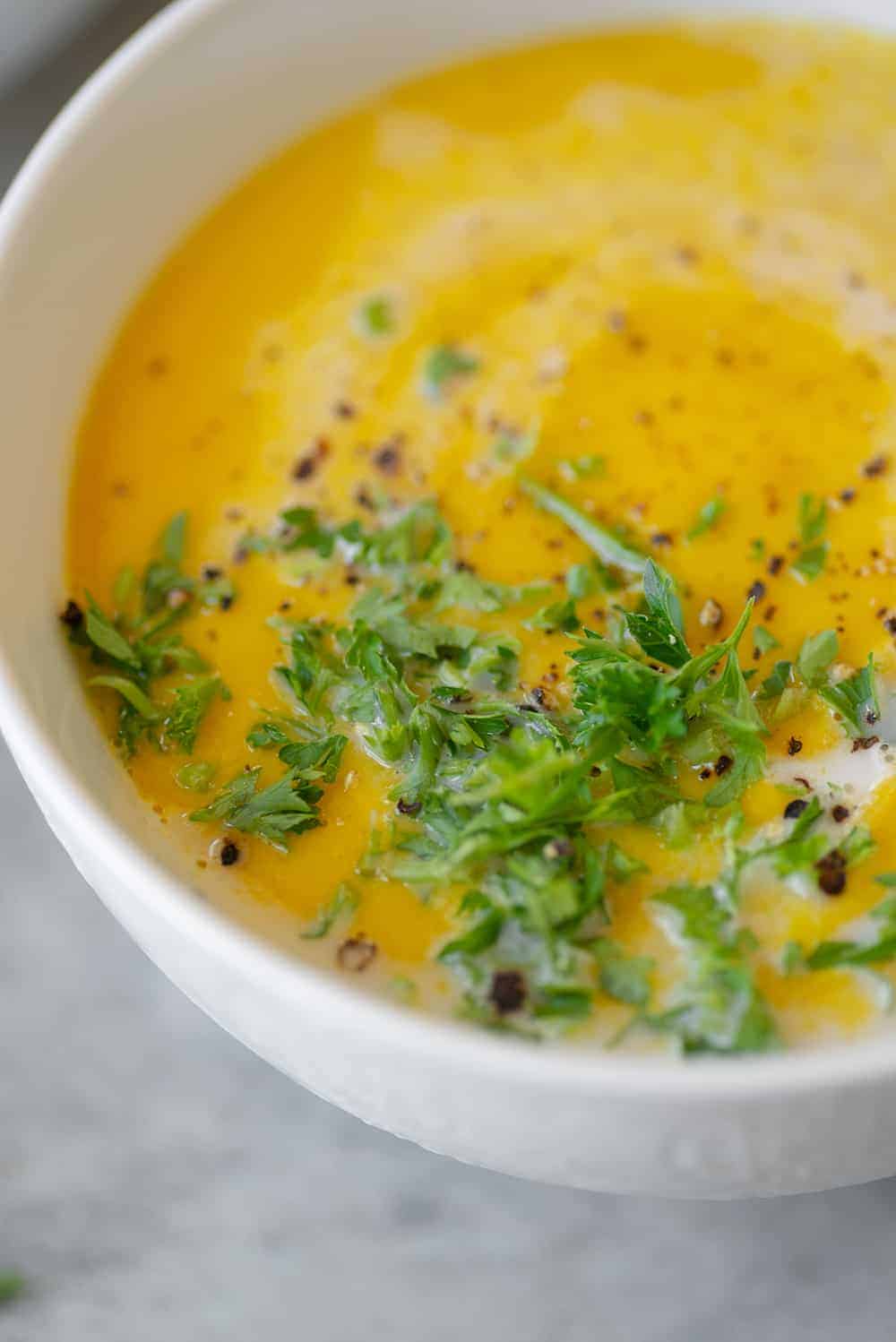 11. Slow Cooker Butternut Squash 
If oven space is at a premium, make this slow cooker butternut squash soup.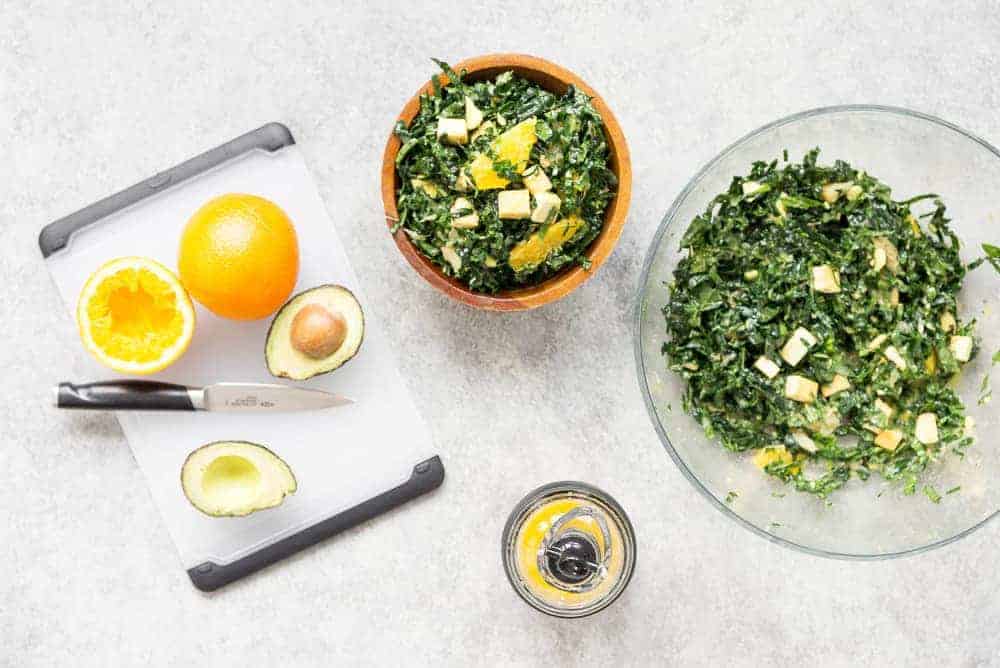 12. Kale Salad with Citrus Dressing
I may be in the minority, but I love a giant salad for Thanksgiving. This Kale citrus one is super refreshing with a tangy, bright orange dressing and avocado.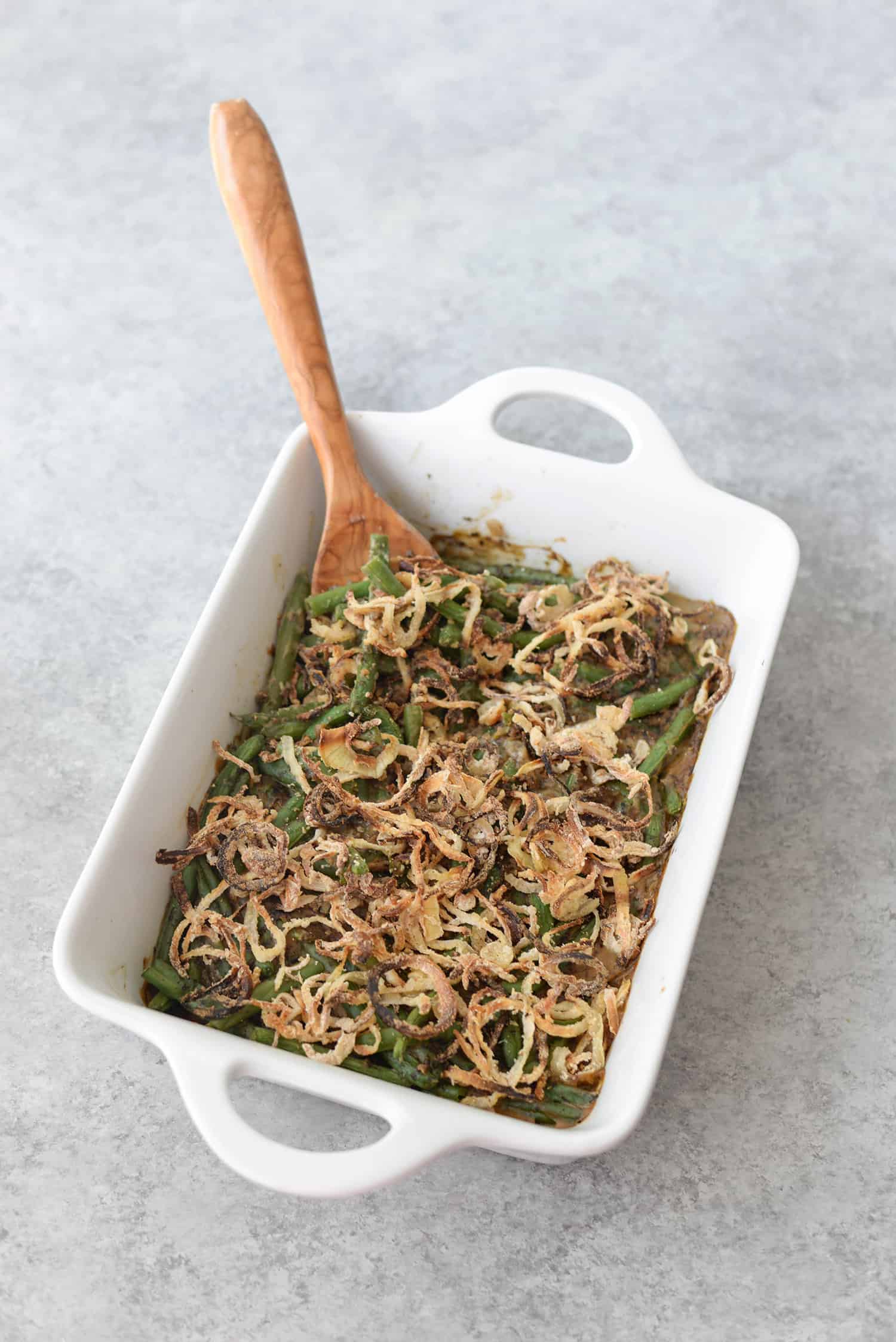 13. Fresh Green Bean Casserole
Fresh green beans in a homemade mushroom sauce with faux-fried onions. Classic!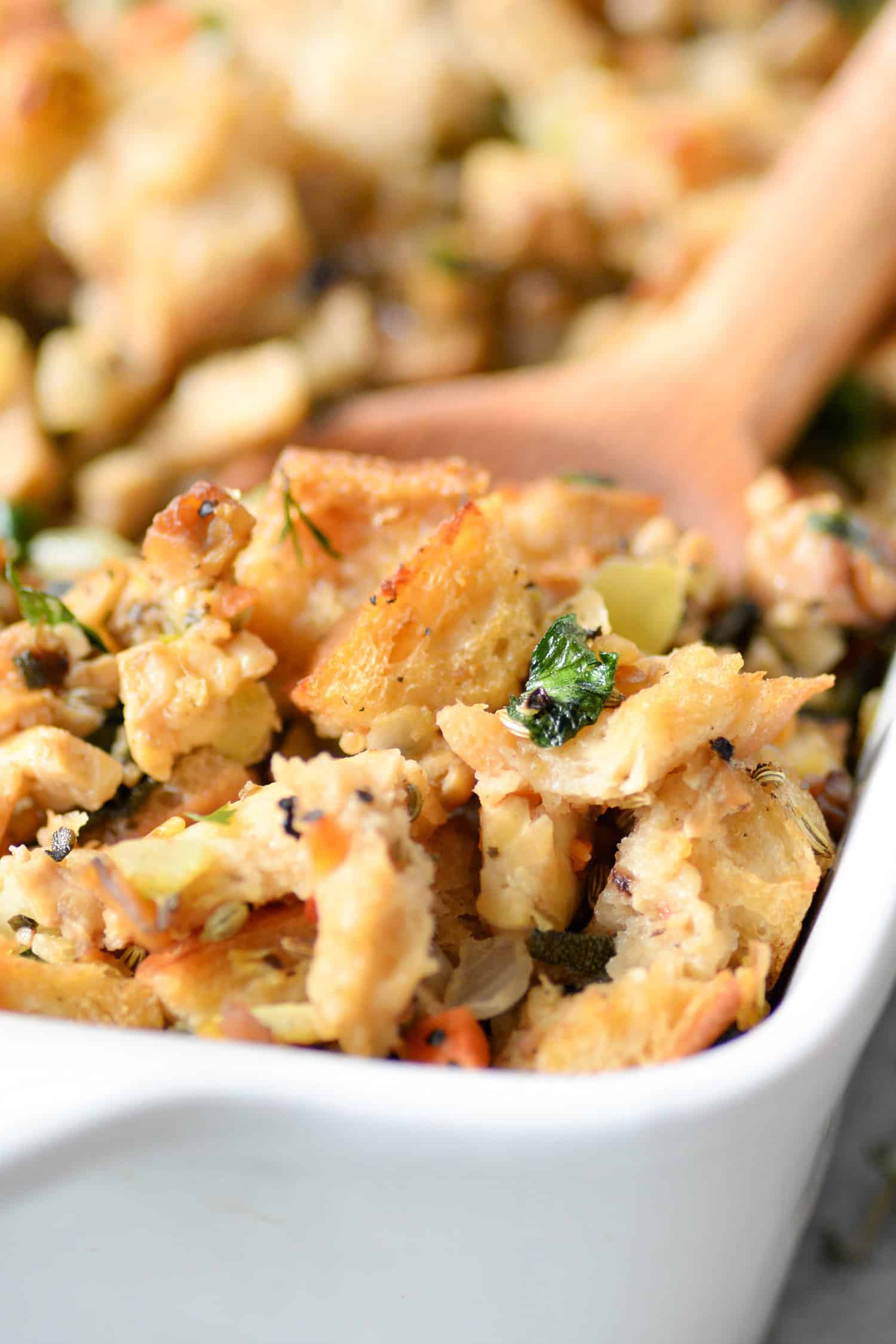 14. The BEST vegan stuffing 
I know that every food blogger says their recipes are the best, but I really mean it with this stuffing. It gets so many 5-star reviews and I make it multiple times a month this time of year. The key is homemade tempeh sausage and sourdough bread. 
Dani says, "This stuffing is the absolute best, it really is. I may make a double batch this year – its the only leftover I really wanted to eat the next day. I could not get enough. Great job."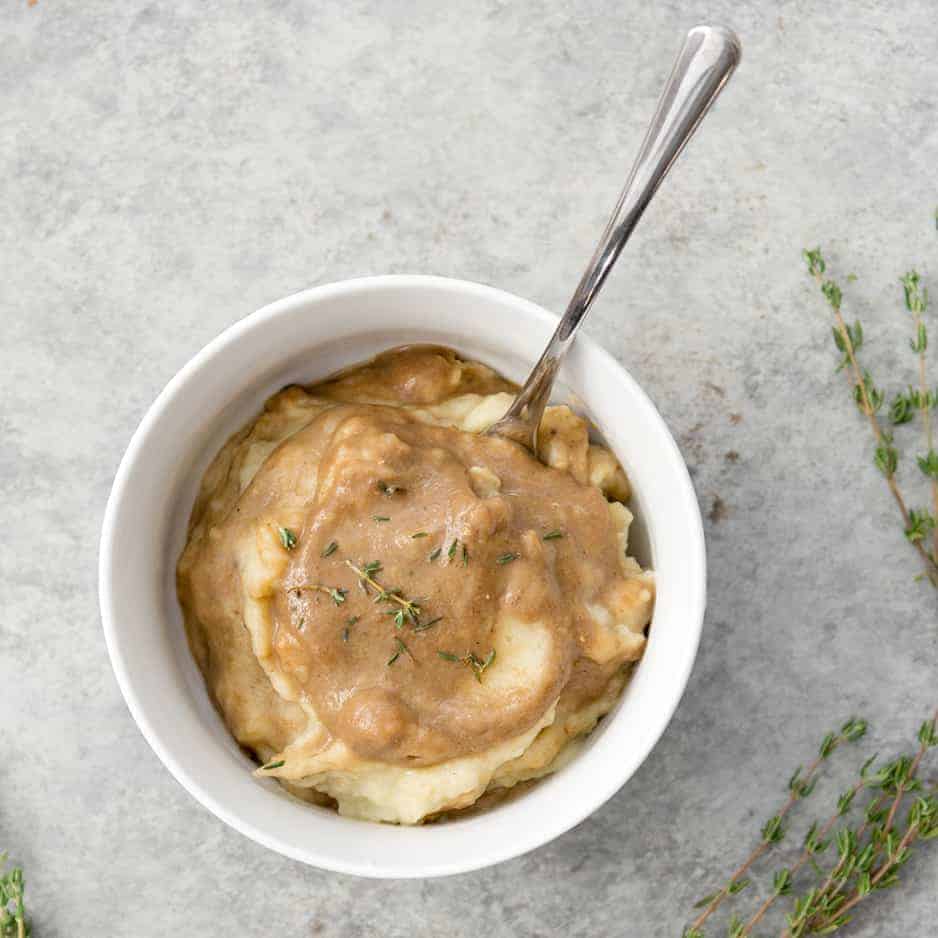 15. BEST vegan mushroom gravy
Ok, one more. I make a double batch of this every year for Thanksgiving as my father-in-law requests it over the regular turkey gravy. It's so umami-rich and fantastic on everything.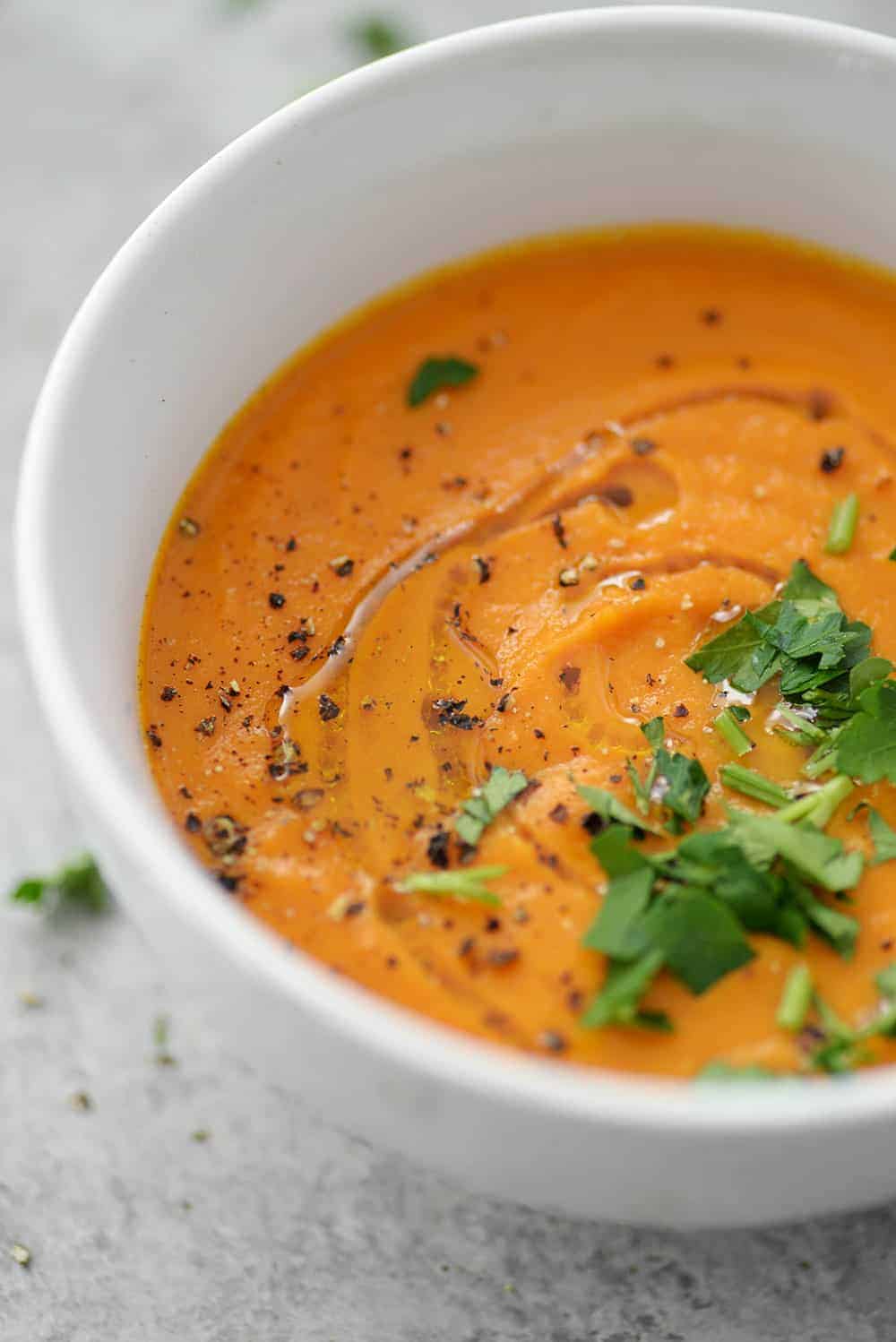 16. Ginger Carrot Soup 
Another creamy soup; packed with carrots, ginger and orange.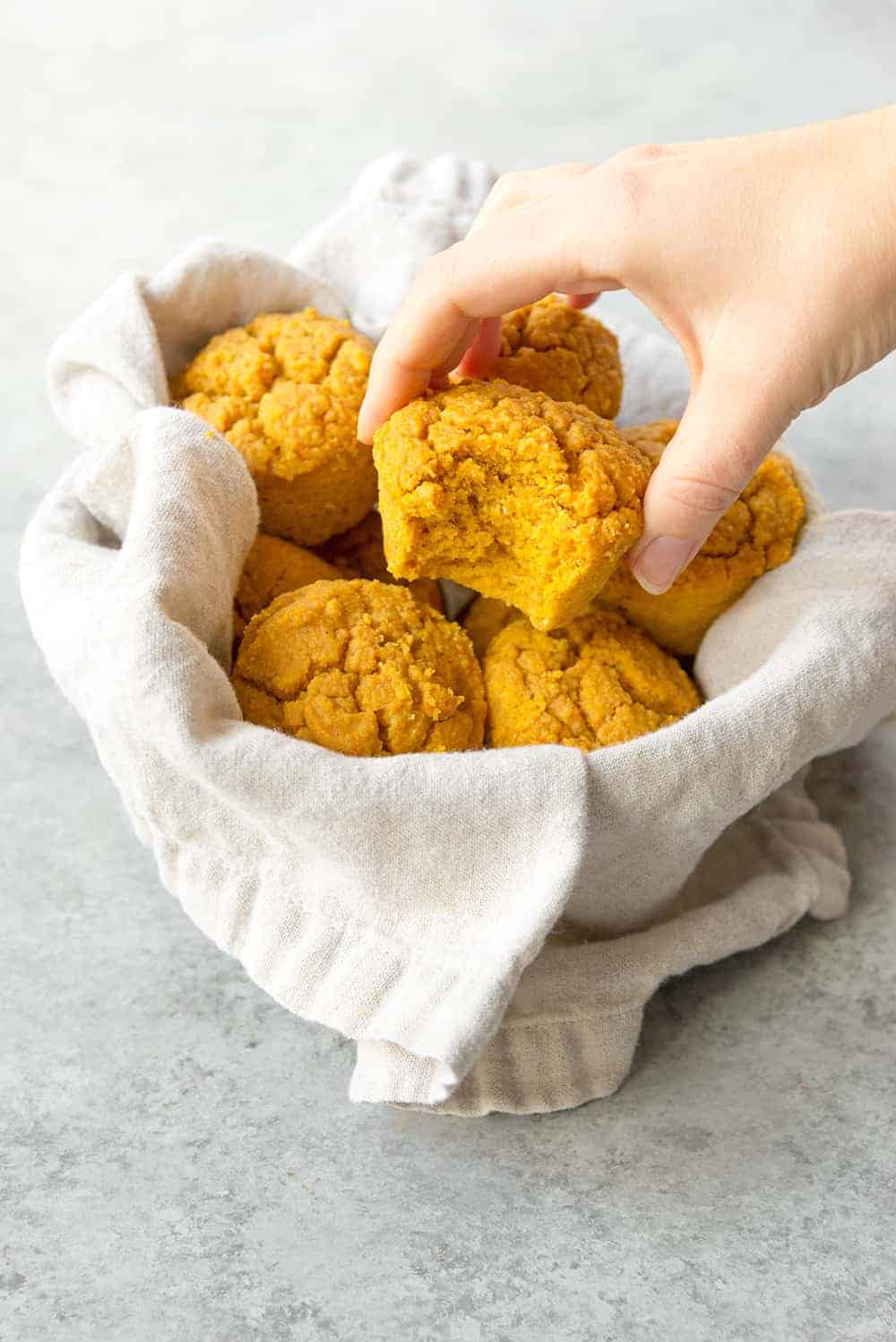 17. Pumpkin Cornbread Muffins
Lightly sweet, incredibly moist with just a hint of pumpkin spice. They are just as delicious warm with cold butter (or apple butter!) as they are dipped into mushroom gravy.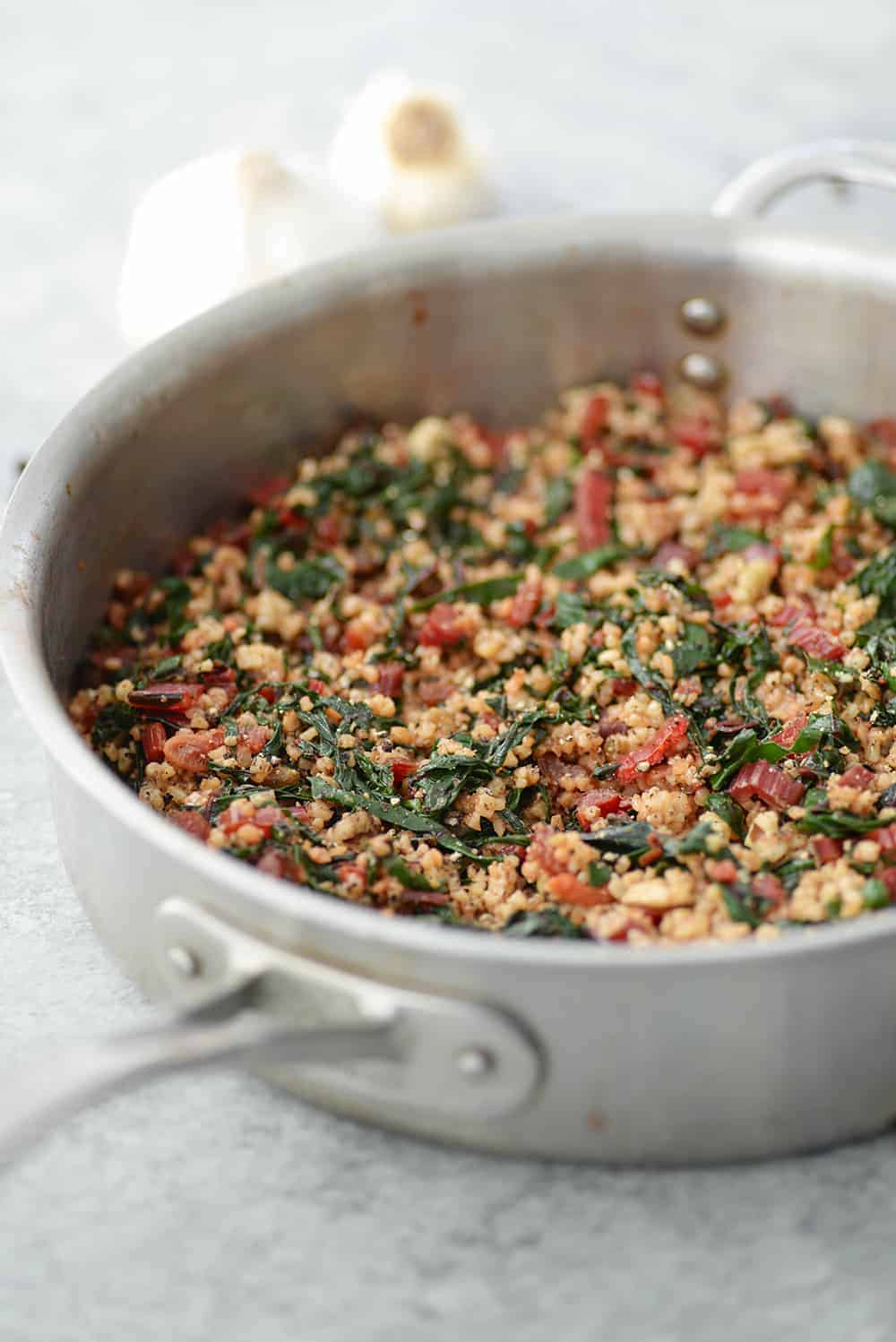 18. Swiss Chard Ancient Grains Salad
Another hearty side dish option; ancient grains with garlicky swiss chard.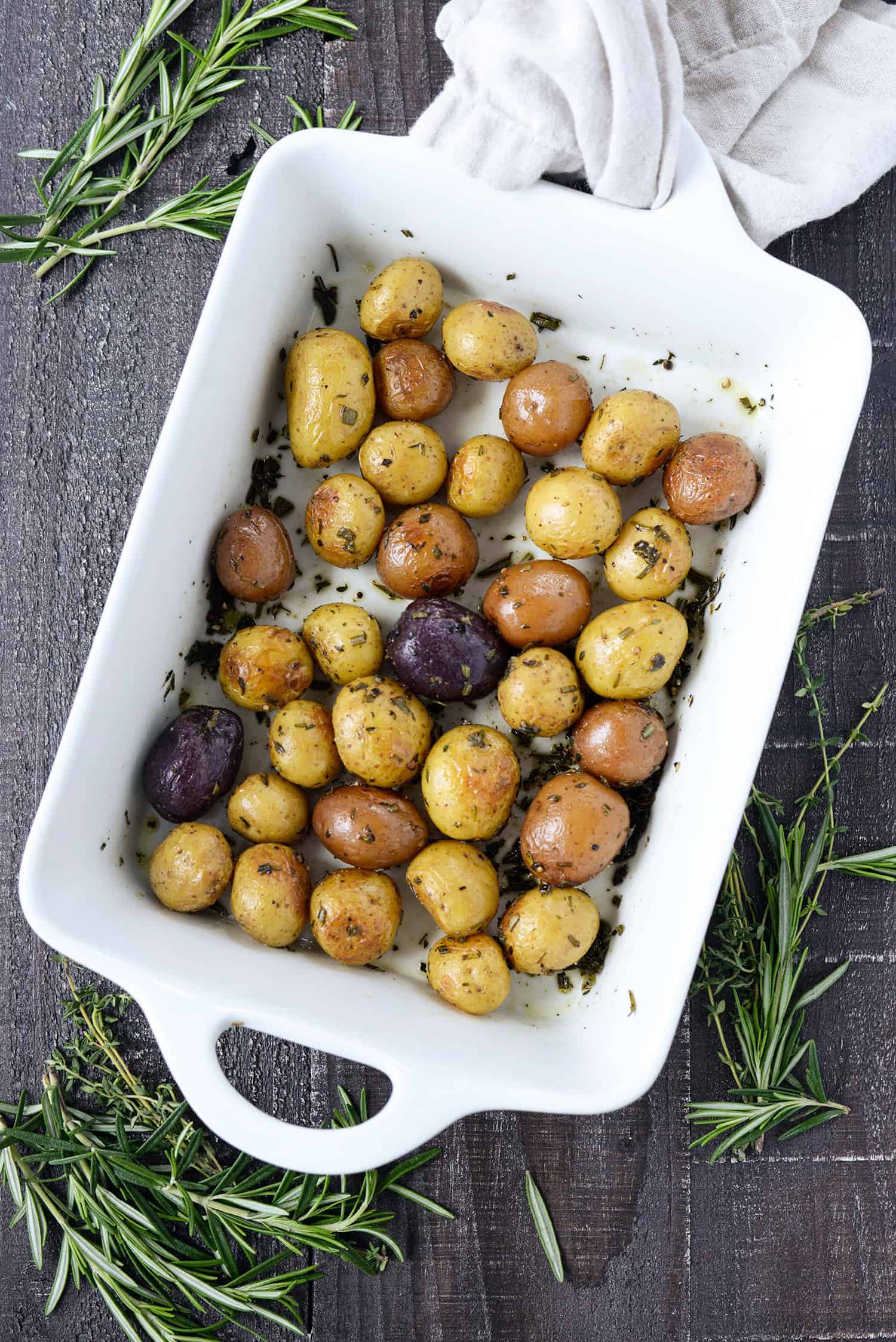 19. Perfect Roasted Herb Potatoes
If you want something different instead of mashed potatoes, try these! Perfectly herb-roasted, crispy and yummy.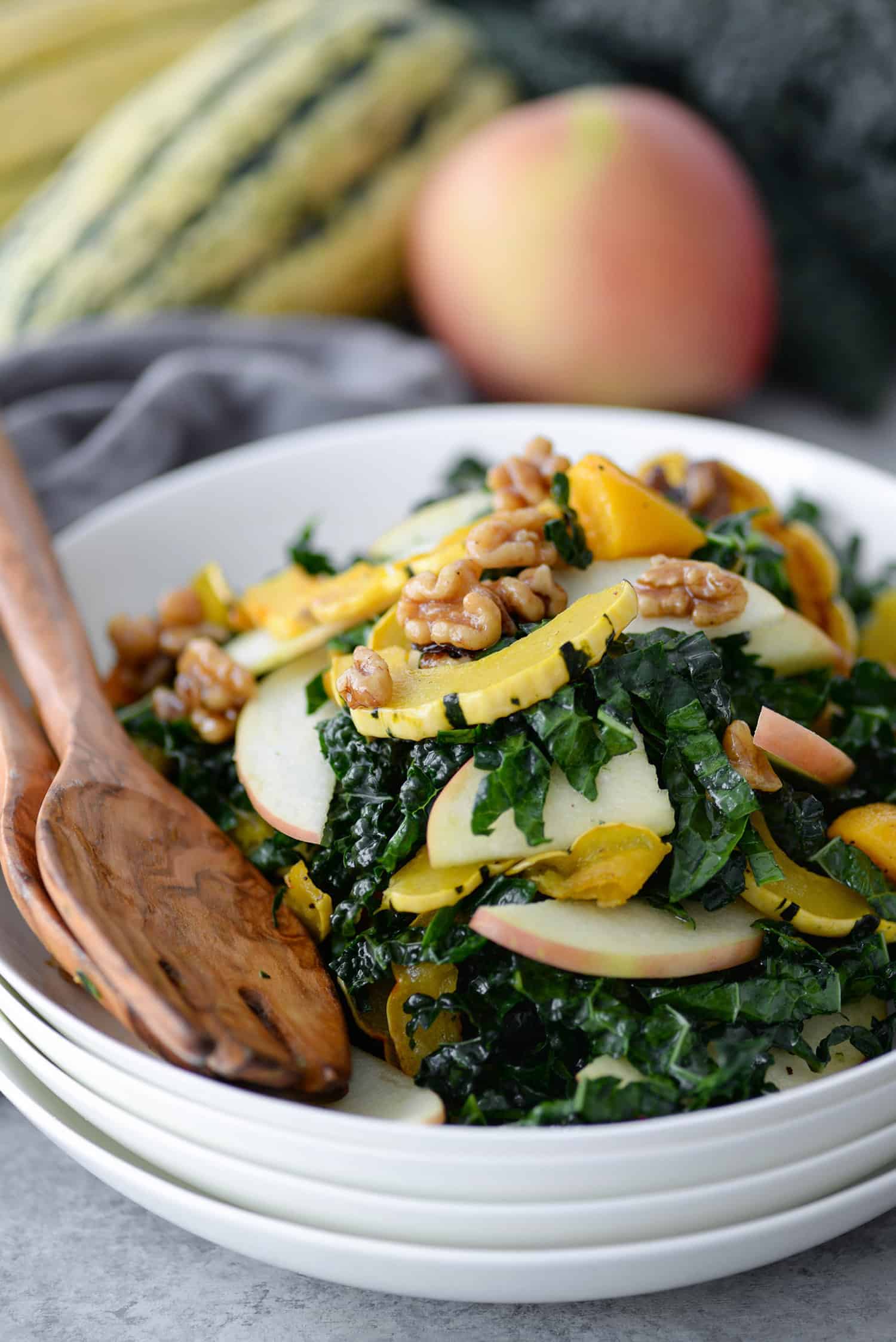 20. Autumn Squash, Kale and Apple Salad
I'm obsessed with this Autumn salad. Roasted delicata squash, kale, honeycrisp apples, toasted walnuts and a maple dressing.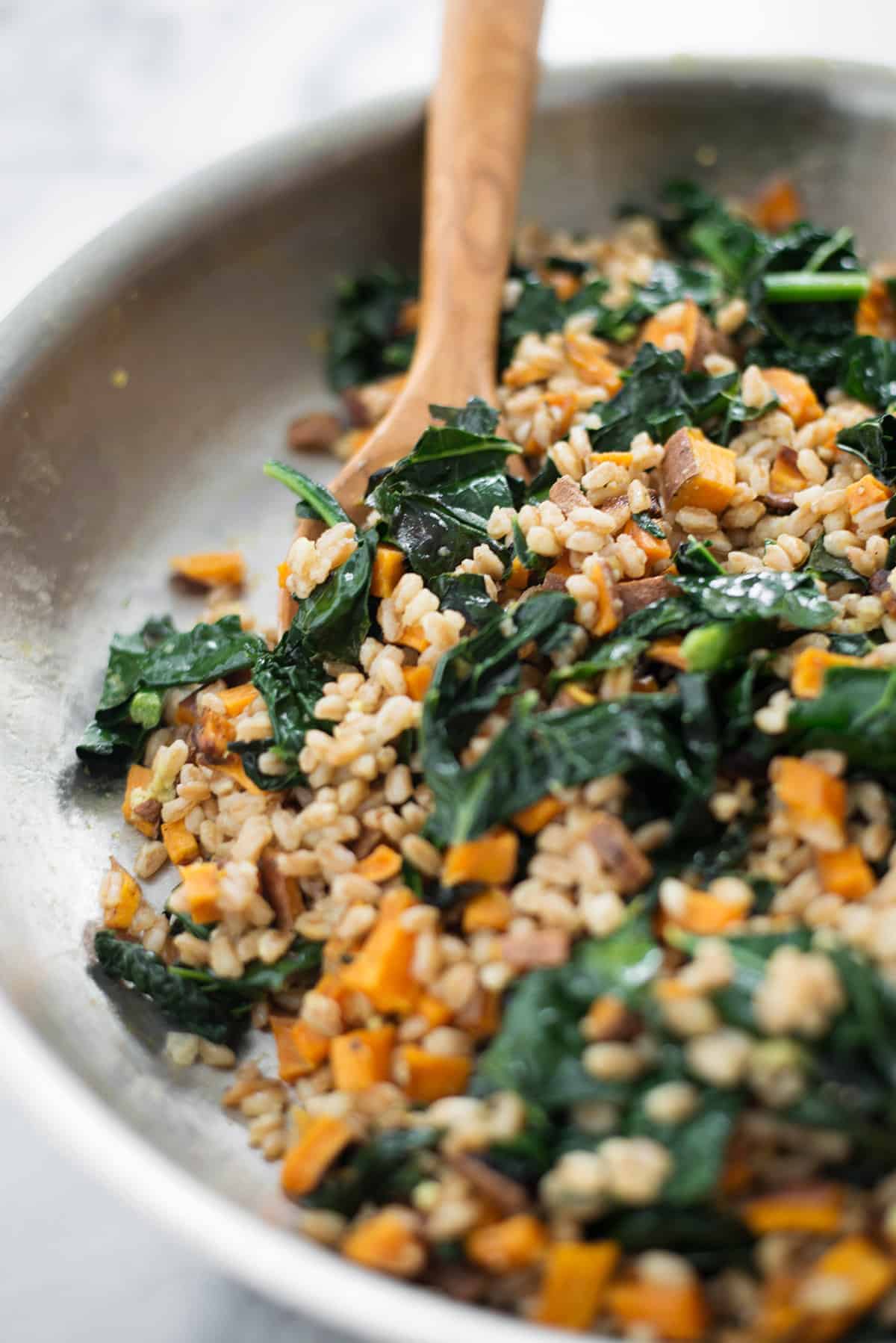 21. Warm Farro and Kale Salad with Orange Miso Dressing 
Super yummy and hearty; a warm salad with farro, kale, sweet potatoes and a sweet orange-miso dressing.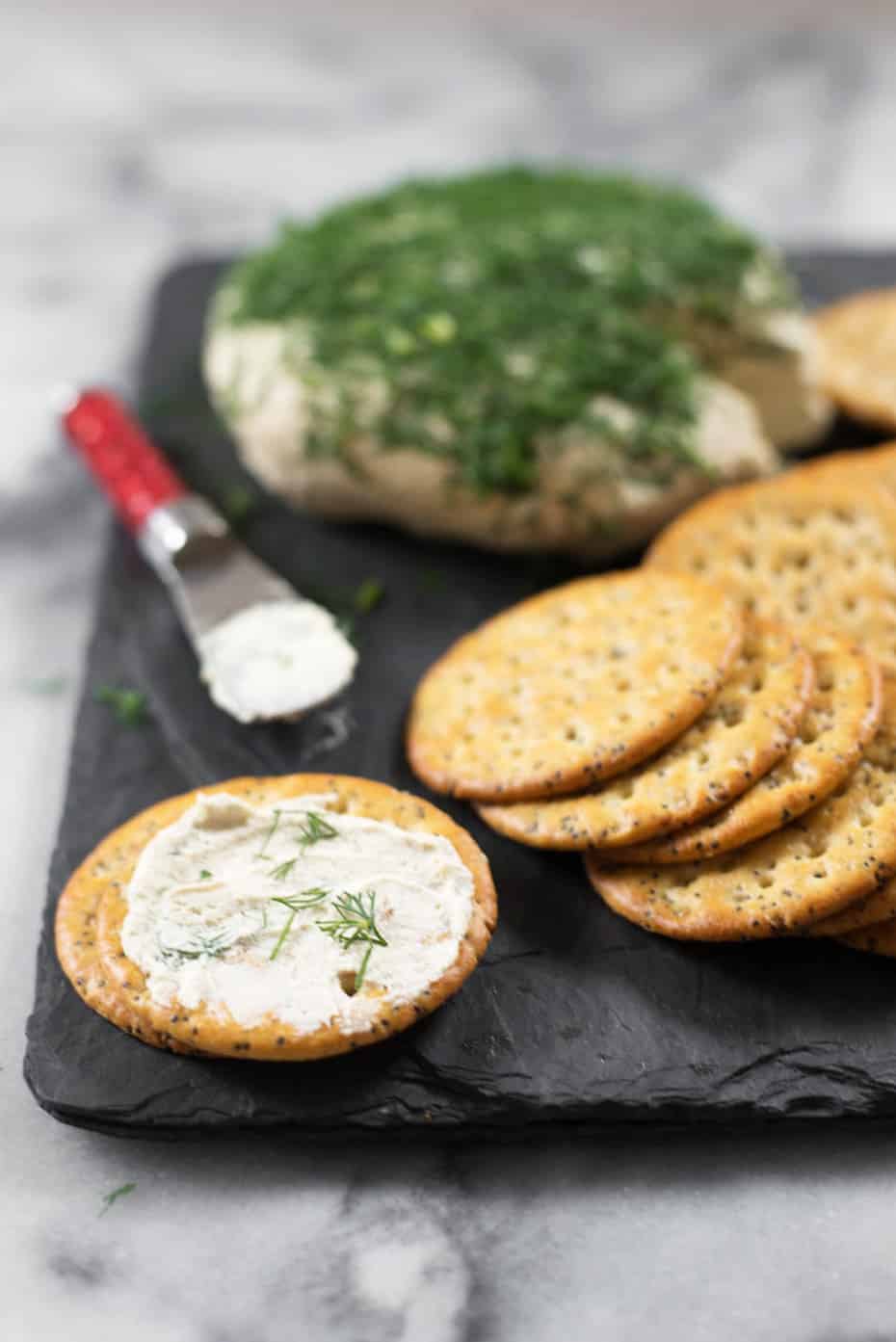 22. Dilled Vegan Almond Cheese Ball 
A great appetizer option; non-dairy almond cheese ball with lots of fresh dill.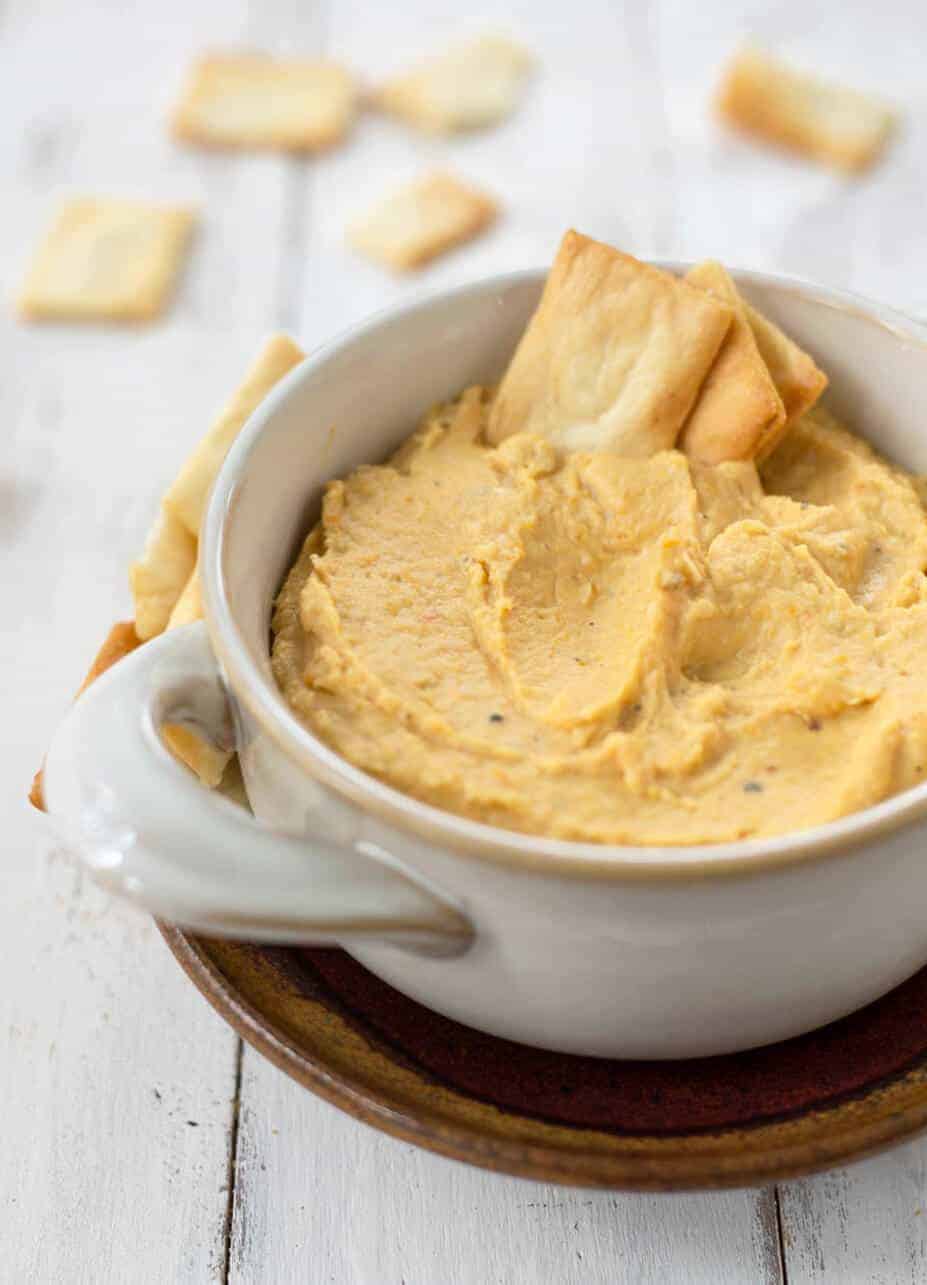 23. Smoked Butternut Squash Dip 
If you like hummus, you'll love this smoked butternut squash and white bean dip.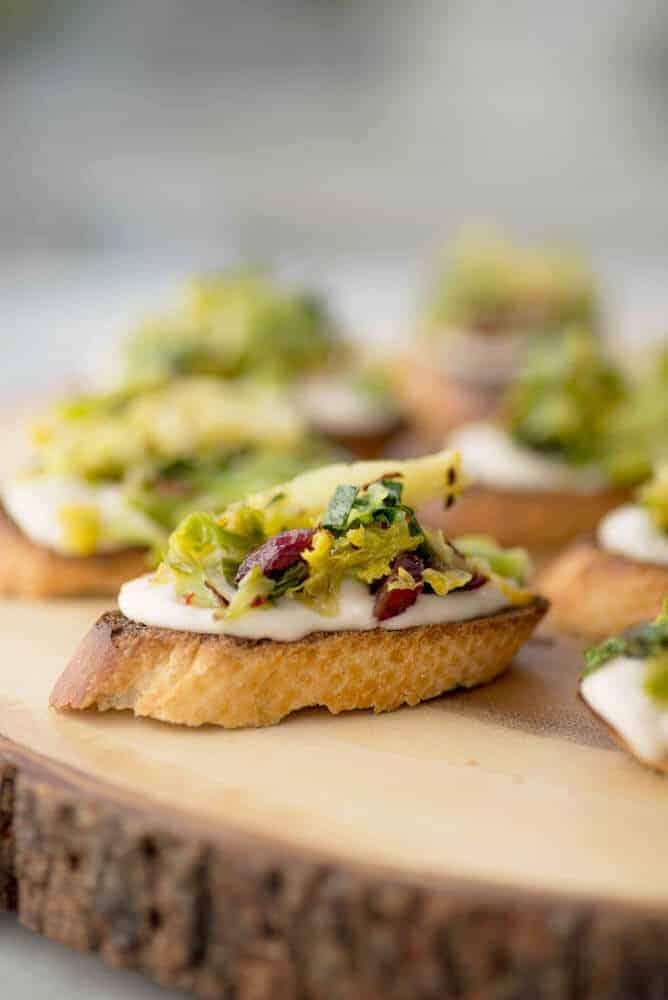 24. Brussels Sprouts Crostini 
One part appetizer, one part side dish: crispy crostini with a tangy white bean dip and crunchy brussels and cranberries. Festive and delicious!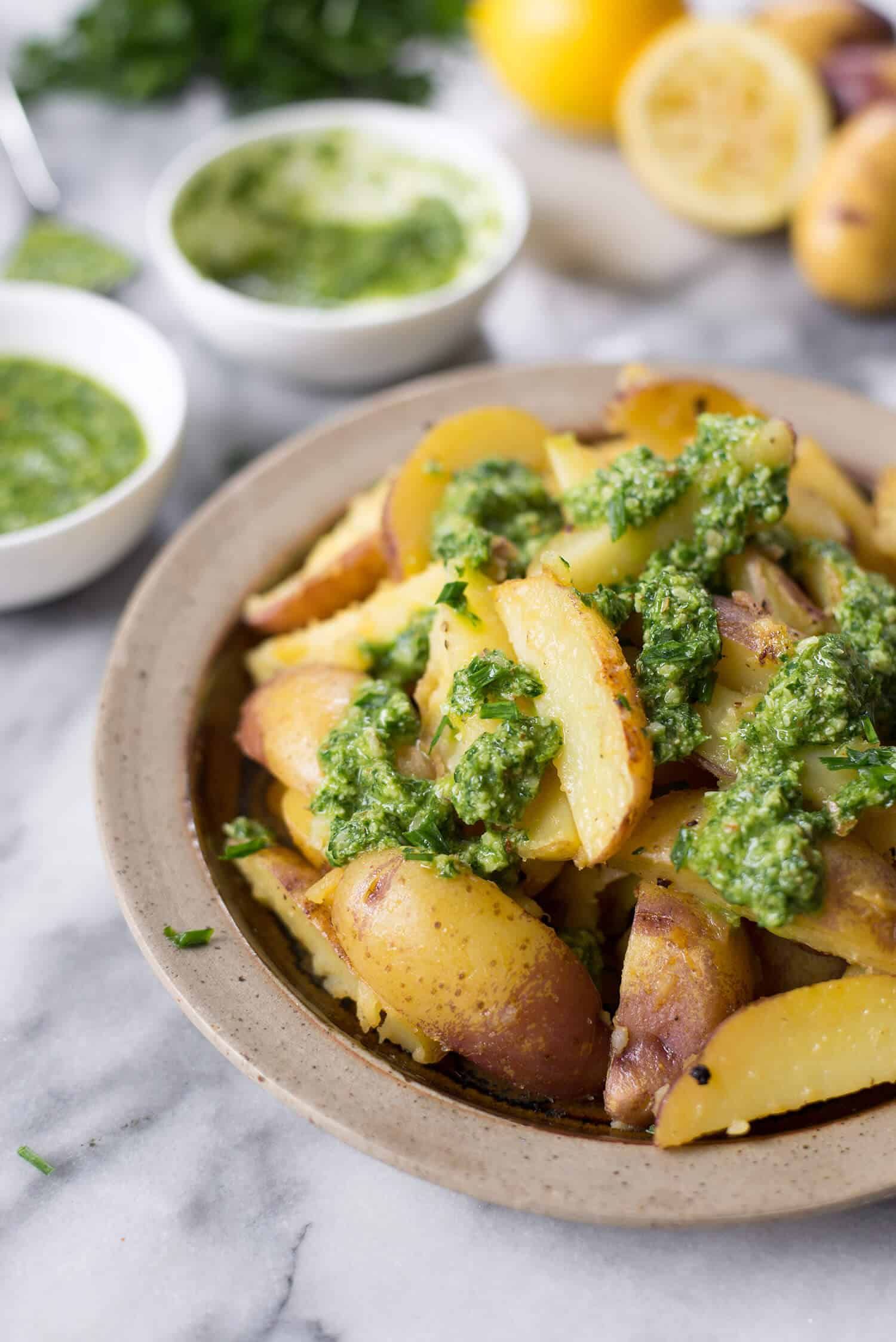 25. Lemon Pan Fried Potatoes with Chive Pesto
Another great potato option for a less-traditional feast. Crispy smashed potatoes with a lemon-chive pesto.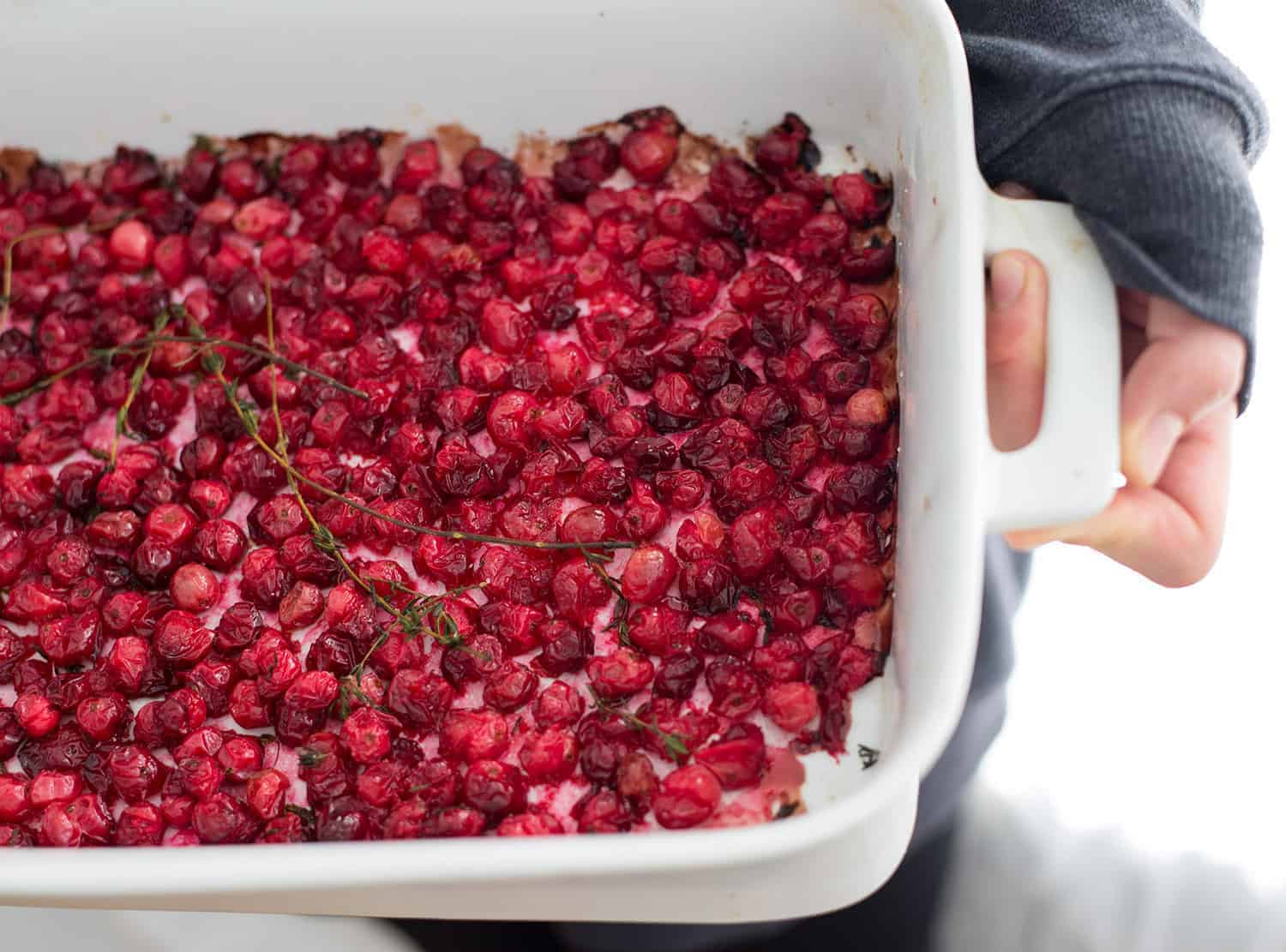 26. Roasted Cranberry, Kale and Wild Rice Salad 
This festive salad is one of my favorites! Roasted cranberries with crunchy wild rice and kale.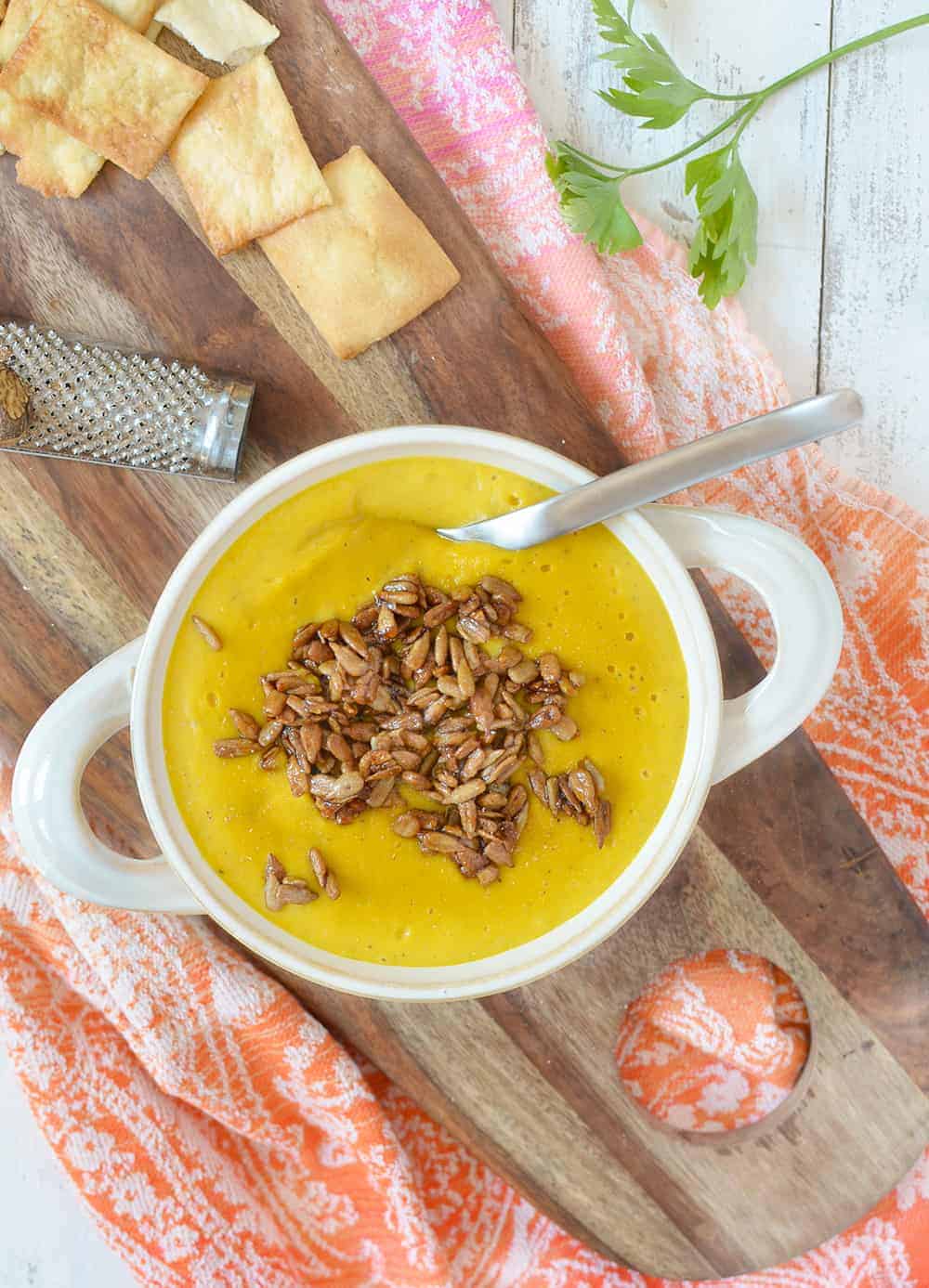 27. Ginger Apple Soup 
All of our favorite fall flavors in one dish: apple, ginger and butternut squash. Creamy and delicious! Enjoy with or without the sunflower seed brittle.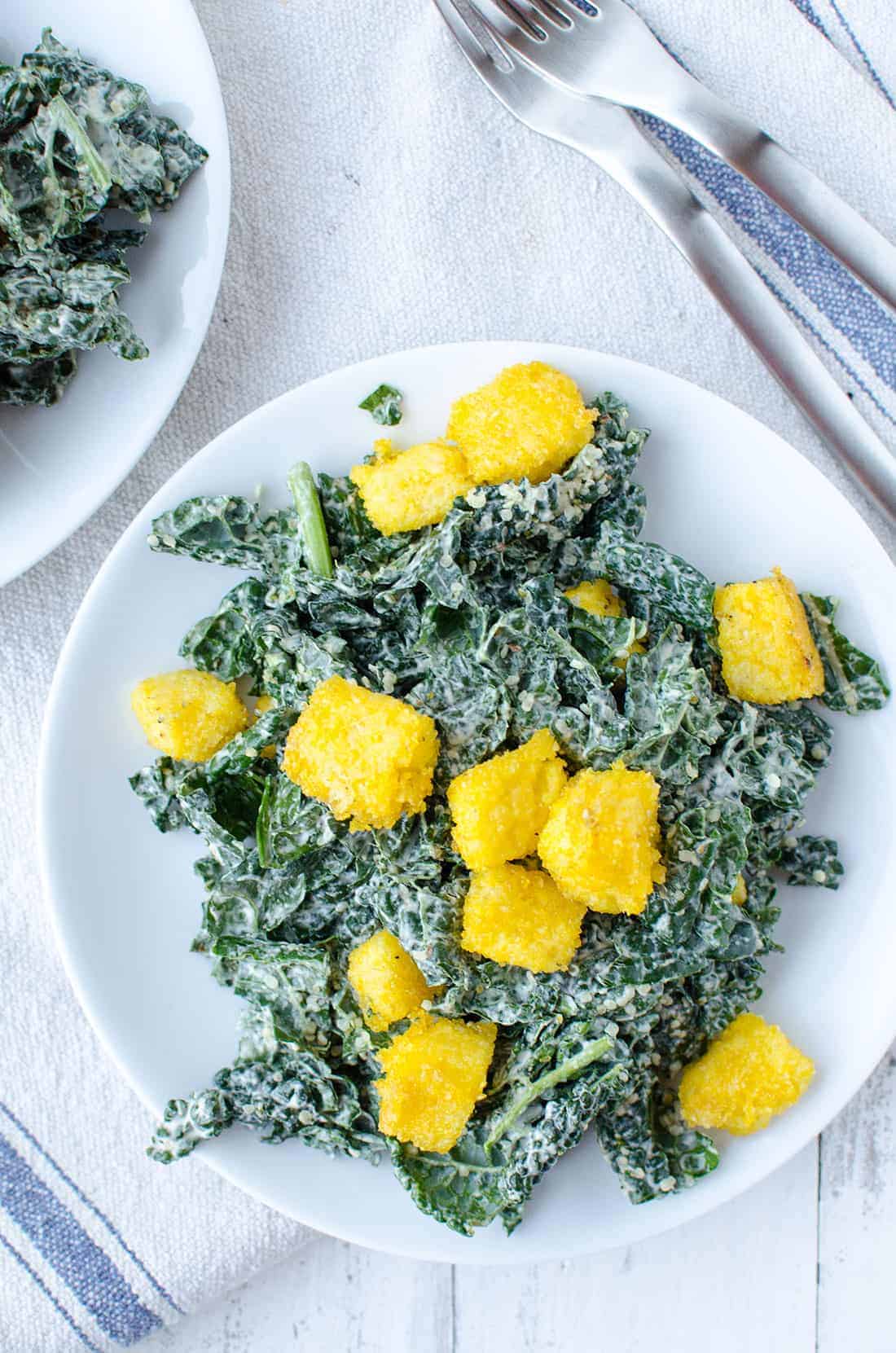 28. Kale Caesar Salad
With or without the polenta croutons, this creamy kale caesar salad is perfect for any holiday celebration.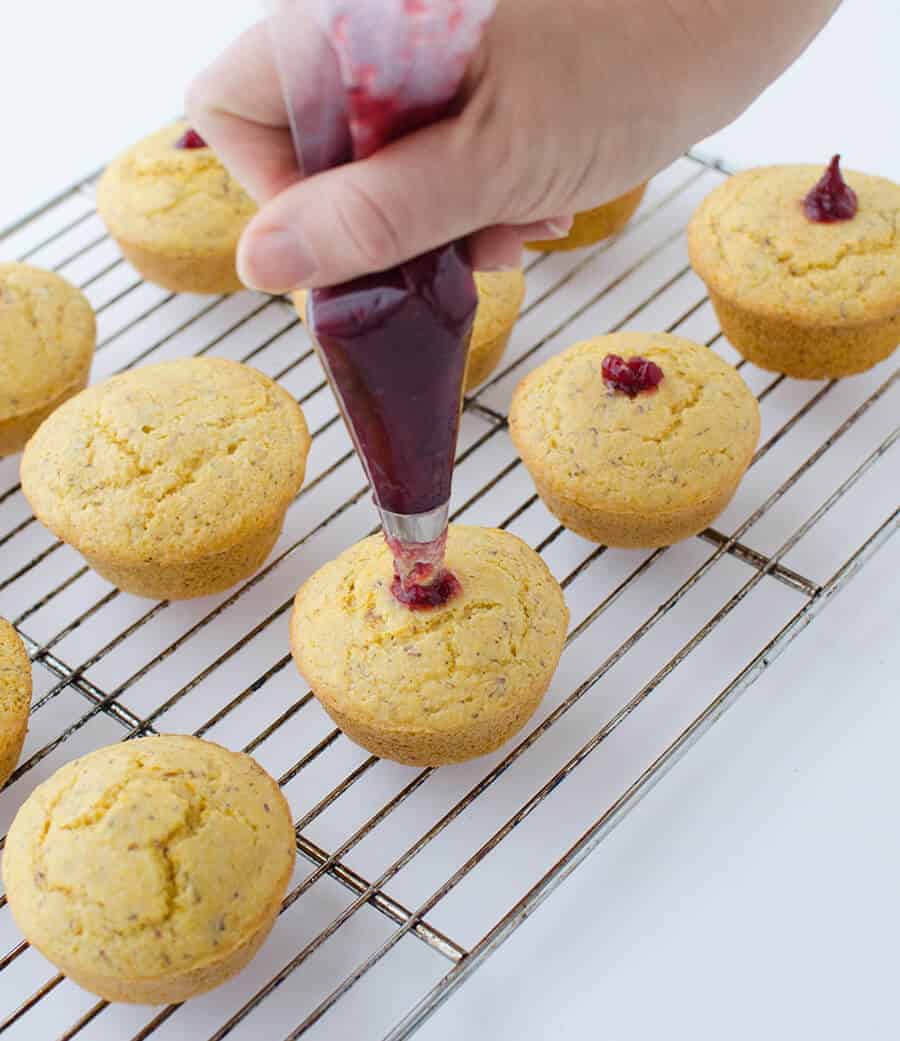 29. Cranberry Corn Muffins
Clearly, I love sweet and savory together. Savory corn muffins with a sweet & tangy cranberry center.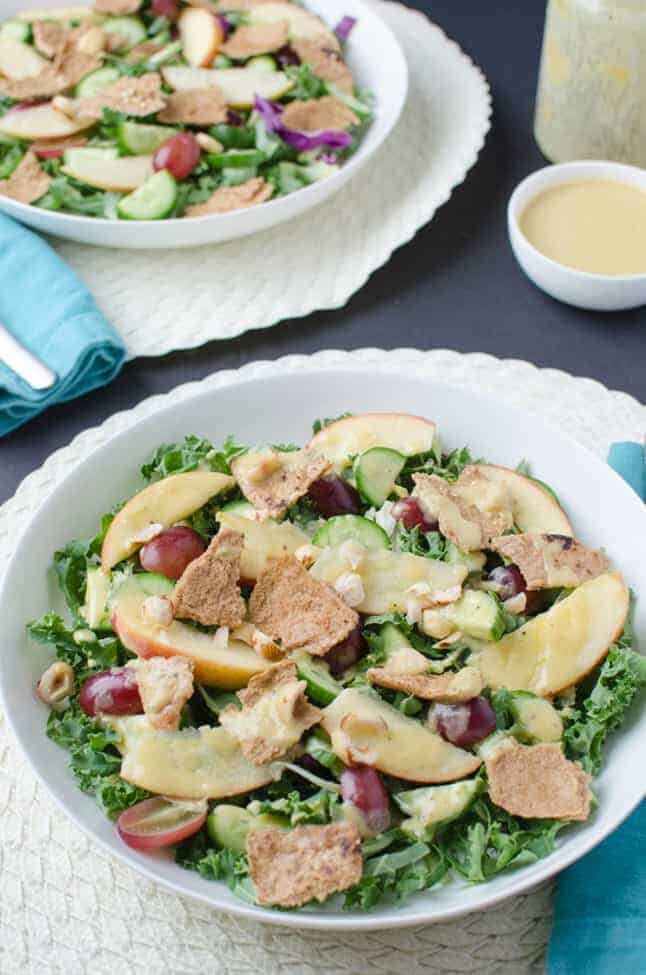 30. Fall Fattoush Salad
Apples, pita bread, kale, grapes, hazelnuts and a honey mustard dressing. 
Sweet Treats & Desserts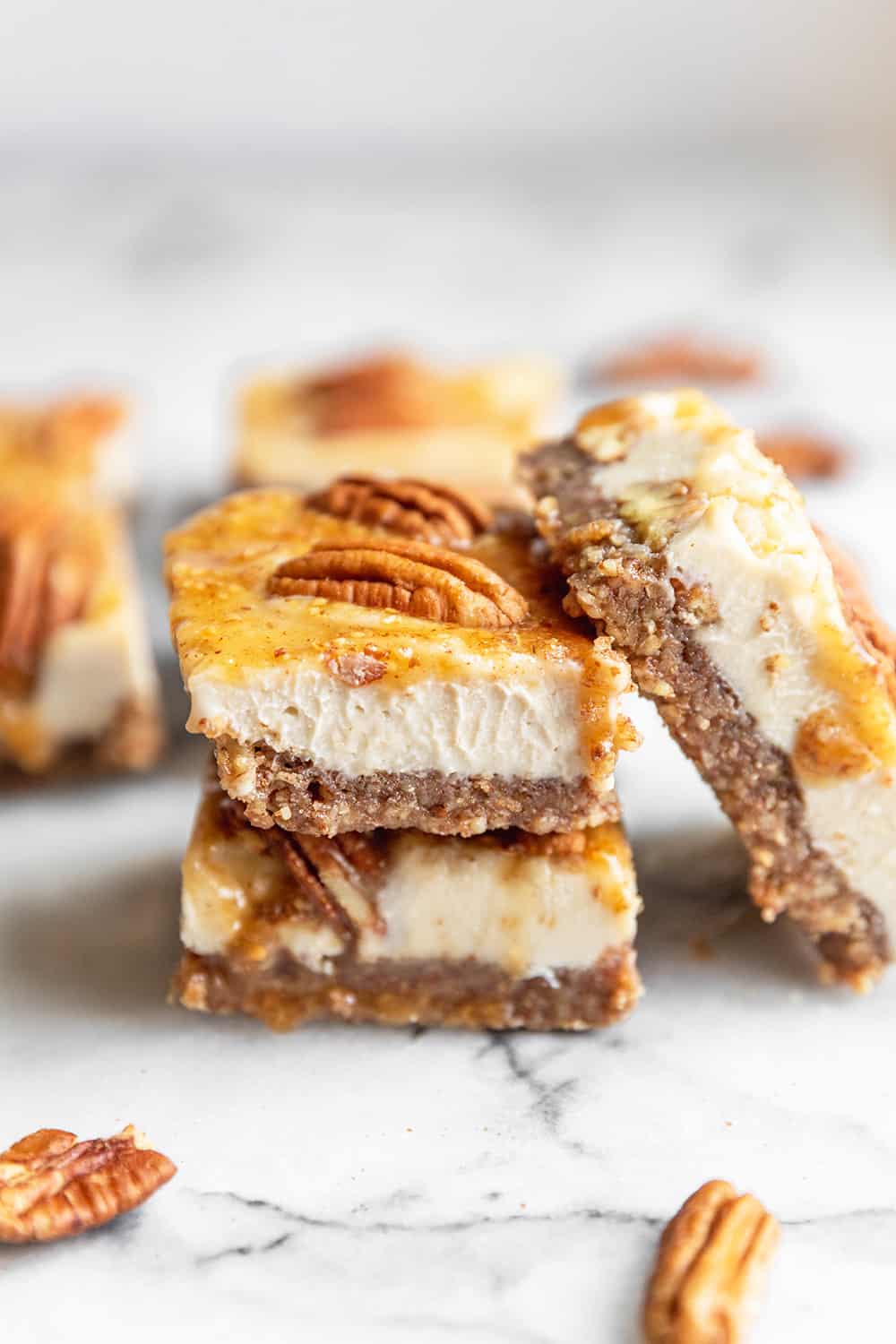 31. Pecan Pie Cheesecake Bars
May I suggest these bars for whatever your holiday looks like? Pecan pie crust topped with a creamy cheesecake filling and a maple pecan glaze topping.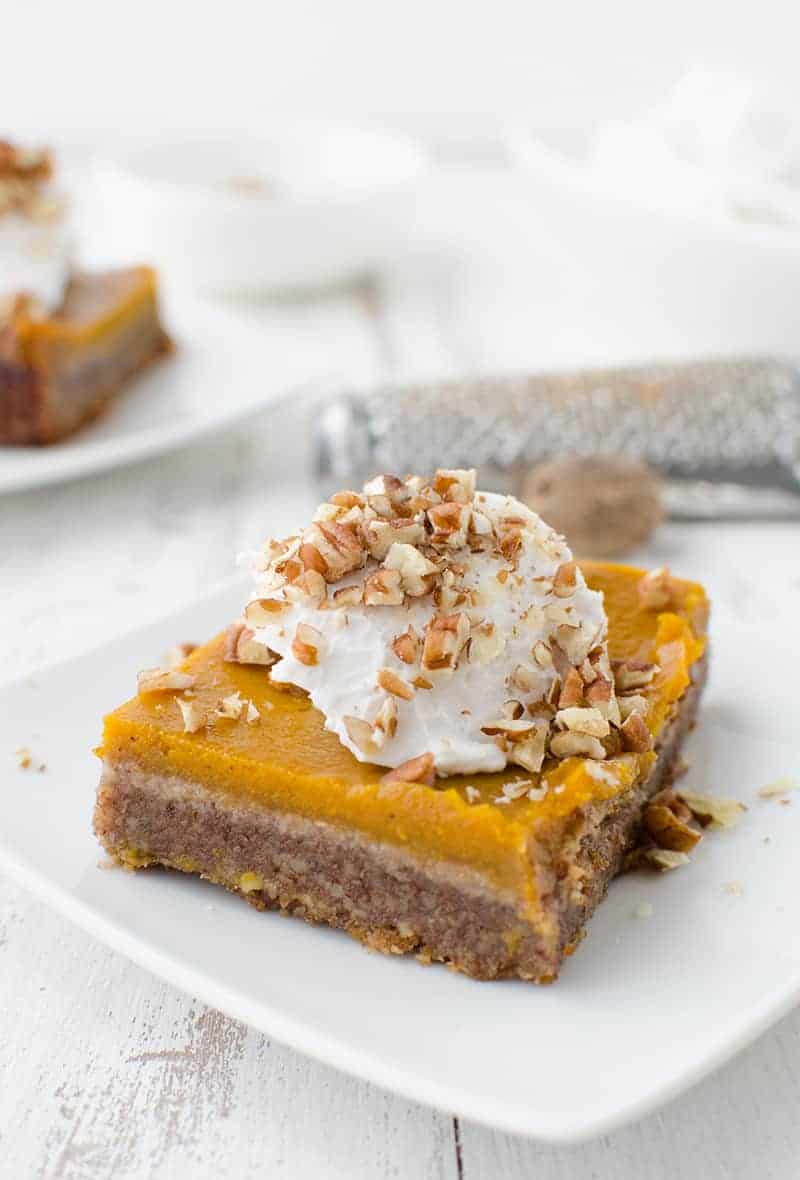 32. Pumpkin Pie Pecan Bars
These are one of my favorite desserts; I make them a few times in October-December and every time I do, my husband says to me: "wow– these really are so good!"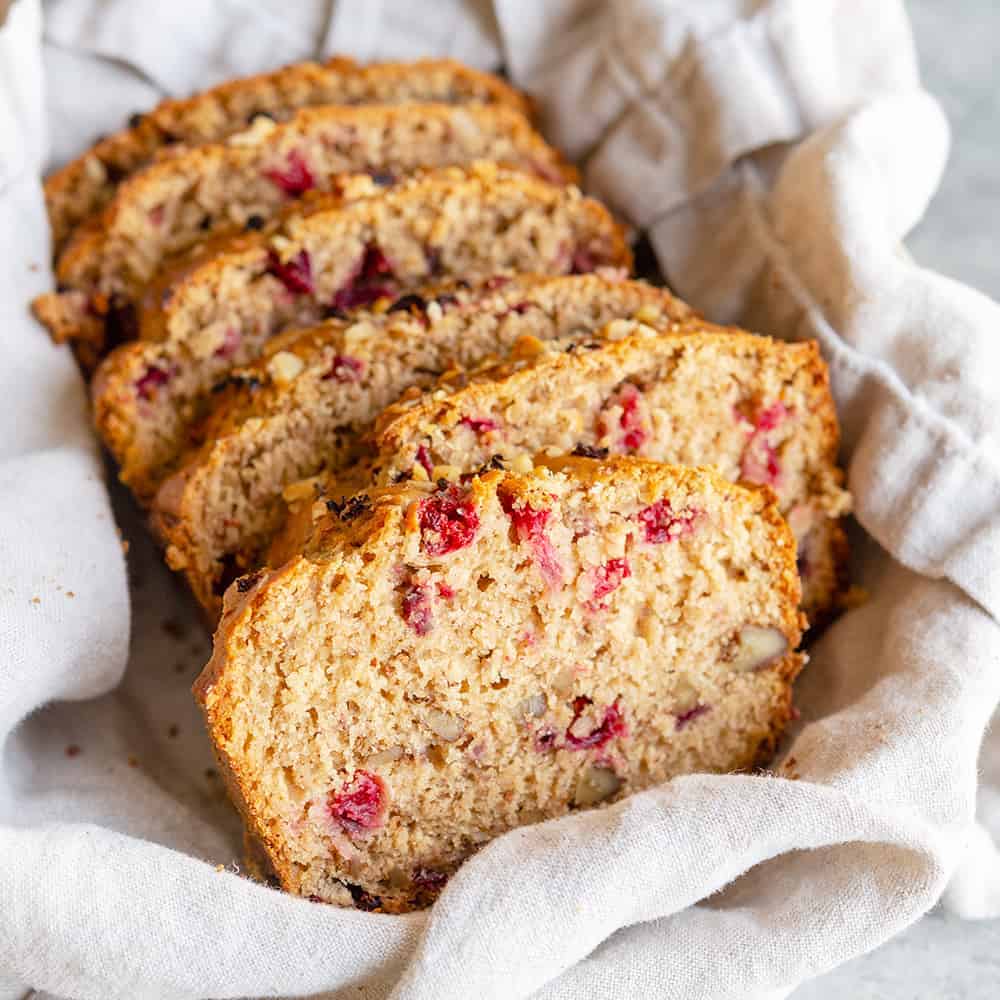 33. Cranberry Orange Bread
I love this cranberry orange bread, especially for breakfast on Thanksgiving morning.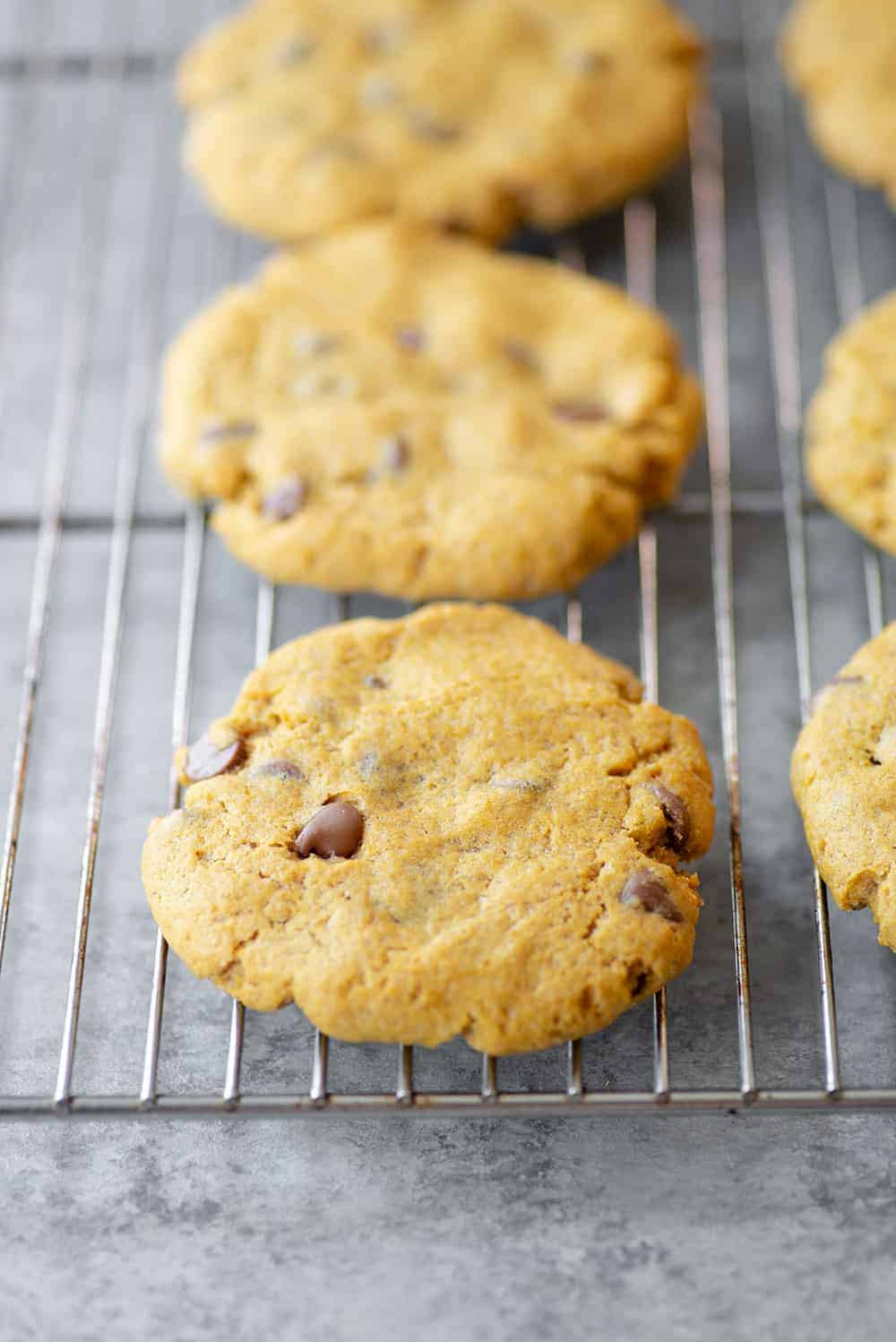 34. Pumpkin Chocolate Chip Cookies
These easy pumpkin cookies are soft, chewy and perfect for Fall.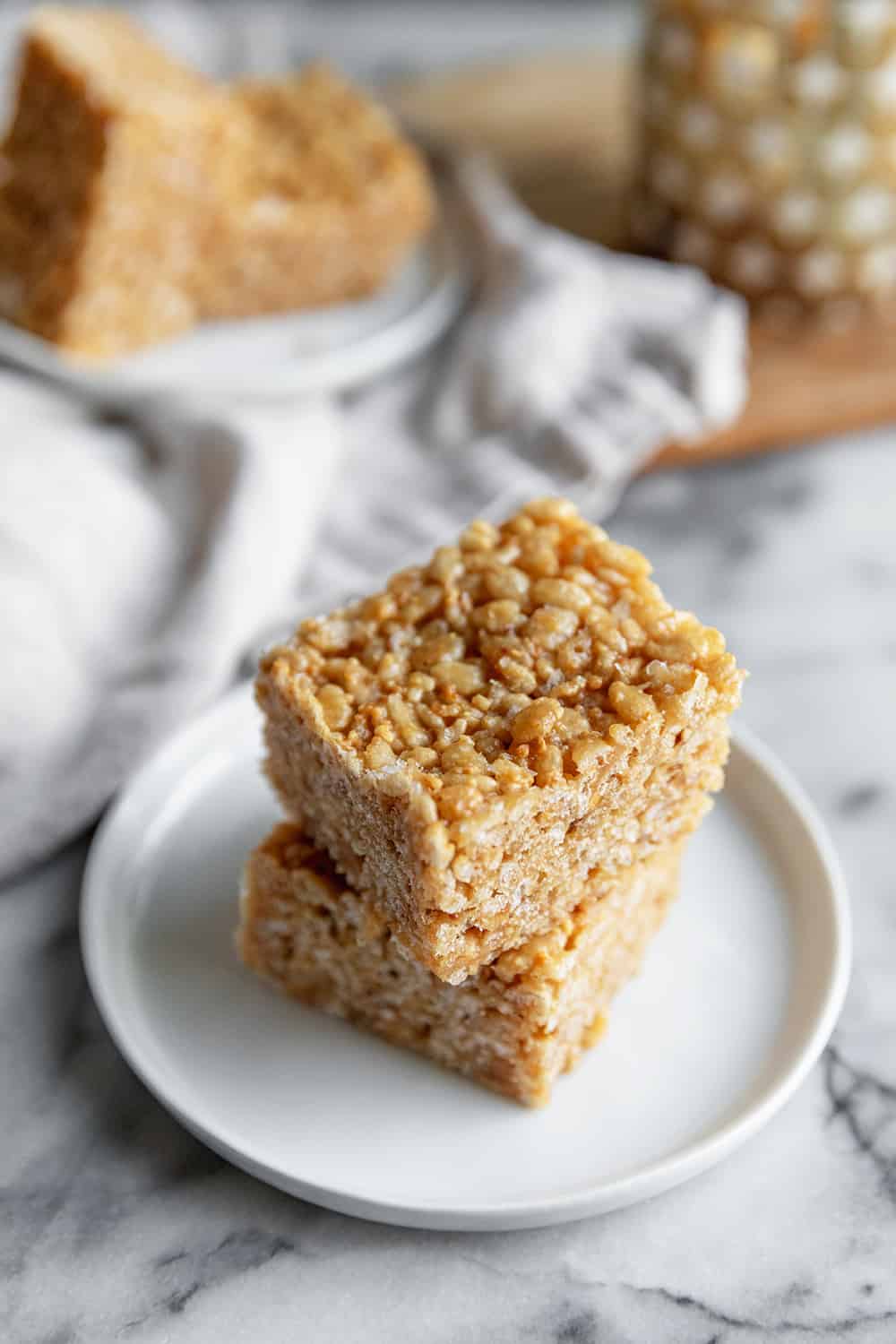 35. Salted Caramel Hippie Bars
If you're looking for a unique dessert option, try these Salted Caramel bars– like a rice krispie treat but healthier!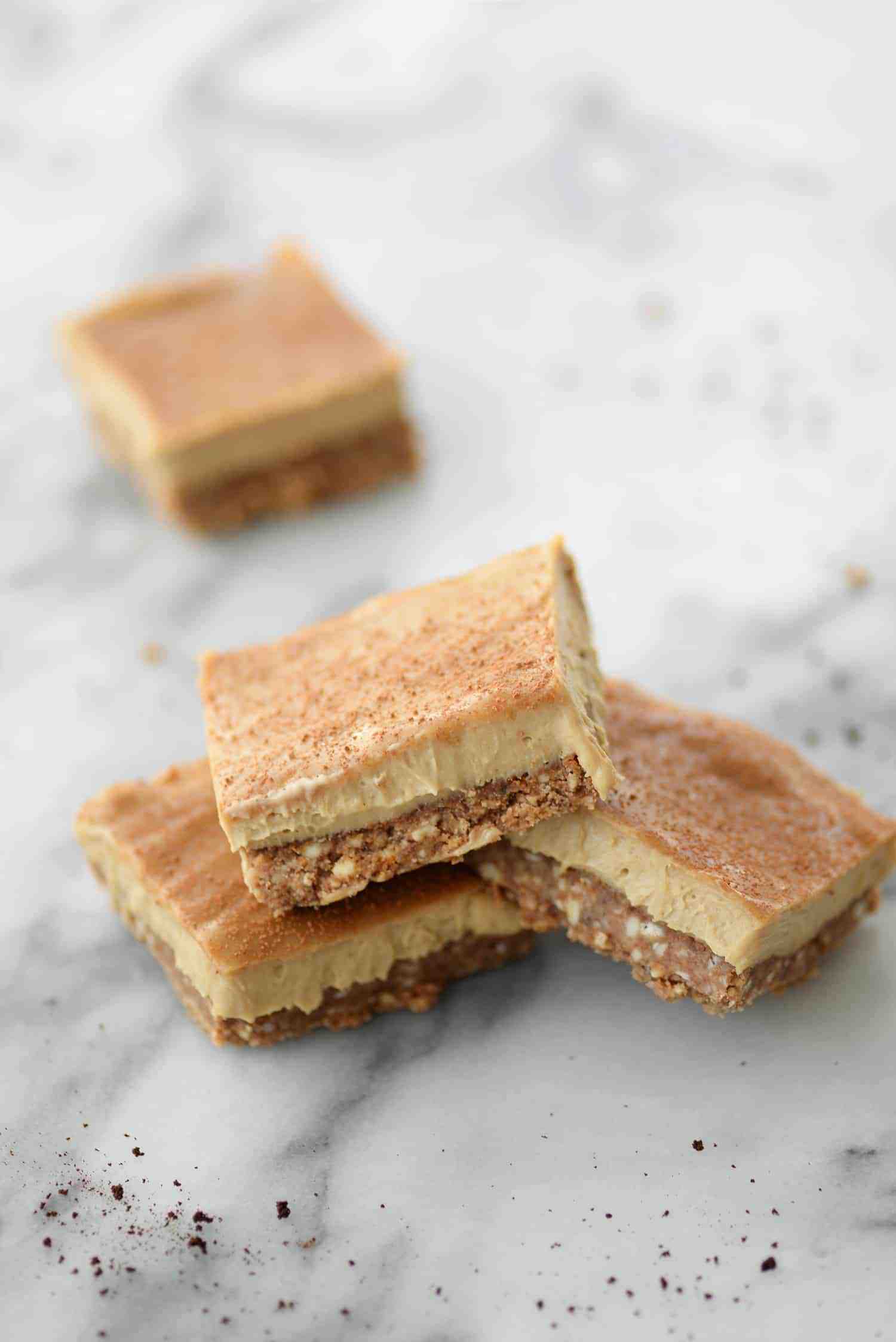 36. Vegan Espresso Cheesecake Bars
I made us these vanilla espresso cheesecake bars because I can't stop making yummy goodies out of nuts. Once you learn how easy cashews and nuts transform into gorgeous no-baked goods, it's hard to stop.
I pinkie-promise that even though they are mostly nut based, they taste amazing. The buttery taste of cashews completely transforms into a cheesecake base that's elevated with a bit of espresso powder and vanilla.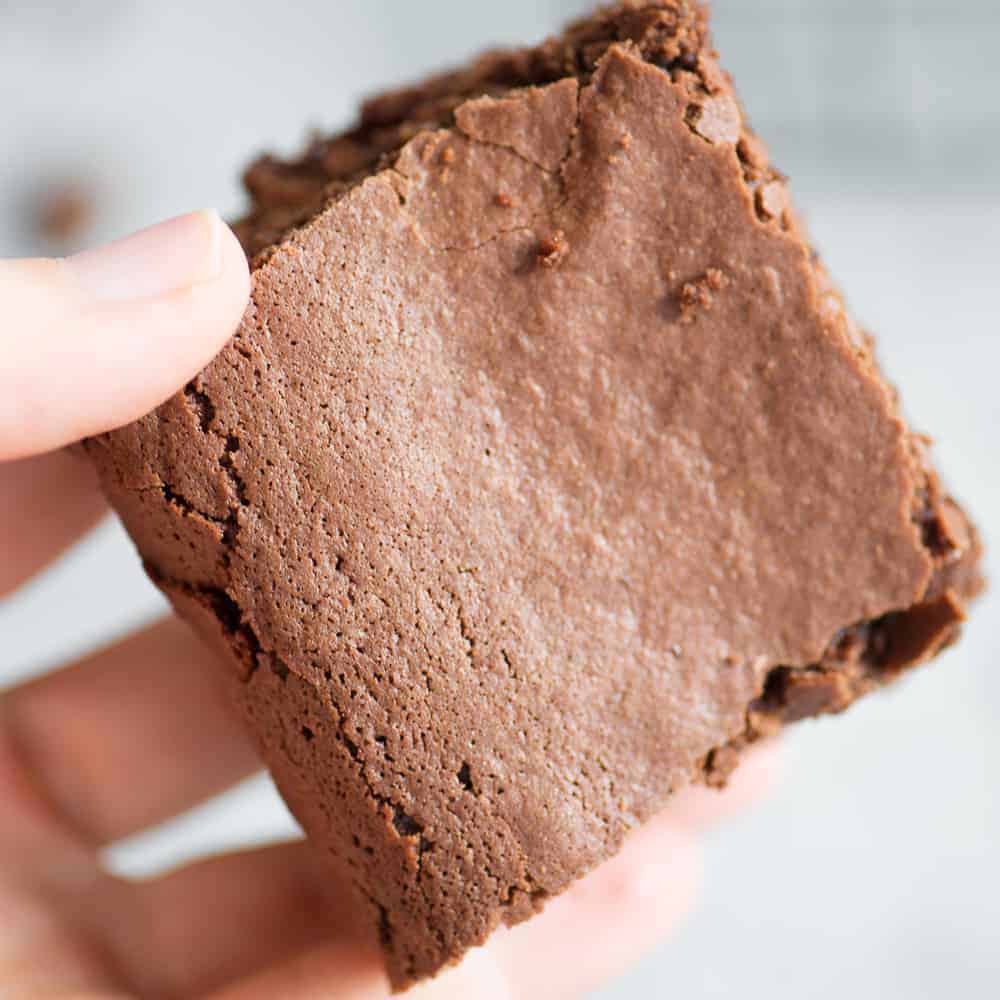 37. Vegan Espresso Brownies 
Chewy, chocolatey brownies– need I say more?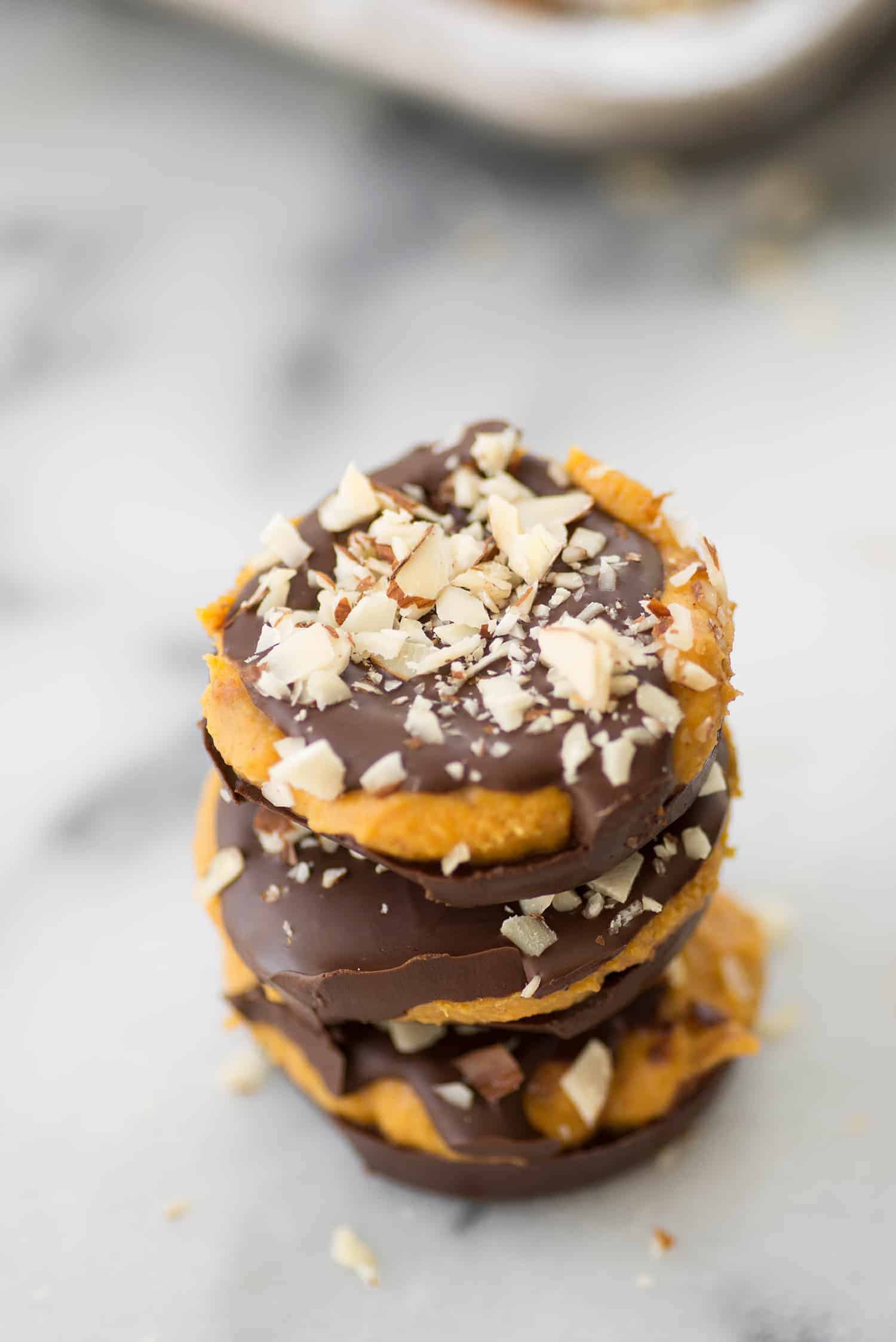 38. Pumpkin Chocolate Dessert Cups
Like a Reese's Cup– but with pumpkin, chocolate and almonds.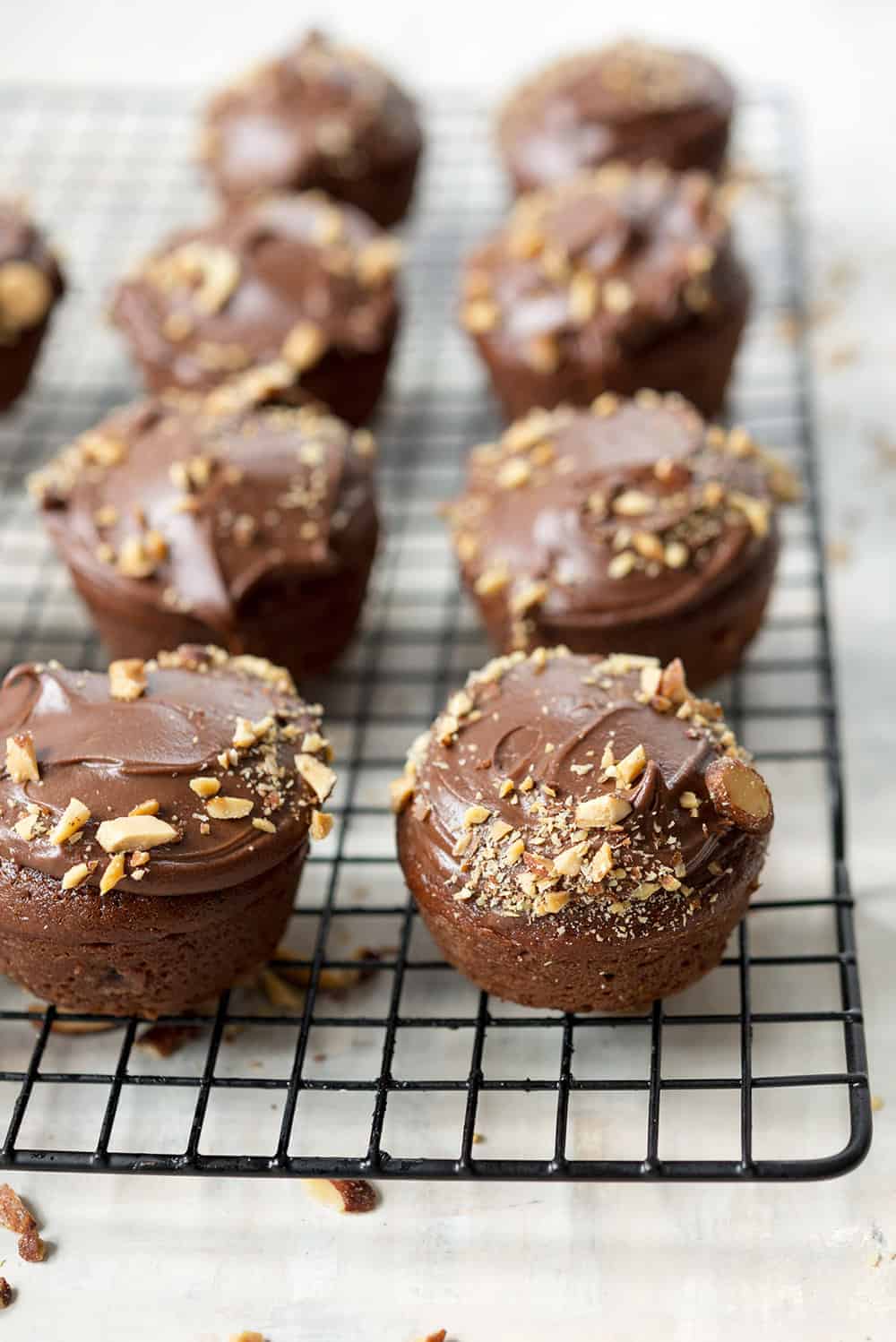 39. Nutella Cupcakes
I know cupcakes aren't a traditional Thanksgiving dessert, but these cupcakes remind me of the holidays. Chocolate hazelnut cupcakes with chocolate frosting and more hazelnuts.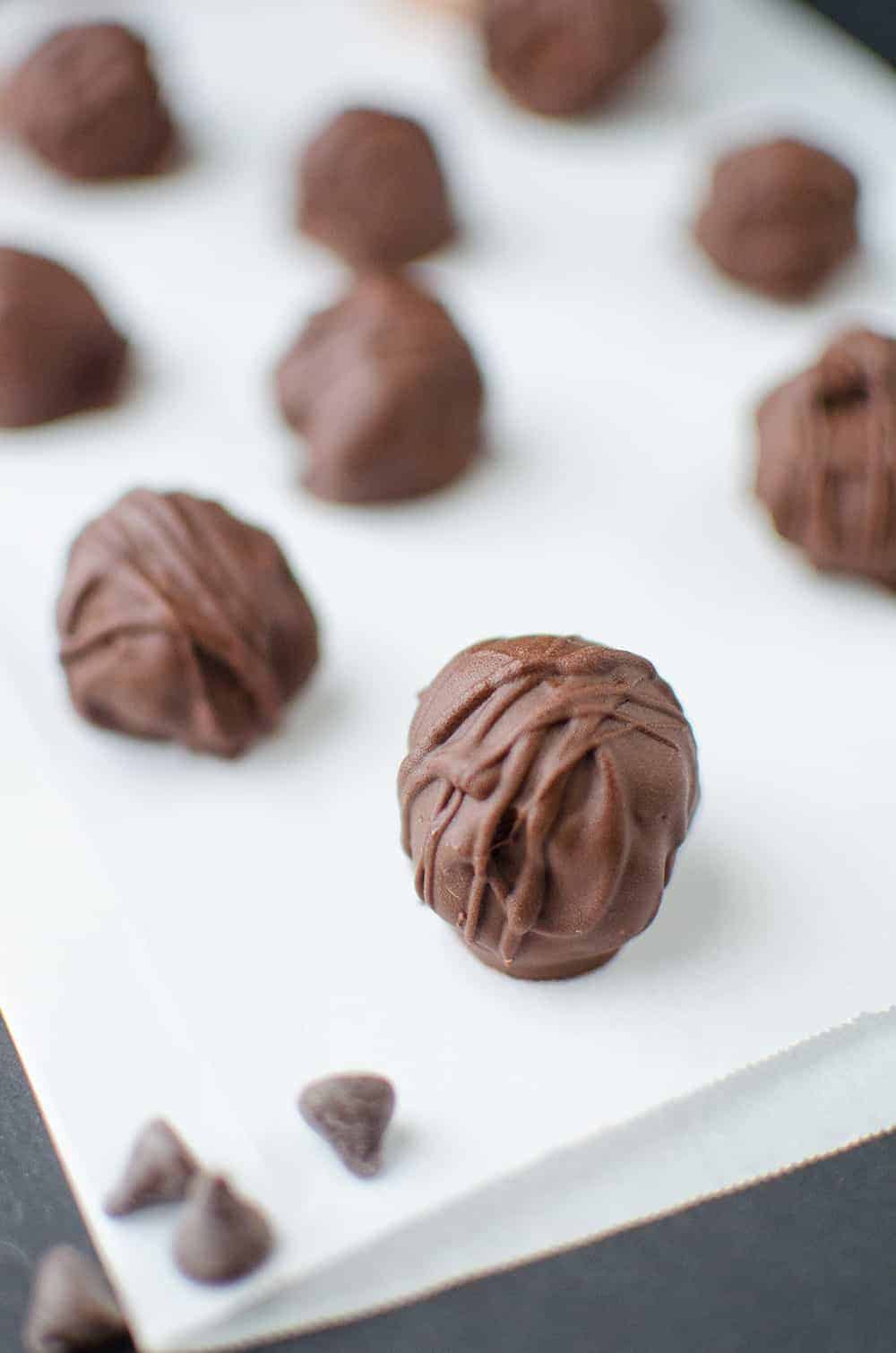 40. Ginger Chocolate Truffles
The perfect sweet treat; a chewy ginger filling coated in chocolate.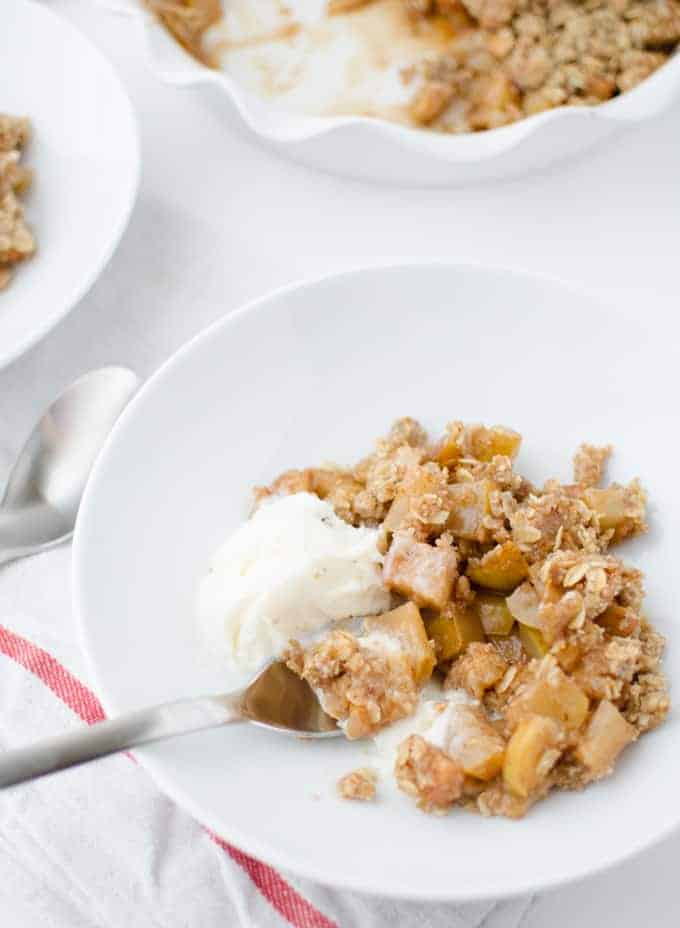 41. Ginger Pear Crisp
Crisp is so much easier than a pie. This one is super simple and studded with holiday, fall flavors.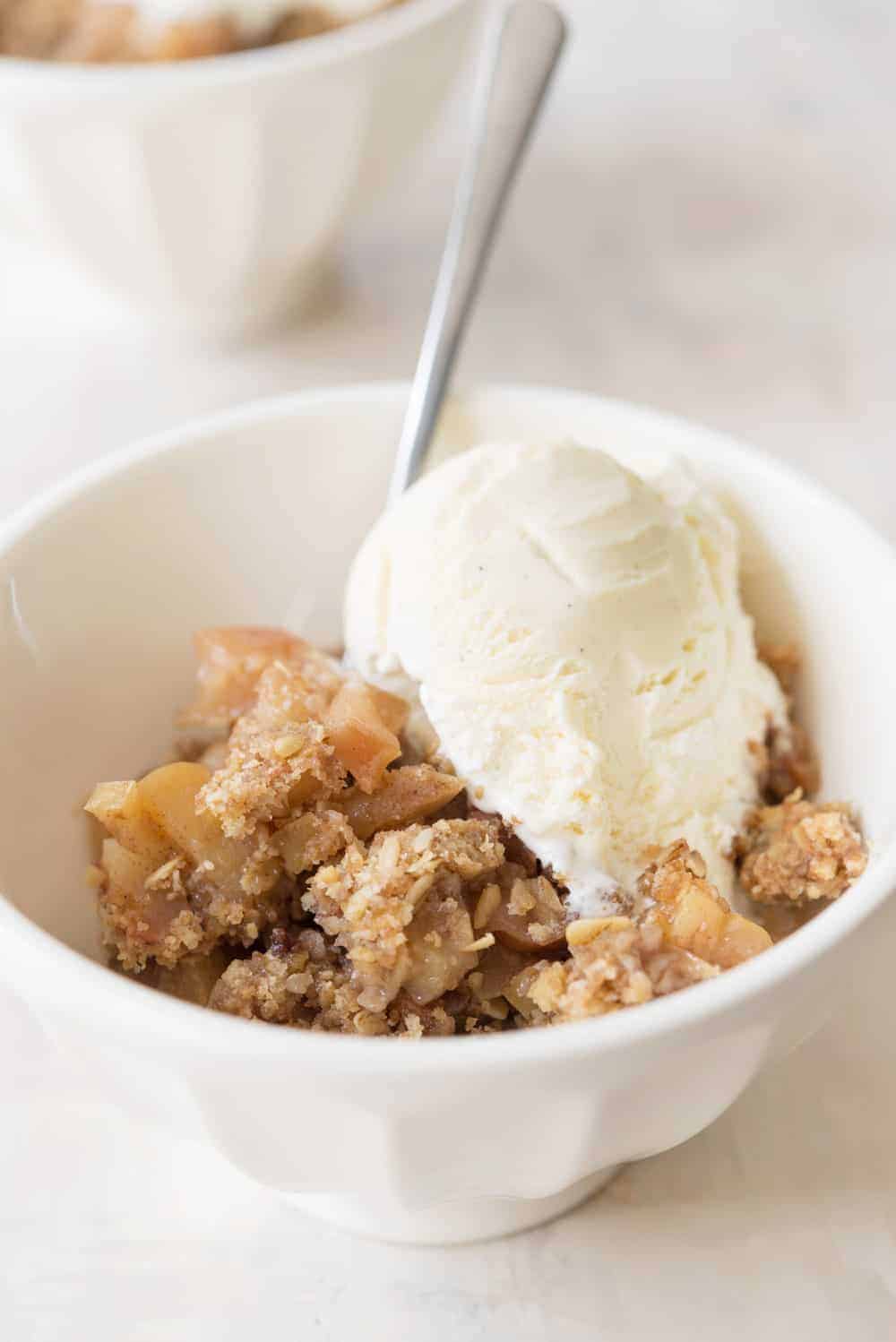 42. Vegan Apple Crisp
I love this healthy apple crisp; perfect with ice-cold coconut ice cream. 
Beverages & Cocktails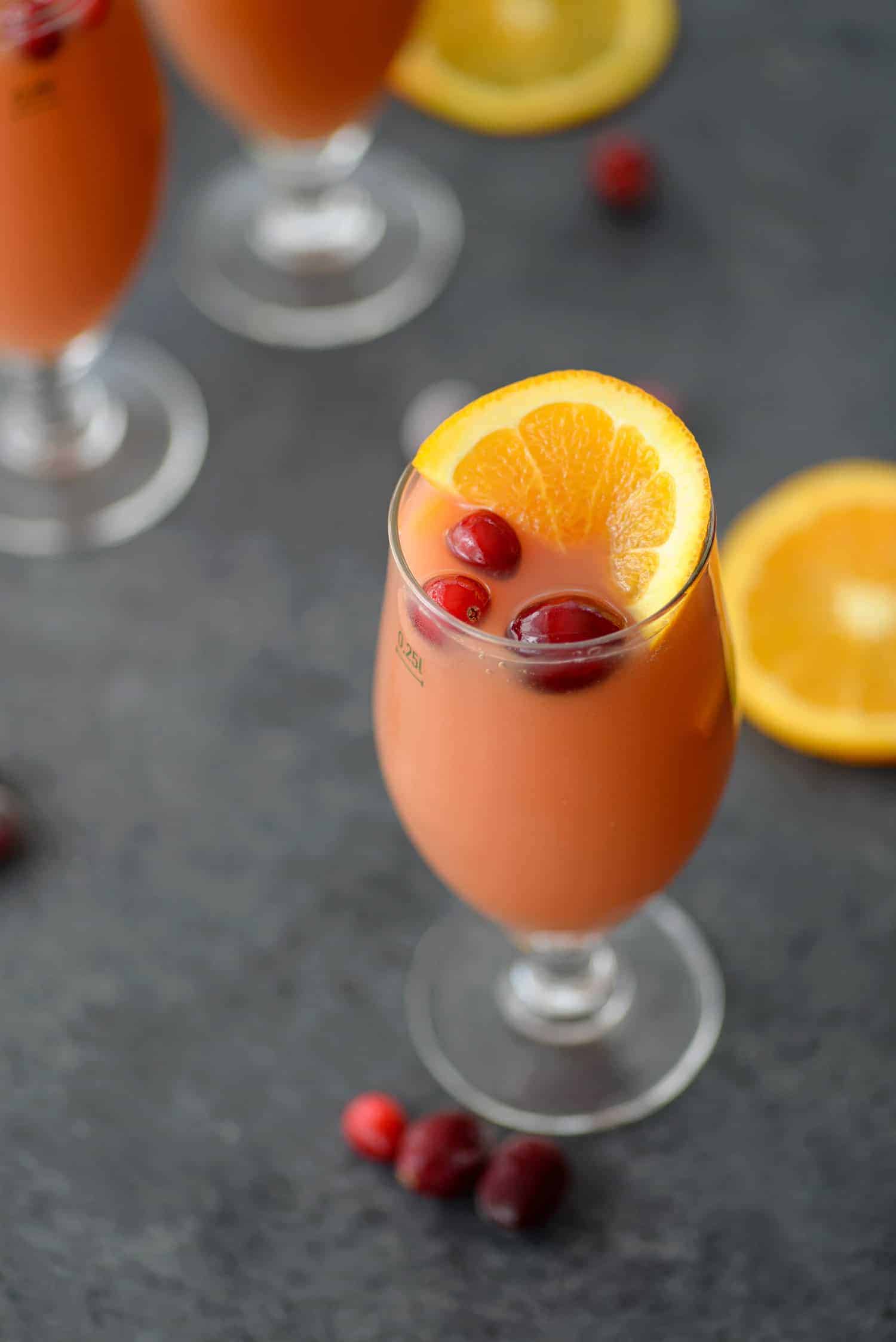 43. Cranberry Orange Beer Shandy
My husband first introduced me to a shandy, and I've come to love the fruity beer cocktail.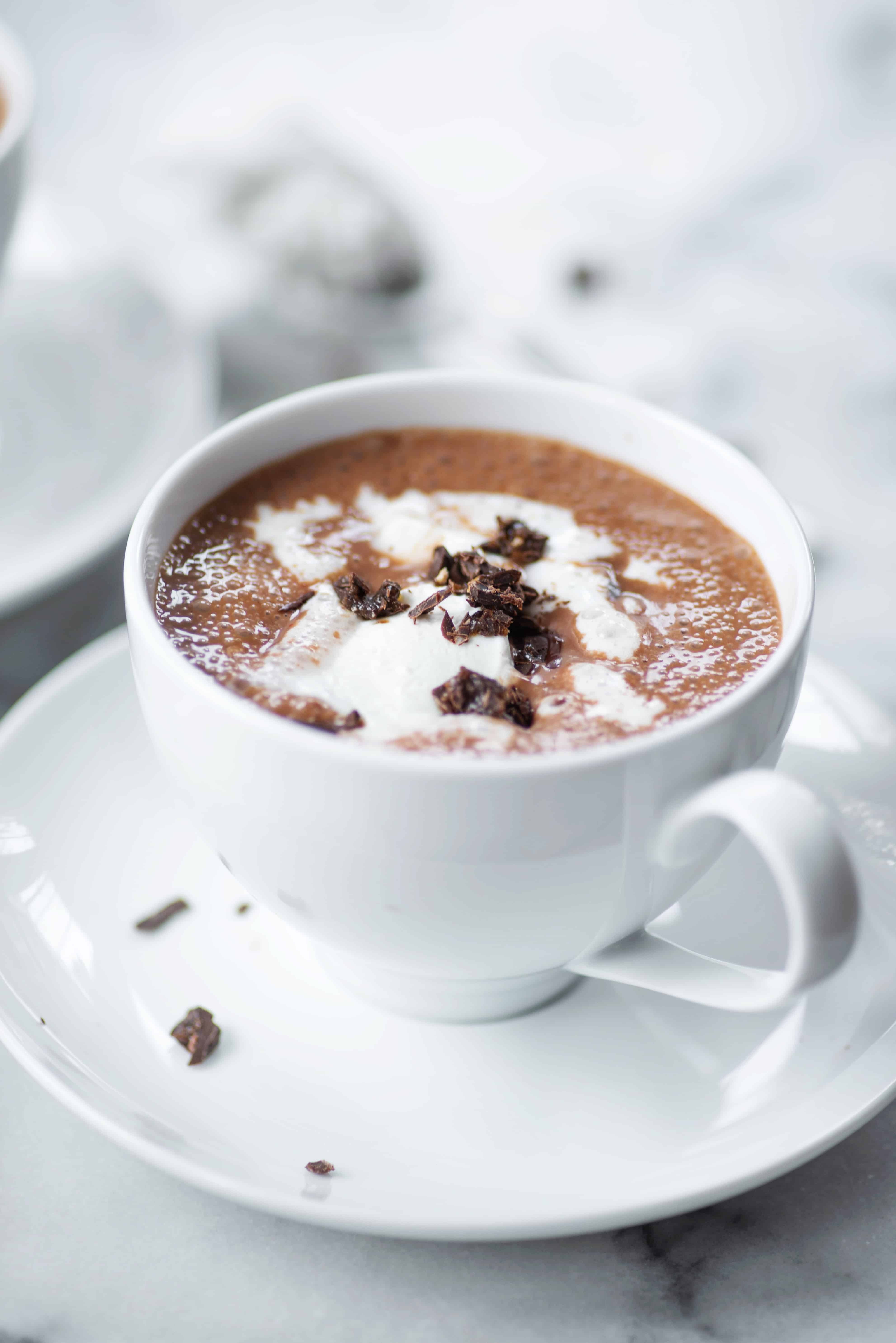 44. Mexican Hot Chocolate
A delicious after-dinner drink + dessert in one.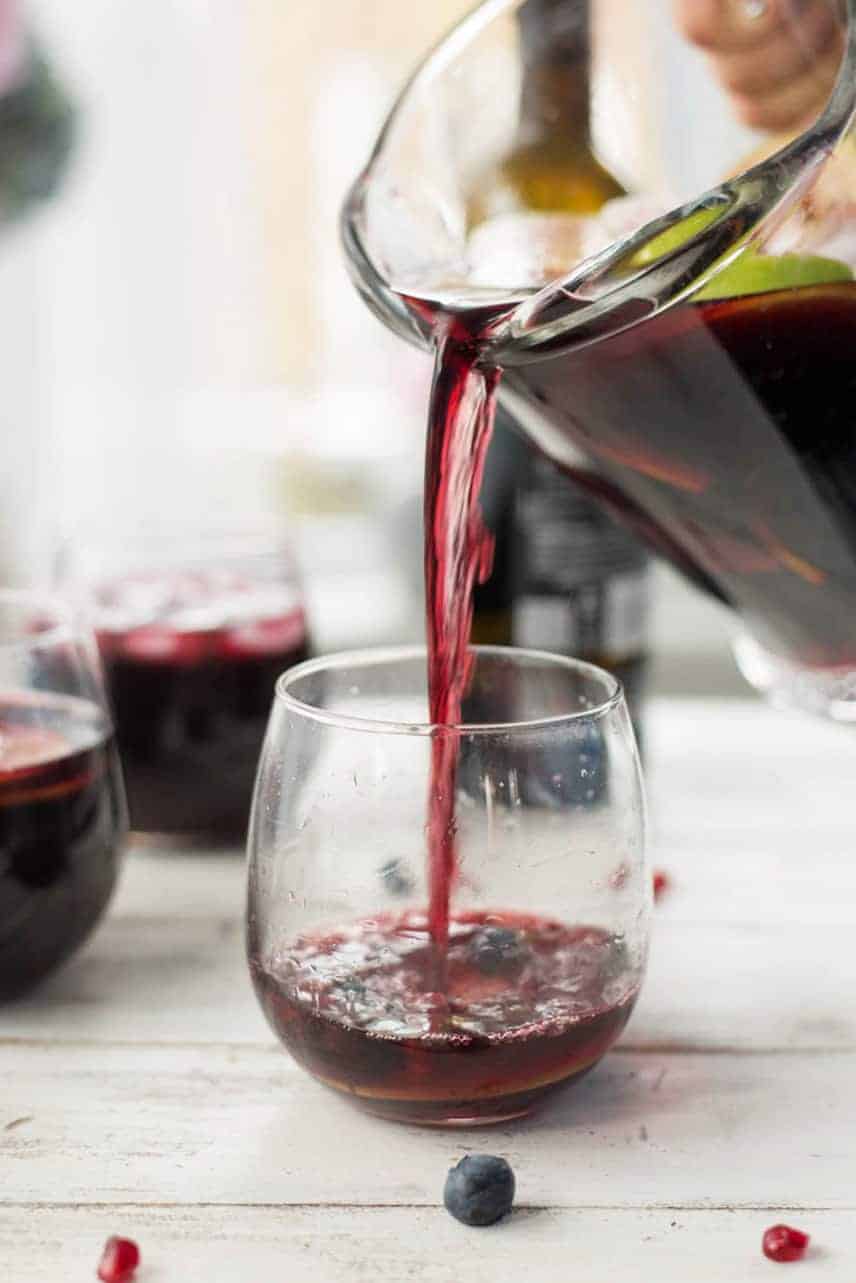 45. Pomegranate Sangria 
Pomegranate juice with red wine and berries.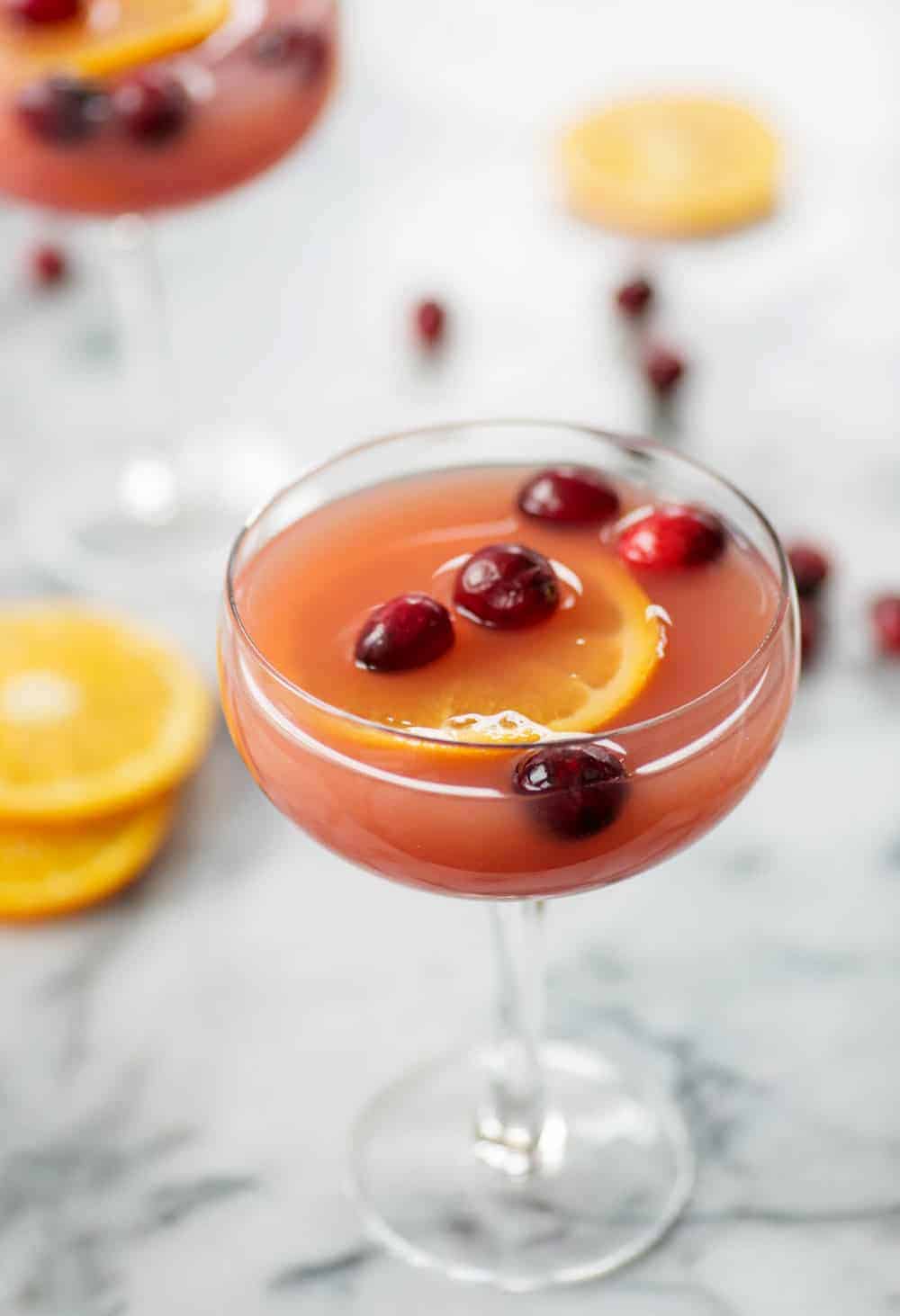 46. Cranberry Orange Champagne Punch
Another festive cocktail option. 
Hope you're inspired by some of the vegan thanksgiving recipe ideas! 


Source: Delish Knowledge, Author: Alex