Vegan Thanksgiving Meatballs! Lentil and mushroom stuffing meatballs featuring sweet dried cherries. Perfect for whatever your Thanksgiving gathering looks like this year.
I cannot believe that Thanksgiving is just weeks away. 2020 feels like the ultimate time-warp; it feels like just yesterday I was pregnant with Emery and now she's crawling, babbling and seems much older than her 8 months.
At the same time, it almost feels like I'm still stuck in March— it feels like I blinked through the summer and fall as we fast approach the end of the year.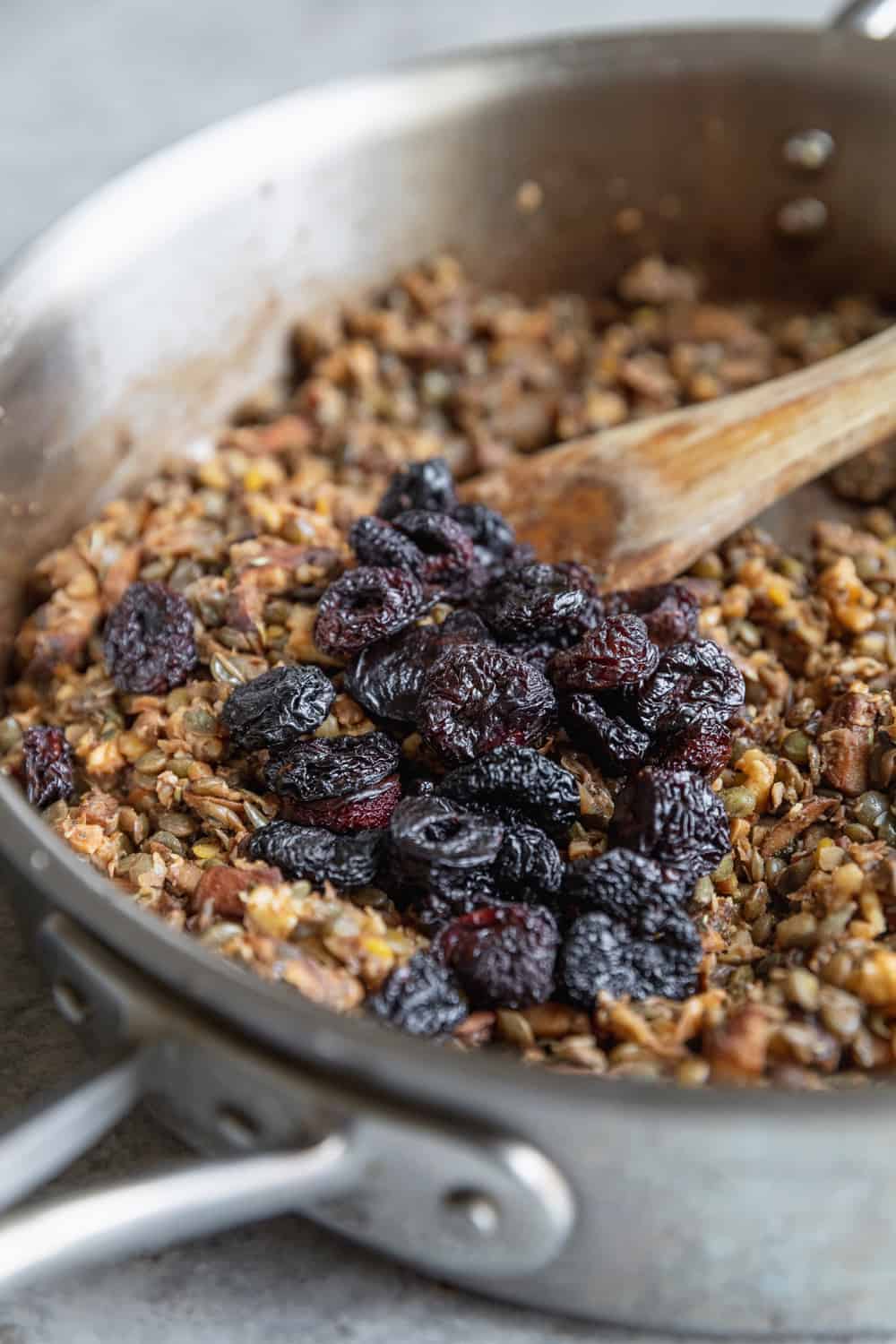 I can't be the only one that feels that way. And, whatever your Thanksgiving plans are this year— I've got some adorable, festive meatballs that should be on your table. They have all the classic Thanksgiving flavors: sage, thyme, oregano and simple enough if your table is only being set for two.
I'm actually not sure what our dinner plans are yet, but I know it will just be my small little family. These thanksgiving meatballs with mashed potatoes and mushroom gravy are looking pretty perfect.
These vegan stuffing meatballs also contain a good serving of dried sweet cherries! Did you know that sweet cherries are a natural source of tryptophan, serotonin and melatonin which makes them a great, non-medicated sleep aid. In fact, the presence of all of these along with cherry phenolics helps to regulate sleep cycles. With all that 2020 has thrown at us, sweet cherries can help with quality sleep when we need it most.
In fact, sweet cherries not only promote healthy sleep, but also help to reduce stress. Various studies have shown that serotonin is an important neurotransmitter that reduces stress and helps to improve mood. Sweet cherries also do double duty for reducing stress and inflammation.
Eating cherries significantly decreased C-reactive protein and nitrous oxide concentrations, which are both pro-inflammatory factors. Now that's what I call a superfood!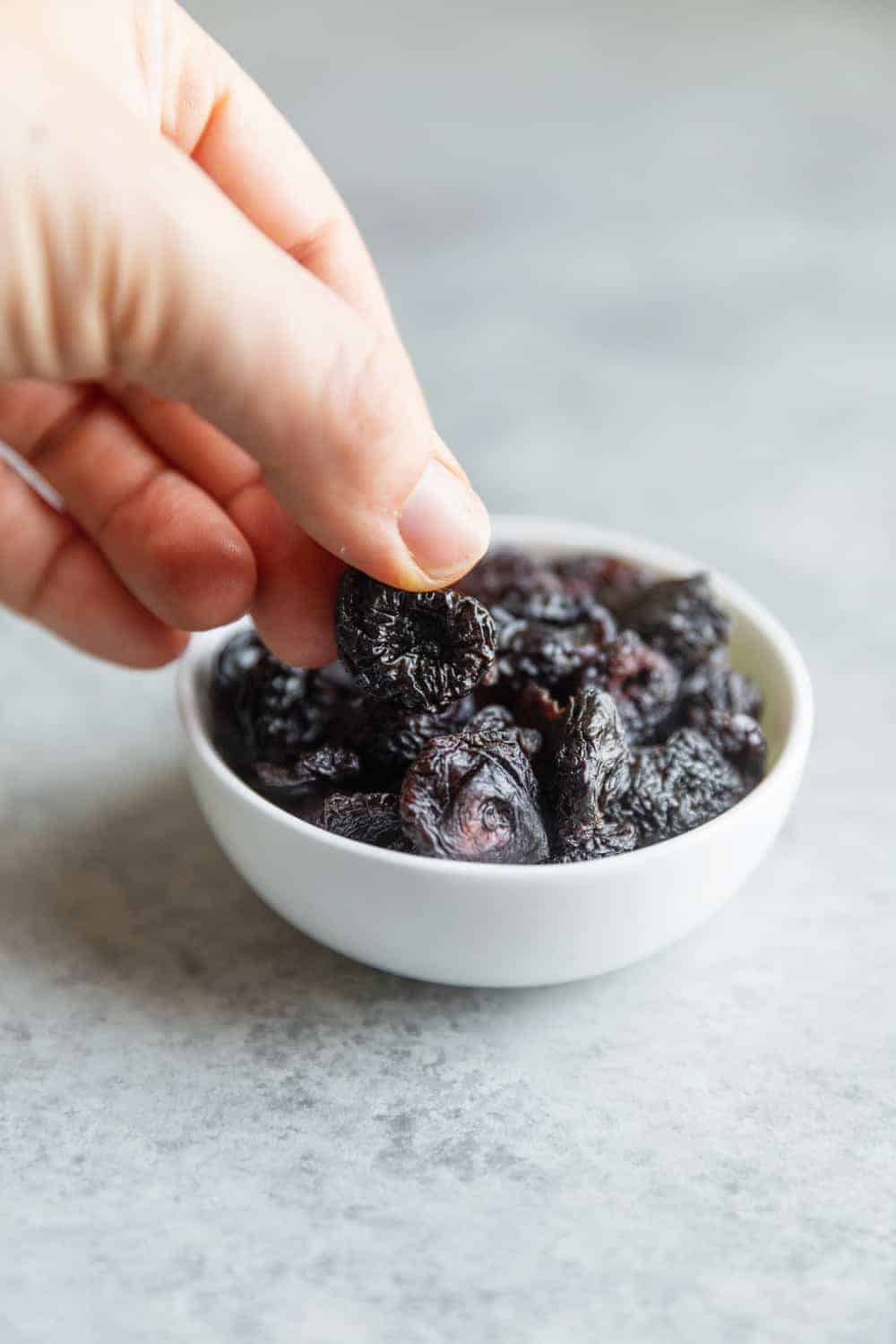 While fresh cherries are only available during the summer months, frozen or preserved dried cherries are available year-round and are an excellent alternative that allows you to enjoy the health benefits anytime.
In these vegan thanksgiving meatballs, dried cherries provide the perfect bite of sweetness to help balance the rich, meaty flavor and texture of the lentils and mushrooms. I think these meatballs are great on their own (thanksgiving sub sandwich?) but go perfectly with a big pile of mashed potatoes and plenty of homemade vegan gravy.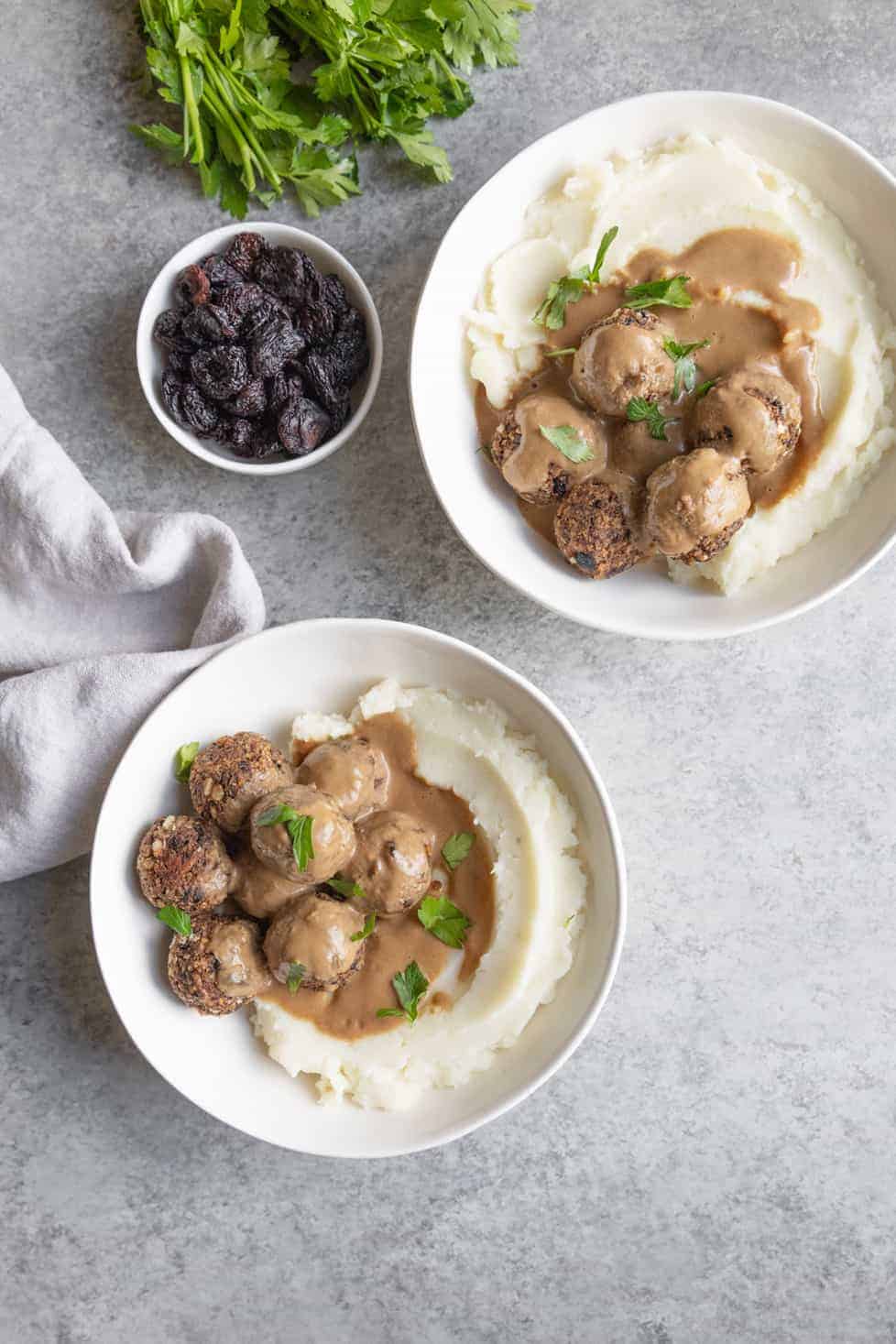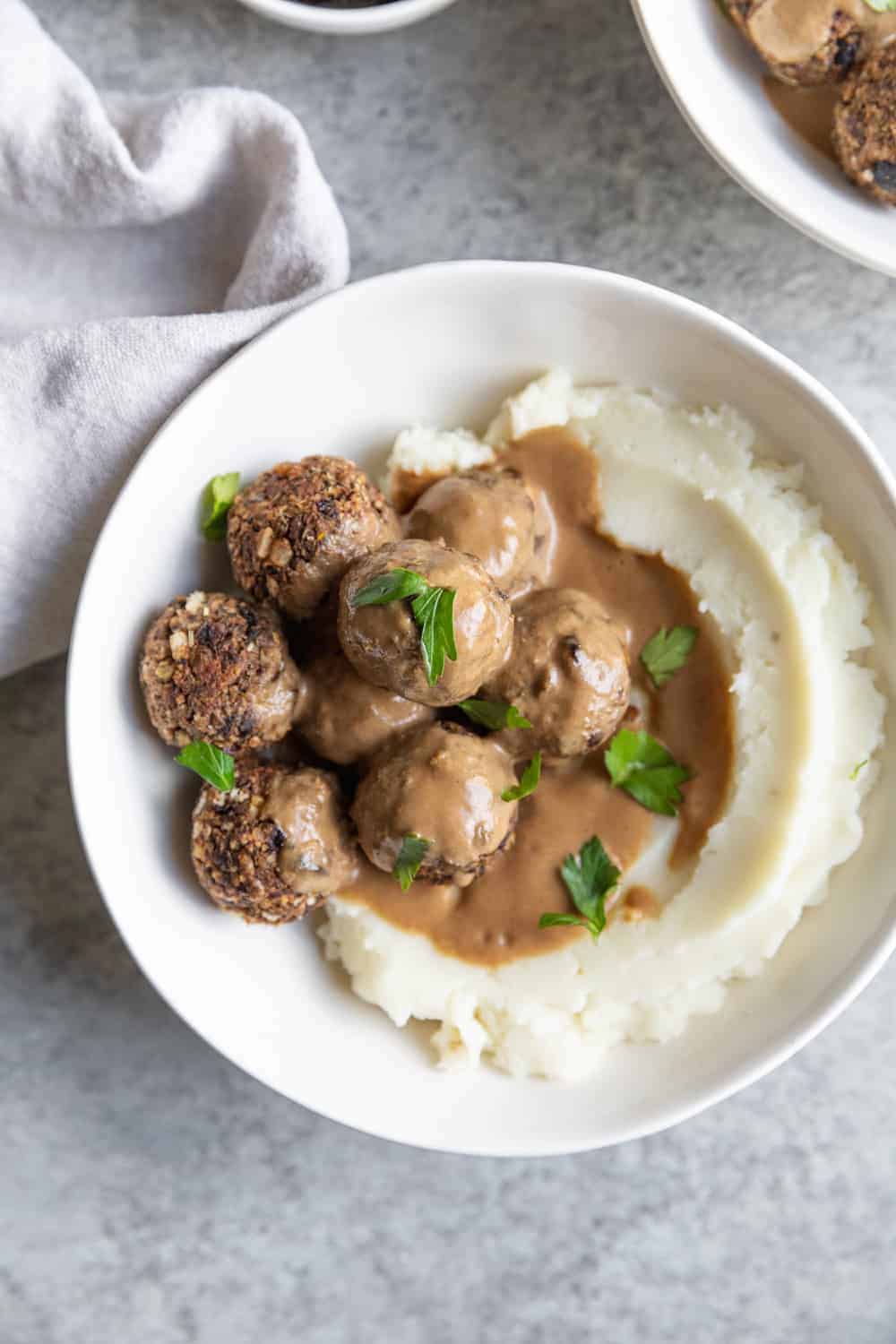 Like I mentioned before, I think this meal would be the perfect Thanksgiving dinner, especially if your holiday celebration is much smaller this year.
If you try this recipe, make sure to come back, leave a comment and rate it! Your feedback helps others and seeing you make my recipes makes my day.
Print
Scale
Ingredients
1/2 cup

French green or brown lentils, sorted and rinsed

1 tablespoon

olive oil

1/2 cup

finely chopped onions

8 ounces

white or cremini mushrooms, diced

4

garlic cloves, minced

1 tablespoon

soy sauce

1/4 teaspoon

dried rosemary

1/2 teaspoon

dried thyme

1/2 teaspoon

dried oregano

1/2 teaspoon

dried sage

1 tablespoon

balsamic vinegar

1/3 cup

dried sweet cherries

1 tablespoon

ground flaxseed mixed with 3 tablespoons water

1/2 cup

walnuts, toasted and roughly chopped

1/2 cup

breadcrumbs

1/2 teaspoon

salt and pepper
Instructions
Place the lentils in a medium saucepan and cover with water by at least 2 inches. Bring to a boil, then reduce heat to low and cook for 20-25 minutes or until lentils are tender. Drain and set aside.
While the lentils are cooking, heat the olive oil in a large skillet and add the onions. Cook for 2-3 minutes, until onions just slightly soften, then add in the mushrooms. Cook for 10-15 minutes, or until mushrooms have lost most of their liquid and have started to brown.
Add in the garlic cloves, then add in the soy sauce to deglaze, scraping up and browned mushroom and onion bites. Add in the spices and cherries, then stir together to warm.
Preheat oven to 350 degrees F.
Whisk together the flaxseeds and water in a small bowl and set aside until gelled, about 5 minutes.
Place the cooked lentils, mushroom and cherry mixture and walnuts in the base of a food processor and pulse 3-4 times to come together. Add in the flaxseed mixture along with 1/4 cup of breadcrumbs, salt and pepper. Pulse again until mostly mixed, then add in the remaining breadcrumbs, as needed until a soft mixture forms that easily holds together when pinched. If your mixture is too dry, add in a little water or olive oil. If the mixture is too wet, add in more breadcrumbs.
Scoop mixture out, 1-tablespoon at a time, and roll into a ball. Place on a lightly greased or parchment-lined baking sheet and repeat with the rest of the mixture.
Lightly drizzle the tops of the meatballs with olive oil or spray with cooking spray and place in the oven. Bake for 15 minutes, then flip and bake another 10-15 minutes or until golden brown on the outside.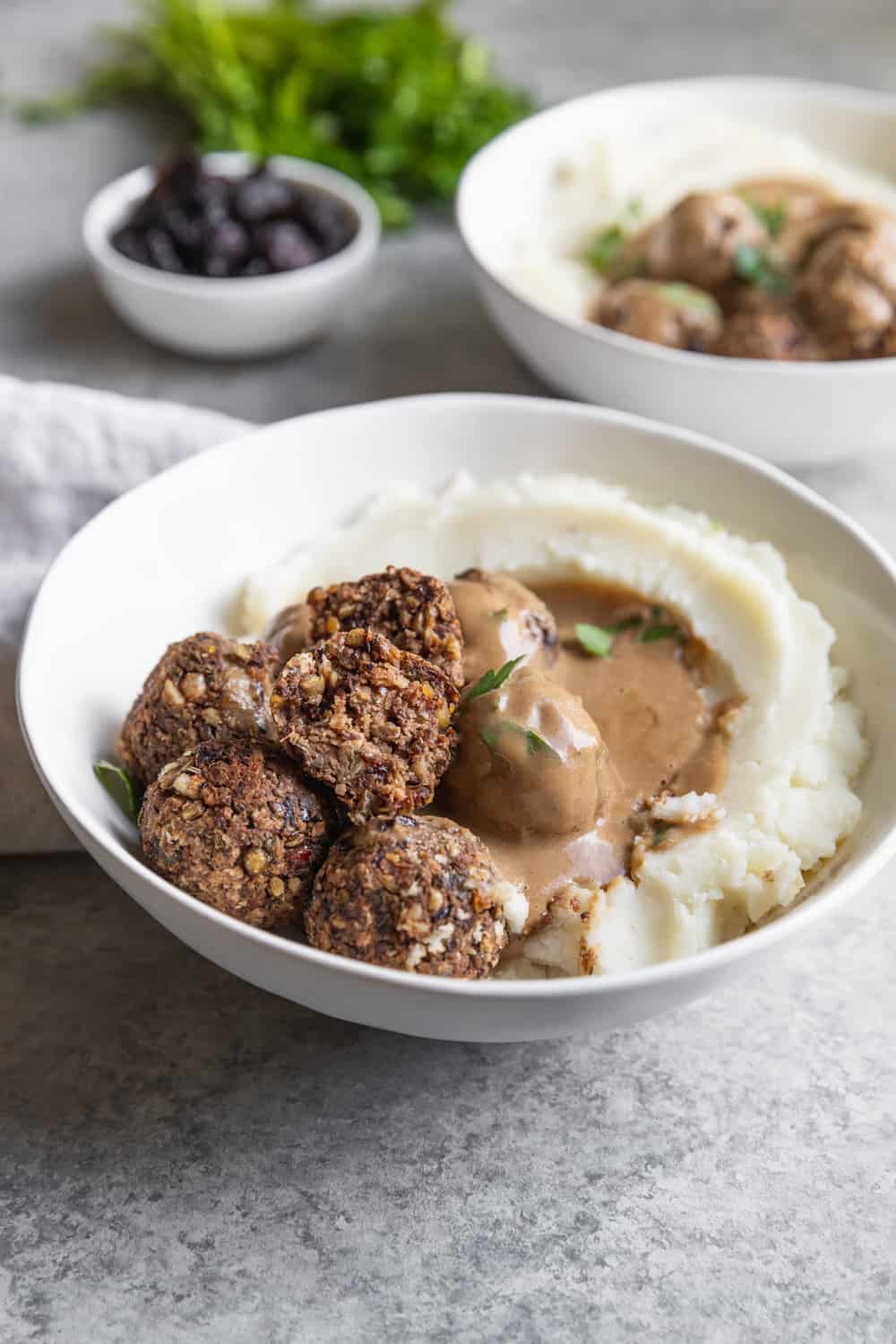 Source: Delish Knowledge, Author: Alex